TCleaner Pro is a practical utility program to process text. It converts copied text into plain text, and instantly removes undesirable formatting when pasting text from a webpage, email, document or presentation. TCleaner Pro removes all formatting from text on your clipboard, such as: colours, font size, style, tables, hyperlinks, images, etc. – leaving only pure text. All you need to do is copy and paste, TCleaner Pro does the rest.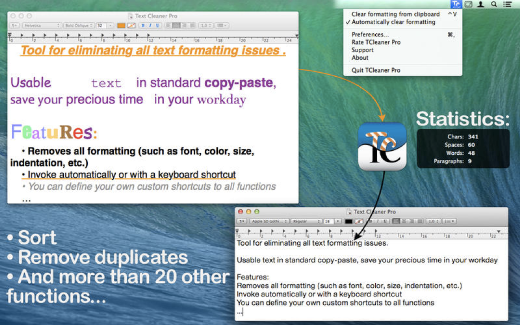 Put plain text in your letters and documents using the copy/paste functions, without having to clean it up manually. Easy to learn for casual users, TCleaner Pro also has the flexibility that serious users need. Choose your settings and it can run in the background.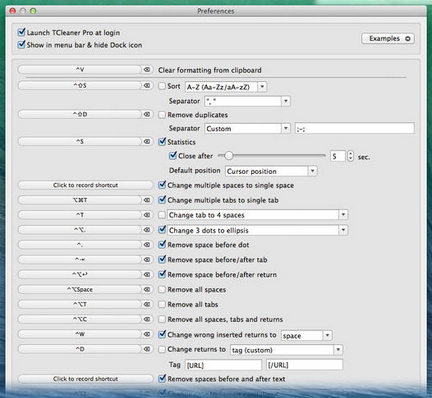 Check "Automatically clear formatting" to make the app take care of it every time you copy something. You can activate the feature manually with your own custom shortcut, and you click it before paste.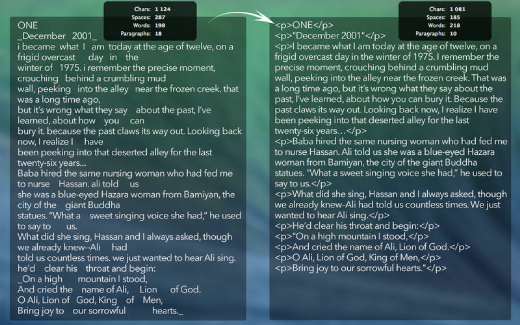 Features
Removes all formatting (such as font, color, size, indentation, etc.)
Invoke automatically or with a keyboard shortcut
You can define your own custom shortcuts to all functions
Sort: A-Z (Aa-Zz/aA-zZ), Z-A (zZ-aA/Zz-Aa), A-Z (aA-zZ), Z-A (Zz-Aa), A-Za-z, z-aZ-A, Reverse, Random
Remove duplicates (Return, ".", ". ", ",", ", ", ";", "; ", " " (tab), Custom separator)
Statistics (Chars, Spaces, Words, Paragraphs)
Change multiple spaces to single space
Change multiple tabs to single tab
Change tab to 4 spaces/change 4 spaces to tab
Change 3 dots to ellipsis/change ellipsis to 3 dots
Remove space before dot
Remove space before/after tab
Remove space before/after return
Remove all spaces
Remove all tabs
Remove all spaces, tabs and returns
Change wrong inserted returns to none, space
Change returns to none, single return, double returns, space, indent (space), indent (tab), indent (custom),tag, [img] tag, tag (custom)
Remove spaces before and after text
Change case to smart capitalized, capitalized, lower case, upper case
Change quotes (single to double, double to single)
Remove single quotes
Remove double quotes
Remove bullets
Remove reply quotes
Remove HTML tags, JavaScript
Insert your pattern (delete, search)
Custom find and replace
Note: we can't do paste function with your shortcut, because of limitation of Sandbox.
System Requirements:
Available for Mac OS X 10.7 or later
TCleaner Pro sells for $7.99.
Partly disabled 7-day demo available here:
http://elitebits.com/tcleaner_pro/
App Store:
https://itunes.apple.com/app/id881076351?mt=12&ign-mpt=uo%3D4