iApp Technologies has released Printer For MS Office Documents 1.0, an app that makes it possible to print almost any file directly from an iPhone, iPad, or iPod touch, including Microsoft Office and iWork documents. Printer for MS Office Documents actually does much more than the app's name suggests, serving as a central place to store and print files, zipped mail attachments, and web pages. It even offers an unlimited clipboard manager for texts and links. By converting a wide range of formats into PDF, the app allows anyone to share or print virtually anything directly from an iOS device.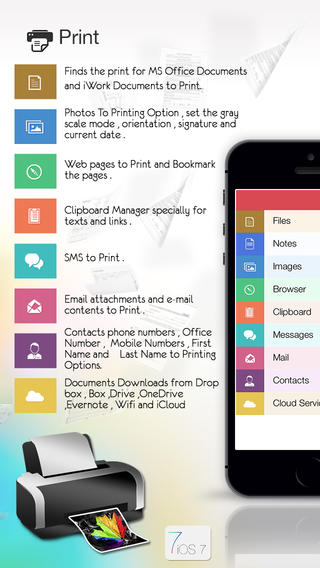 "The iPhone holds an amazing amount of information across hundreds of apps on our phones, but when you want to print something as simple as an instant message conversation or a Microsoft Word document, that data seems trapped inside the screen," explains iApp Technologies lead designer Pradeep Singh. "Printer For MS Office Documents allows you to take all those files and print them on paper right from your iPhone."
The app does much more than liberate Excel, Word, and PowerPoint documents to the physical world. It can unzip and unrar mail attachments that the built-in Mail app cannot open, and then rename, copy, and print the documents. Printer also integrates with all major cloud services, including iCloud, Dropbox, Google Drive, Box, Sky Drive, and Evernote. Additionally, it can connect to a PC or Mac over a local Wi-Fi network or iTunes sharing.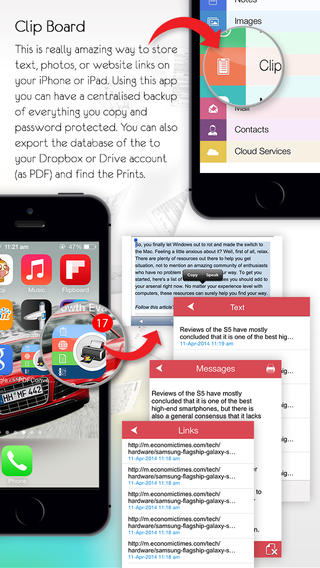 Printer also comes with a universal, unlimited clipboard manager that stores a complete list of text and links copied from any app on the user's device. This feature alone is guaranteed to save users plenty of hassle, and serves as a quick way to store notes without interrupting the flow of a browsing session in Safari or Mail.
"Never again will you have to leave the app you're using just to save a note," says Singh. "Just copy any link or text as you browse your email or the web, and know that it's saved for you to use any time in Printer."
The app comes with built-in functionality to open and print documents from Word, Excel, PowerPoint, Pages, Numbers, Keynote, RTF, web pages, email and email attachments, photos, text messages, contacts, and more. Its attractive and colorful interface makes all functionality available in just a tap. Users can download the app now exclusively on the iTunes App Store.
Device Requirements:
* iPhone, iPad, and iPod touch
* Requires iOS 5.0 or later
* 18.8 MB
Printer For MS Office Documents 1.0 is currently $0.99 USD (or equivalent amount in other currencies) and available worldwide exclusively through the App Store in the Productivity category.
iApp Technologies:
http://www.iapptechnologies.com/
Printer For MS Office Documents 1.0:
https://itunes.apple.com/app/printer-for-ms-office-documents/id860430856