Moscow based developer, Vostok has announced the release of Taxonomy 2 for Mac OS X. Taxonomy is an application for file sorting, specially designed to make file sorting quick and easy. The application shows the contents of the sortable folder file by file with preview and panel with storage folders. It takes nothing but to press a key to put a file to the storage folder or to delete it. And you see the next file in folder.
Taxonomy version 2.0 has a number of new features, which makes file sorting more fast and easy. File arrangement options allows the user to order files by name, type, size, creation and modification dates. The Grid preview helps to move or copy multiple files at a time. It shows file thumbnails and allows to choose thumbnail size and list. And now it's possible to undo actions.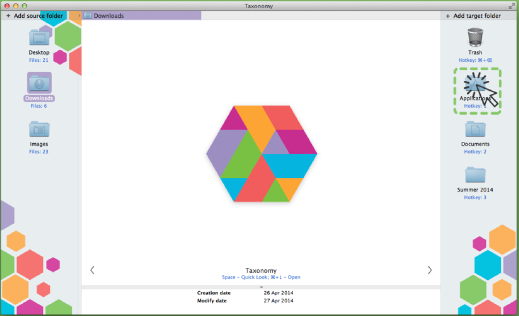 Full list of new features:
* Multiple files operations
* File grid view
* Choose file arrangement type
* Undo operations
* Rename files
* Folder size calculation
* File system changes monitoring
* Show/Hide Background settings
* Show/Hide Hidden files settings
* Permanent file deletion confirmation dialog
* Built-in Help
System Requirements:
* Mac OS X 10.7 and later
* 64-bit processor
* 5 MB
Taxonomy 2 is available on the Mac App Store and on the Taxonomy website for $4.99 (USD). A 15-day trial version is available.
Taxonomy 2.0:
http://taxonomy.vostok-dev.com
Download Trial:
http://taxonomy.vostok-dev.com/files/TaxonomyTrial2.dmg
Purchase and Download (MAS):
https://itunes.apple.com/us/app/taxonomy/id845291891
YouTube Video (Sample):
http://www.youtube.com/watch?v=lT9zMJ3nAig
Twitter Profile:
http://twitter.com/vostok_studio