External Keyboard Innovations For iPad Pro (12.9-inch) And MacBooks – The 'Book Mystique
I'm an input device aficionado. With non-touchscreen computers, which includes all Macs, the keyboard and mouse or trackpad are the tactile points of interface between user and machine, and the quality of their action and performance is 'key' to both user comfort and functional efficiency.
Over the years, the keyboards and trackpads built into Apple notebooks have been generally pretty good on both counts, but the ergonomics of typing on clamshell laptops is at best inherently compromised, and I connect a freestanding external keyboard and mouse to my MacBookselevated om a stand at my office workstation and whenever else it's practical to do so. My current favorites are a Logitech K750 Solar Wireless Keyboard, and a selection of gaming mice from Razer and Satechi.
Apple's continued obsession with absurdly extreme device thinness is making external keyboards an even more important alternative for serious laptop users. Case in point being the anorexic "butterfly" keyswitch technology keyboard in the 12-inch Retina MacBook which a wite consensus has deemed unacceptable for longer-form typing sessions.
With the iPad, at least the way I use it, the dynamic is different. I find I get along quite well with the on-screen virtual keyboard, although I'm not a big fan of touchscreen input for tasks that demand precision, such as image editing and text selection. Stylus input (eg: Apple Pencil) is not an adequate workaround in my estimation, and I wish Apple would relent and support mouse input on the iOS platform. For long form typing on the iPad, there's a definite case to be made for using a physical keyboard, notwithstanding the horrible ergonomics of having to reach over the keyboard to manipulate the touchscreen. A wide selection of Bluetooth keyboards work, and some users prefer to use physical keyboard mode for most of what they do on the iPad. For instance, my wife, a touch typist, keeps her iPad in a keyboard case 99 percent of the time.
A couple of interesting new keyboard announcements particularly caught my eye recently. I haven't had the opportunity to lay fingers on either of these devices yet, so what follows is not a review; more a conceptual overview, if you will.
Razer Ultra-Low-Profile Mechanical Keyboard Case for Apple iPad Pro (12.9-inch)
Razer says its new keyboard case is first in the world to use mechanical keyswitches, and, will be initially be offered for the 12.9-ich iPad Pro. According to Razer, their Ultra-Low-Profile Mechanical switch technology features a true actuation and reset point, with keypresses requiring 70 grams of force, mimicking the feel of full-size mechanical keyboards in a form factor slim enough to accompany a mobile device.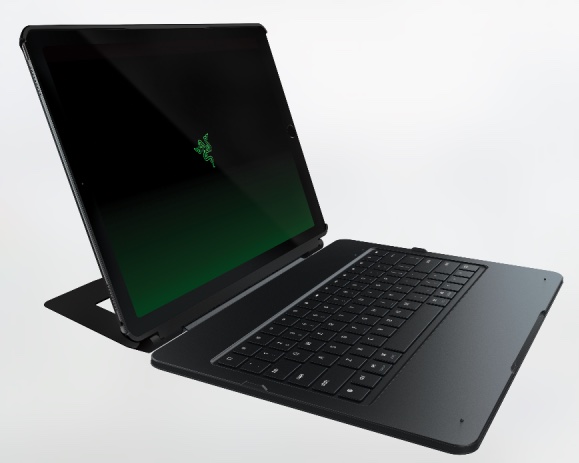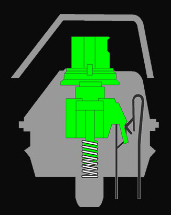 Razer invested in its own keyboard switch production lines earlier this year to raise the bar on keyboard and keypad durability and performance. Their in-house investment in switch research and design yielded new keyboard technology that mades the thin form factor of the Razer Ultra-Low-Profile Mechanical Switch possible, and to set a benchmark for durability, boasting an industry-best 80 million keystroke lifespan.
"We're commonly thought of as a company that makes phenomenal products for gamers, but to design the very best products, we've had to innovate from the ground up – even from each individual component such as mechanical switches," says Min-Liang Tan, Razer co-founder and CEO. "We're excited about the potential of our Ultra-Low-Profile Mechanical Switch and look forward to exploring other applications in addition to the mechanical keyboard we've designed for the iPad Pro."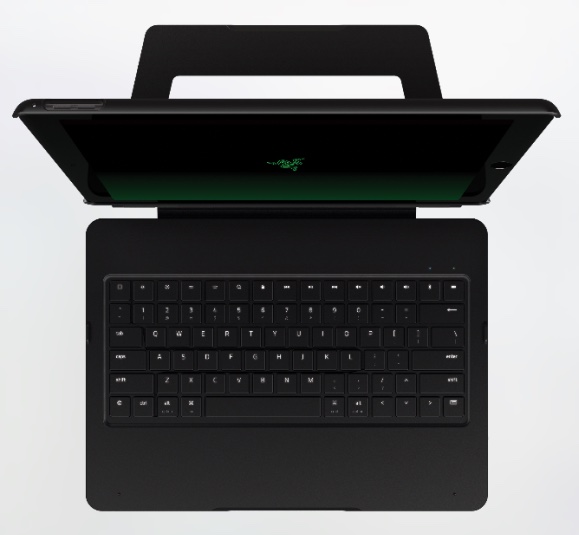 The Razer Mechanical Keyboard Case connects to the Apple iPad Pro via Bluetooth, features backlight illumination with 20 brightness levels, for typing in low light conditions, and incorporates a metal kickstand.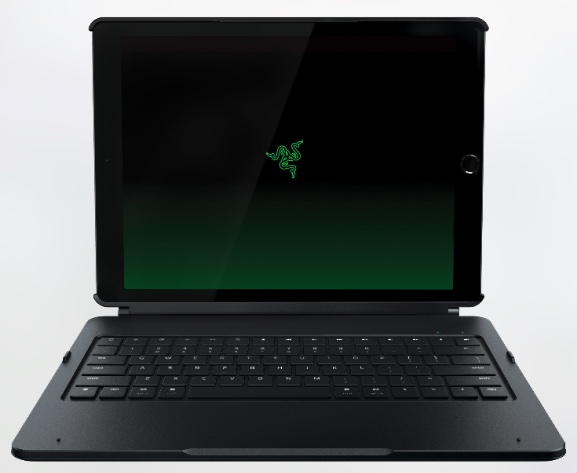 Claimed battery charge life is approximately 10 hours on a single charge at maximum backlight brightness, and an estimated 600 hours with backlighting turned off.
The case sells for U.S. $169.99 / EU €189.99, and is available now at http://RazerStore.com.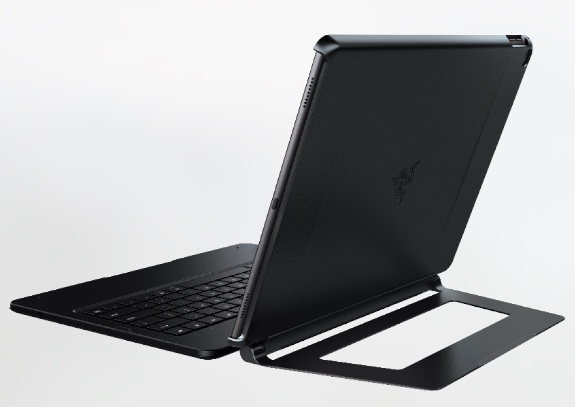 Product page:
http://www.razerzone.com/gaming-keyboards-keypads/razer-mechanical-keyboard-ipad-pro
For more information visit:
http://www.razerzone.com/about-razer.
Nixeus Premium Metal Chassis Mac & PC Compatible Mechanical Keyboard (Ideal For MacBook)
Los Angeles based Nixeus Technology's full size MODA PRO mechanical keyboard is designed with floating mechanical keyswitches and a minimalistic frameless form factor. a full size 104-key mechanical keyboard, MODA PRO is encased in an aluminum body to enhance build strength with polished edges and white keycaps "to create a premium appearance."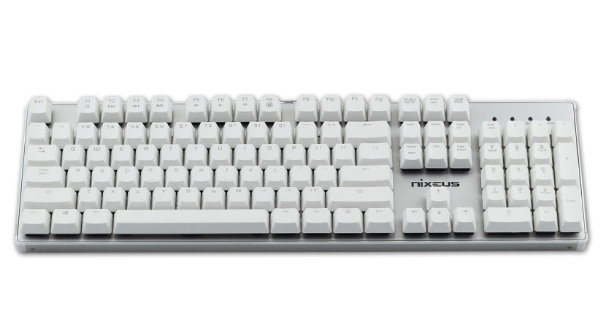 Nixeus says the MODA PRO's Nixeus Certified MX Compatible Mechanical Switches (Kailh) have an estimated 50 million keystroke lifespan and are mounted on a single "military grade steel" plate to ensure solid durable build quality. The MODA PRO's chassis design also allows for easy maintenance, user customization and third party modifications, and it includes a 10-key number pad for both work and gaming applications.
Nixeus is also pitching the MODA PRO as being especially suitable for use as an alternative to the unloved built-in 'butterfly" keyswitch 'board in the 12-inch MacBook.
Interestingly, the MODA PRO is available with a choice of two different keyswitch options: Blue (Clicky Tactile) & Brown (Soft Tactile) to suit the user's preference and typing style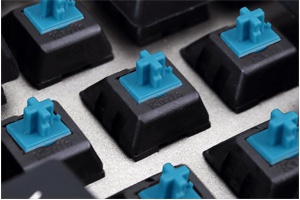 The MK-104BL106 features a blue mechanical switch that produces both an audible click and tactile bump feedback felt at your fingertips similar to the click feedback of a mouse. Each switch offers an actuation force of 60 grams and a shorter actuation distance without the need to fully press the key home. The clicky and tactile bump feedback lets you know the actuation point with a typing experience similar to a typewriter.
The MK-104BN16 features a brown mechanical switch that produces soft tactile bump feedback felt at your finger tips. Each switch offers a lower actuation force of 55 grams and a shorter actuation distance without the need to fully press down the key. Nixeus says the MK-104BN16 provides the best combination of speed and tactile feedback.
My general preferences in keyboards are light touch, medium-short travel, and soft landing, so the "brown" MK-104BN16 would be my personal pick, but a lot of folks are smitten by "clicky" action mechanical keyswitches and would go with the "blue" MK-104BL106. It's great to have a choice.
"The MODA Pro is designed to be ultra durable and beautiful perfect for a working office or demanding PC gaming environment", says Product Manager Andy Chang,
Utilizing USB plug and play technology, the Nixeus MODA PRO is easy to connect and installs without the need for additional software. The keyboard is compatible with Mac computers and includes extra Mac keycaps (Command & Control), Key Cap Remover, and Dust Cleaning Brush.
Nixeus Moda Pro Mechanical Keyboard Main Features:
Nixeus Certified Mechanical Switches(Kailh)
Full Size 104-key Mechanical Keyboard
Floating Key Design Mounted on a Military Grade Metal Plate
3 Year Limited Warranty with free technical support
Specifications
Key Actuation Force: 55g (Brown Switch: MK-104BN16), 60g (Blue Switch: MK-104BL16)
Key Actuation Distance: 2.0 +/- 0.4 Mm
50 Million Keystroke Life Span Per Switch
1000Hz Poll Rate ~ 1ms Response Time
Dimensions and Weight
Keyboard Size: 17.125 (Width) X 5.125 (Height) X 1.25 (Depth)
Keyboard Weight: 2 Lbs
Connection Type: USB
Compatible with Windows XP/Vista/Windows 7/Windows 8/Mac OS
The Nixeus MODA PRO is available on Amazon.com and Newegg with a starting MSRP of $74.99
Product page:
http://www.nixeus.com/product/moda-pro-mechanical-keyboard/
For more information, visit:
http://www.nixeus.com