Pricing and Pre-Order Date Announced for SolPad Mobile Solar Panel
SunCulture Solar Inc. has announced pricing and pre-order date for its SolPad Mobile, heralded as the world's first integrated solar panel with built-in energy storage and an Internet of Energy (IoE) smart home platform. Beginning May 3, 2017, SolPad Mobile can be pre-ordered at http://www.solpad.com, for a special introductory price of $1395.00. A limited-offer SolPad will include for free the SolControl Solar Smart Plug (valued at $49.95). The units will ship in the second half of 2017.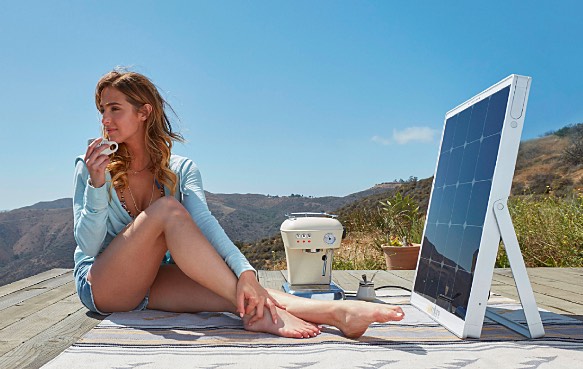 Hailed as the coolest energy tech to debut this year by David Roberts of Vox, SolPad combines solar, battery storage and intelligent IoE software into a single device that gamifies and personalizes energy management, giving the user unprecedented control over their solar power.
SolPad Mobile is a portable power solution that easily integrates into any home environment or that can be taken on-the go for off-grid applications. SolPad's patented SolControl software allows you to send solar power to specific items, appliances and rooms, and experience total control of your power with an iPhone. It can also choose the best time to use solar or grid power for maximum utility bill savings.
At 25 pounds, SolPad Mobile is the thinnest, lightest and most powerful integrated IoE solar panel device in the world. SolPad Mobiles can easily be linked together to create a revolutionary personal solar micro-grid. Using mesh networks, it can also act as an internet hot spot, enabling campers, RVs, boats, disaster relief agencies and people in the developing world to have AC power for items such as lights and internet, all in one device.
SolPad Mobile can also be integrated into your home or apartment through the SolControl smart plug. Once connected to an AC outlet, SolPad Mobiles software directs SolPads stored solar power to offset the energy of specific household appliances, such as a coffee maker, television, computer or IoT lighting.
SolPad Mobile combines 70 watts of solar generation, 600 Wh battery storage, two fast-charging USB outlets and IoE software with powerful LED lighting, Wi-Fi and a talking UI personality engine. Its two universal AC outlets can output 2000 watts of peak power and 1000 watts continuous.
SolPad's other configuration, SolPad Home, a rooftop solar panel device thats described as being like having a smart-energy computer on your roof. Each SolPad Home can generate and store solar or grid power, and provide automatic backup power in case of a blackout.
Visit http://www.solpad.com to learn more.
SolPad Mobile will be available for pre-order beginning May 3, 2017.
Facebook
http://facebook.com/SolPadEnergy
Twitter @SolPadEnergy and Instagram @SolPadEnergy. Visit http://www.solpad.com for full product details.
Source SunCulture Solar Inc.