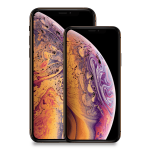 Verizon is offering $100 discounts on Apple's new 2018 iPhone Xs, Xs Max, Xr, or the 2017 iPhone X, to anyone upgrading with an eligible trade-in. They're offering $300 discounts to those adding a new line.
A wide range of phones are eligible for trade-in, including the iPhone 5s and SE as well as many Android phones.
The fine print: "Up to $1449.99 device payment purchase req'd. Less $100 trade-in/promo credit (upgrades) or $300 trade-in/promo credit (new lines) applied to account over 24 mos w/in 1-2 billing cycles; promo credit ends when balance paid or line terminated/transferred; 0% APR. Trade-in must be in good working and cosmetic condition. Eligible on iPhone XR, iPhone XS Max, iPhone XS and iPhone X."
Verizon's promotion is live on their site now.