Advantages And Benefits Of Using iMessage on iPhone
COMMENTARY: 12.14.18- A tax on text messages could be on the horizon for smartphone owners in the state of California and if that happens, one feasible solution to avoid the surcharge on one's wireless bill is to use an iPhone with its proprietary iMessage system from Apple.
On Tuesday, the news was reported by The Mercury News — a newspaper serving the Silicon Valley where the headquarters of Apple, Inc. is located (Cupertino, California) — that state regulators want to impose a tax on texts sent on mobile phones, not just smart ones, in order to fund phone services programs for those with low incomes. A vote by the California Public Utilities Commission (PUC) on the proposed tax will happen at the start of the new year which is being fought by, of course, the wireless carriers. The surcharge would be a flat fee, unspecified at this time, and wouldn't be a per text charge on one's wireless bill each month. This tax only applies to SMS text messages and not for messaging services like iMessage.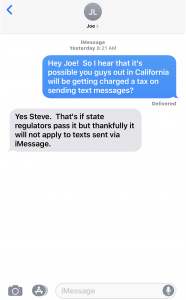 With the Apple iMessage system, California residents using an iPhone can avoid being charged a tax for sending text messages should that plan be passed. Heck, all iPhone users theoretically can go without signing up for a wireless plan that contains text messaging, forgoing monthly fees. The only caveat is that iPhone users can't communicate with their Android smartphone counterparts as iMessage is not compatible with those competing devices.
To break it down even further, whether you consider the California tax on text messages aspect or not, there are a few other advantages and benefits that iPhone owners using iMessage have over their Android smartphone user counterparts.
When sending an iMessage from an iPhone to another and both devices have iMessage enabled, your monthly allotment of text messages on your wireless plan, if not unlimited, is not used up which is helpful if you go over since you will be charged per text after you have exceeded your limit.
Also, speaking of limits, with iMessage, iPhone users are not tied down to the standard 160 character limit — unless sending a regular text message to someone using Android (or other mobile device) — when communicating with other iPhone users within the iMessage system. (Have you ever received a long message that did not originate from iMessage and was broken up into multiple separate text messages? Very annoying!).
Finally, if you have spotty reception or no cellular signal at all, sending text messages is impossible but if you have Wi-Fi turned on you can still send an iMessage from your iPhone to another iPhone and even to someone on their iOS device, Apple Watch, or a Mac.
There are a lot of other advantages and benefits to using iMessage that I could talk about but those three are just some of the key perks.
Users of the iPhone enjoy these perks with iMessage — Android smartphone users don't have these luxuries in their ecosystem — a benefit that may and is usually taken for granted because it's a feature you turn on and forget about once it is activated.
iMessage debuted in 2011 and was included as a feature of the Messages app which was released in iOS 5. The Messages app with iMessage would make its way onto the Mac the following year in 2012 with the release of Mac OS X version 10.8 Mountain Lion replacing the former iChat messaging system.
(Note from the Author: this writer is a former correspondent, a freelance position, of Bay Area News Group from 2008 to 2012, which is the parent company of the San Jose Mercury News)