Image Gallery From PowerBook Central Coverage Of April 2010 iPad Product Launch
FEATURE: 04.03.19- In advance of the 10th anniversary next year of the iPad, released on this very day almost a decade ago back in 2010, we get a glimpse of hitherto unpublished photographs taken during coverage of the product launch by this writer for PowerBook Central, the sister site of MacPrices (which, after being defunct since 2015, was merged last year).
That day, on April 3, 2010, while still a columnist for PowerBook Central, with my press identification badge and prosumer (a professional grade consumer level product) Canon D-SLR digital camera in tow, I excitedly headed once again across the San Francisco Bay on BART — the name of the subway system in the Bay Area, the acronym standing for, and aptly so, Bay Area Rapid Transit — over to the city by the bay to cover yet another Apple event: this time, it was the new iPad, Apple's tablet computer device.
It was a trek I would take many times, albeit a short one since I reside in the San Francisco Bay Area, from the Macworld Conference & Expo held at the Moscone Center where I live blogged the Apple keynotes, to covering the releases of Mac OS X Leopard version 10.5 — which back then were major updates that took a couple of years to come out versus today where MacOS has annual incremental updates — or the very first iPhone, with both product launches featured at the flagship Apple Store in the city's downtown, then on Stockton Street (now in the city's Union Square).
The San Francisco Apple Store was where the main event for the product launch of the iPad in the Bay Area as a whole was being held and in addition where members of the media, like myself, were being accommodated. It was a madhouse and droves of people were gathered in line bunched up at the front door with the line snaking down and around the block for as far as the eye could see, everyone anxiously waiting to get their hands on what was at the time the newest and latest breakthrough product from Apple to hit the streets. I, — as an individual on the special list of persons cleared and given access to get in without lining up with other customers in order to cover the product launch — waited in a separate shorter line with other members of the media waiting to go in first so that we could capture the scene, which for me was, in pictures (only, though I also took some video, as I wanted my photographs to speak for themselves).
Here, for your viewing pleasure, is an image gallery — just a small collection from the hundreds of photographs from that day — of highlights from the event taken by yours truly: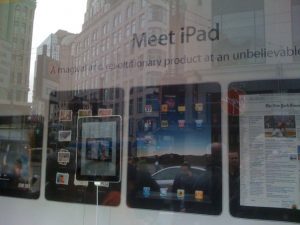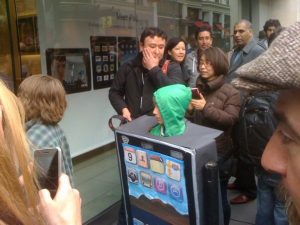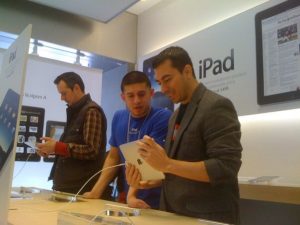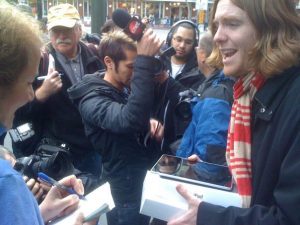 Analyst predictions about the iPad before it was announced were pretty spot on as seen in this article published in December 2009 by PCWorld magazine and here is just an excerpt:
"… we predict that Apple will finally introduce this new device family, which is more of an oversized 8-inch, 10-inch iPod touch than a downsized Mac — and if you look at the developer energy around the iPhone/touch platform, this should be no surprise at all. This prediction is a no brainer: there's enormous appeal in sizing up the iPhone/touch for a variety of applications and activities that people already use those devices for but would jump at the chance to have a larger screen — watching videos/movies, reading books/magazines/newspapers (it would take a big bite from the Kindle), surfing the web, videophone, and online gaming."
In a press release the day it was unveiled by then Apple CEO Steve Jobs on January 27, 2010 — which would be the last major product release under the watch of the late co-founder and former CEO before his untimely death the following year in October 2011 due to complications from pancreatic cancer — Apple called the iPad a "magical and revolutionary device." Starting at $499 for the 16GB Wi-Fi only model, the tablet computer was scheduled to be released in late March but was delayed until a month later. Apple would sell two million units alone in just a little less than two months following its release.
Today we have three additional iterations of the iPad with the family expanding, from the iPad Air and iPad Pro, to the iPad mini. The new fifth generation of the iPad mini — the entry level model in Apple's lineup of tablets, just announced by the Cupertino, California-based tech company two weeks ago — in stark contrast to the very first iPad, starts out at only $399 for a Wi-Fi only model with 64GB of storage (topping out at 256GB) and now includes support for the Apple Pencil which is finally standard across the board for all iPad models (previously only supported by the more expensive iPad Pro designed for professional tablet users).
**AD: looking for a new iPad? Before you buy, make sure to check out our comprehensive price trackers for all the iPad models right her on MacPrices! Latest deals and lowest prices are updated daily.
Which iPad model(s) that you own is your favorite? Or, which iPad model is the best one that Apple has released? Let us know in the Facebook comments section below (you must be logged in to your account to do so) or by sending us an email — we'll publish them in an upcoming edition of the "Mac Potpourri" Mailbag — at: j.leo@macprices.net
---
Note from the Author: Special thanks to Shyra Dawson (a friend and former colleague from this writer's days as an educator) for her assistance — due to this writer being visually impaired (since 2013), a fact that regular readers and frequent visitors of this column already know — in searching for and downloading the photographs featured above from photo albums on Facebook and for also providing descriptions of each photograph so that captions could be written.