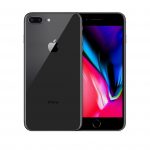 Sprint is offering 64GB iPhone 8 leases for $8 per month and iPhone 8 Plus leases for $12 per month. Credits are applied monthly over 18 months, and one new line is required.
The fine print: "iPhone 8 64GB $8/mo. after $17/mo. credit, iPhone 8+ 64GB $12.17/mo. after $17/mo. credit, applied within 2 bills. With approved credit, 18-month lease & new line of service. If you cancel early, remaining balance due."
This deal is live at Sprint right now.