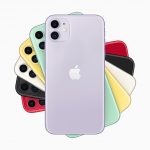 US Cellular is offering the base 64GB iPhone 11 for free for new customers. Qualified trade-in of iPhone 7 or higher required (or a number of Android phones). Discounts are applied via monthly bill credit over 30 months.
The fine print: "New consumer or small business (25 lines or less) NEW Plan line with Unlimited Data and portin required. Purchase of a qualifying device via 0% APR, $0 down, 30-mo. Retail Installment Contract (RIC), credit approval and Device Protection+ required. Offer applies to base model and memory only. Tax due at sale. A Regulatory Cost Recovery Fee applies; this is not a tax or gov't-required charge. Additional fees, taxes, terms, conditions and coverage areas may apply and vary by plan, service and phone."
US Cellular's deal is live on their site today.