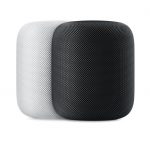 Other World Computing has discounted, new, Apple HomePods on sale for $91-$111 off Apple's MSRP as part of their Black Friday/Cyber Monday 2019 sale. Prices start at only $188. Offers are good from 11/29/19 to 12/2/19:
– HomePod Space Gray: $208 $91 off MSRP
– HomePod White: $188 $111 off MSRP
These are the same HomePods sold by Apple in their retail and online stores.
Keep an eye on our HomePod Price Tracker for the latest deals and sales as we head through the Holiday shopping season.
Update:
OWC's current sale prices are reflected above.