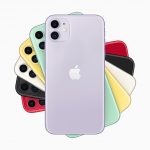 US Cellular is offering the base 64GB iPhone 11 for free for new customers. Discounts are applied via monthly bill credit over 30 months. No trade-in is required for this deal.
The fine print: "New consumer or small business (25 lines or less) and Unlimited Even Better plan and port-in required. Purchase of a qualifying device via 0% APR 30-mo. Retail Installment Contract (RIC), and credit approval required. Tax due at sale. A Regulatory Cost Recovery Fee applies; this is not a tax or government-required charge. Additional fees, taxes, terms, conditions and coverage areas may apply and vary by plan, service and phone. The Unlimited Even Better plan includes 50GB of prioritized data. Video streams at up to 1080p (HD – quality). During times of congestion data may be temporarily slowed. Once the plan reaches 50GB of usage, data may be temporarily slowed further. OFFER DETAILS: New devices eligible for offer are iPhone 11, 11 Pro, 11 Pro Max ($700) Samsung Galaxy S10e, S10, S10+ ($750) $750 trailing credit for GS10e can be applied towards: Note 10, Note 10+, Google Pixel 4, Pixel 4 XL. Offer applies to base model and memory only. Bill credit will be divided into 30 equal credits and comes via monthly bill credit on a 30-mo. RIC; 0% APR, $0 down. Bill credit applied within 3 bill cycles and ends when balance is paid. Line must remain in good standing with required price plan for entire 30-month RIC. Customer may lose bill credit if price plan is changed. In the event of cancellation of Service customer will be responsible for the entire RIC balance. The early upgrade program is not available with this offer."
US Cellular's deal is live on their site today.