Apple offers $50-$100 Education discount on iPad Pros, plus get a free set of AirPods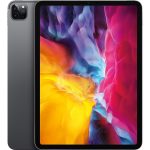 Purchase a new 12.9″ or 11″ iPad Pro at Apple using your Education discount, and Apple will take $50-$100 off their MSRP. All teachers, students, and staff of any educational institution with a .edu email address qualify for the discount.
As part of their Back to School promotion for 2020, Apple will include one free pair Apple AirPods (with charging case) with the purchase of an iPad Pro. You can optionally choose Apple AirPods with the Wireless Charging Case for only $40 (regularly $199) or Apple AirPods Pro for only $90 (regularly $249). Promotion runs through early September.
The following Apple Education discounts apply to 2020 iPad Pros:
– 12.9″ 128GB WiFi iPad Pro: $899 $100 off
– 12.9″ 256GB WiFi iPad Pro: $999 $100 off
– 12.9″ 512GB WiFi iPad Pro: $1199 $100 off
– 12.9″ 1TB WiFi iPad Pro: $1399 $100 off
– 12.9″ 128GB WiFi + Cellular iPad Pro: $1049 $100 off
– 12.9″ 256GB WiFi + Cellular iPad Pro: $1149 $100 off
– 12.9″ 512GB WiFi + Cellular iPad Pro: $1349 $100 off
– 12.9″ 1TB WiFi + Cellular iPad Pro: $1549 $100 off
– 11″ 128GB WiFi iPad Pro: $749 $50 off
– 11″ 256GB WiFi iPad Pro: $849 $50 off
– 11″ 512GB WiFi iPad Pro: $1049 $50 off
– 11″ 1TB WiFi iPad Pro: $1249 $50 off
– 11″ 128GB WiFi + Cellular iPad Pro: $899 $50 off
– 11″ 256GB WiFi + Cellular iPad Pro: $999 $50 off
– 11″ 512GB WiFi + Cellular iPad Pro: $1199 $50 off
– 11″ 1TB WiFi + Cellular iPad Pro: $1399 $50 off