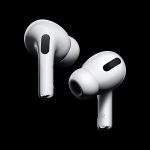 Are you a local, state, or federal government employee? If so, Apple offers special government pricing on their products, including AirPods, for you as well as immediate family members.
Here's how much you can save on Apple AirPods products:
– AirPods Pro: $224, save $25
– AirPods with Wireless Charging Case: $179, save $20
– AirPods with Charging Case: $143, save $16
Federal government employee can shop here on Apple's site. State and local government employees can shop here.
Discounts are available on the rest of Apple's products as well, ranging as high as $360 off MSRP for the new Mac Pro.