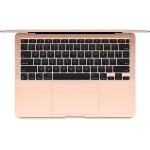 Apple reseller Adorama has the new 13″ M1 Gold MacBook Air with 512GB SSD in stock and on sale this New Years for $1189.99 including free shipping. Their price is $60 off MSRP, and it's current the cheapest price available for an M1 13″ MacBook Air with the 8-core GPU and 512GB SSD.
– 13″ M1 Gold MacBook Air 8-core GPU/512GB SSD: $1189.99, save $60
Keep an eye on our 13″ MacBook Air Price Tracker for the latest sales & deals from Apple and its resellers.