Pre Black Friday prices available on Apple AirPods with models on sale for up to $70 off MSRP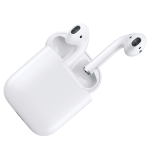 Amazon dropped prices on Apple AirPods to some of the lowest prices we've ever seen as part of their early Black Friday 2021 sale. Models are available for up to $70 off Apple's MSRP with prices starting at only $89. Shipping is free, and maybe mostly importantly, all models are in stock today:
– AirPods Max headphones: $479 $70 off MSRP
– AirPods Pro (2021): $189.99 $60 off MSRP
– AirPods (2021 3rd Gen): $174.98 $5 off MSRP
– AirPods with Charging Case: $89 $40 off MSRP
See our AirPods Price Tracker for the latest prices and deals from Apple and its resellers.