Cheapest new Macs of the season: 3.6GHz Intel-based 2020 Mac minis starting at only $469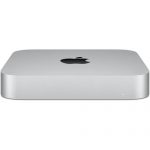 B&H Photo has last year's Intel-based 3.6GHz 4-core Mac mini on clearance sale for only $529 for Black Friday 2021 only. Their price is $270 off original MSRP for this mini. It's in stock today, and B&H is offering free 1-2 day shipping to most addresses in the US.
Other World Computing has the same clearance 2020 Intel-based 4-core Mac mini on sale for only $469, $330 off original MSRP. These are new, unopened, factory-sealed minis, and they are the cheapest new Mac we could find anywhere this Holiday shopping season. OWC also offers discounted CTO options such as extra RAM and storage.
For the latest prices and sales, keep an eye on our Mac mini Price Tracker, updated daily.