First discounts appear on Mac Studios with M1 Ultra Apple CPUs, order today and save up to $400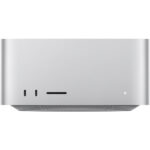 Apple reseller Expercom has preorder discounts available on Mac Studio models with Apple's new M1 Ultra CPU ranging up to $400 off MSRP. Prices start at $3799.05 ($200 off MSRP) for base M1 Ultra Mac Studios with 20-Core CPUs/48-Core GPUs and 64GB RAM/1TB SSDs. Discounted configurations with up to 64-Core GPUs, up to 128GB of unified memory, and up to 8TB of storage are available. The M1 Ultra Mac Studio with a 20-Core CPUs/64-Core GPU and 128GB RAM/8TB SSD is available for $7599.05. That's $400 off Apple's MSRP.
Expercom's prices are the lowest available for these Mac Studios among the Apple resellers we track. Order today with these discounts, and expect delivery in 3-8 weeks given Apple's current global supply chain issues. That's a ways down the road, but Apple itself estimates delivery starting on August 9th with these configurations.
For the latest prices and sales, see our Mac Studio Price Tracker, updated daily.