Apple Introduces Apple Watch Series 8 with new temperature sensor, car crash detection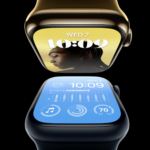 Apple today introduced the new Apple Watch Series 8. New Watch features include:
– New watch faces.
– New temperature sensor detecting changes within 0.1 degrees F as you sleep at night. Specific benefits relating to women's health.
– Car crash detection using an accelerometer and gyroscope.
– Lower power mode with up to 36 hours of battery life.
– International roaming with cellular models.
– 4 colors in aluminum, 3 stainless steel colors, new band styles.
Prices start at $399 for GPS, $499 for cellular. Orders start at Apple today, available September 16th.
The Apple Watch SE will feature new colors and a new back case. Car crash detection will also be available, and new internals will make the watch faster. Prices will start at $249 for GPS and $299 for cellular.
For the latest prices and sales, keep an eye on our Apple Watch Price Tracker, updated daily. We'll be adding new Series 8 data as it becomes available from Apple retailers.