Open a new line of service at Verizon and qualify for a free CPO 256GB or 512GB Apple iPhone 13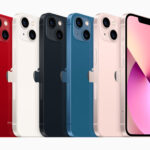 Verizon is giving away a free Certified Pre-Owned (CPO) 256GB or 512GB iPhone 13 (any color) in Great Condition to customers who choose one of those phones and open a new line of service. Offer is available online only, and no trade-in is required. Price of the phone is applied to your account monthly over a 36 month period.
The fine print:
"Purchase on device payment or at retail price required. Less promo credit applied to account over 36 mos; promo credit ends if eligibility requirements are no longer met; 0% APR. Select Unlimited plan required. Taxes & fees may apply."
According to Verizon, "Certified Pre-Owned (CPO) phones: This refers to all of the pre-owned smartphones Verizon sells. These devices have been inspected and are in full working order. "Certified Pre-Owned" is also potentially more accurate than "used" or "refurbished" — some smartphones are returned in full working order after only a few days. While these devices are definitely pre-owned and cannot be sold as new, some may not have been used at all by previous owners. All of Verizon's Certified Pre-Owned devices are assigned a grade according to their cosmetic condition.
All Verizon Certified Pre-Owned devices have passed Verizon's Total Quality Inspection, which ensures:
– The battery charges up, and the battery charge indicator works.
– All ports are completely functional, and all card slots work.
– Each pixel on the display works, and images on the screen are clear and bright.
– Wi-Fi and other connectivity functions work properly.
– Speakers, microphones and Bluetooth audio all work.
– All buttons and soft keyboards work
– The software is up to date.
A warranty is one way to reduce concerns about a used or refurbished device. Certified Pre-Owned phones are also eligible for Total Mobile Protection insurance, which covers loss, theft, damage and many defects that pop up post-warranty. If you purchase a Certified Pre-Owned device with a credit card, your card may also provide extended protection.
If battery life is one of your top priorities, you can rest assured knowing that battery health and maximum capacity is thoroughly tested before certifying the device."
Verizon's deals are live on their site today. For the latest prices & sales, keep an eye on our iPhone Price Tracker, updated daily.