Find the best Holiday sale price on an iPad using our Apple award-winning price trackers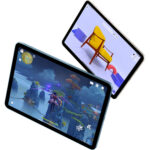 We've updated our iPad Price Trackers with the latest information on the new 10th-generation iPads, M2-powered iPad Pros, M1 iPad Airs, iPad minis, and 9th generation iPads from Apple's authorized internet/catalog retailers:
– iPads
– iPad minis
– iPad Airs
– 11″ iPad Pros
– 12″ iPad Pros
We update the trackers continuously. Apple retailers are offering discounts ranging up to $100-$250 off MSRP right now, depending on the model.
Looking for an accessory? Try out iPad Keyboard Price Tracker and Apple Pencil Price Tracker.