Apple rumored to be working on a 15″ version of the MacBook Air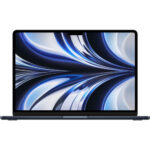 Apple is rumored to be launching a 15-inch MacBook Air notebook in 2023, according to a well-known insider. This laptop would join the lineup of laptops using Apple's new, speedier in-house chips, and could help the company grab a bigger share of the laptop market. The 15-inch MacBook Air would be the largest laptop in Apple's Air lineup, joining the 13-inch models currently available.
Rumors about the 15-inch MacBook Air began to circulate at the start of 2022. Reports suggest the laptop will feature an OLED display and that Apple may wait until later in 2023 to launch it. Apple analyst Ming-Chi Kuo believes the company may wait until later in 2023 to launch the 15-inch model.
The original 13-inch MacBook Air was first introduced by Steve Jobs in 2008 and was advertised as the world's thinnest laptop. It featured a flip-down tray on the side of the machine with a single USB port, a headphone jack, and a Micro-DVI port for connecting an external display. It was the first notebook with a multi-touch trackpad and no CD/DVD drive.
The latest MacBook Air was released with Apple's M2 chip last July. It has a uniform thickness of 0.44 inches, making it flatter than the original MacBook Air. Apple continues to sell an older version with the M1 chip.
The 15-inch MacBook Air is expected to launch alongside other new products from Apple, such as an updated HomePod, Mac Pro, and Reality Pro headset. It remains to be seen whether Apple will be able to deliver on its promise to launch the 15-inch MacBook Air this year.