The latest information on the potential of an Apple Car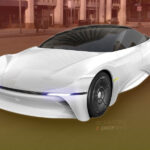 The Apple Car has been one of the most highly anticipated projects of the last decade. For years, rumors and speculation have been circulating around the tech giant's potential plans for an electric car. Recently, the rumors were given a boost when Apple announced that it was hiring a new executive and had begun meeting with self-driving car experts. On top of that, the news sent Apple stock to new all-time highs.
The hype around the Apple Car has been intense, with many analysts predicting that Apple could capture a multi-trillion dollar market opportunity if they are able to enter the automotive space. However, it is important to recognize that the car market is far more competitive and entrenched than the smartphone market when Apple initially entered the sector in 2007.
In 2015, Apple was said to have hired new employees for the project, alongside meeting with self-driving car experts and GoMentum Station, a testing ground for self-driving technology. In 2019, Apple acquired Drive.ai, a technology company that uses AI to make self-driving systems for cars. In 2020, the car was reportedly set for a launch in 2024 with a "beta" version being built in 2022.
The most recent news on the Apple Car suggests that the company is now full-speed ahead on an electric AV and is in the process of developing a chip that is capable of controlling an autonomous car. This new version won't be fully autonomous; instead, users will apparently only be able to activate the self-driving features on highways, for safety reasons.
However, investors need to be cautious when it comes to the latest Apple Car news. Apple has a long history of hype cycles, and the current enthusiasm around the project is no different. Furthermore, other existing car manufacturers from General Motors to ridesharing services like Uber have a huge head start on Apple. Additionally, the tech giant has yet to test these chips on the road or actually develop a vehicle.
Some analysts have suggested that Apple just needs to capture 4% of the future $10 trillion global mobility market to match its current revenue base. While that is possible, the company is going up against huge competition and won't have an easy time taking market share. Furthermore, the market for fully autonomous vehicles is expected to be relatively small until the late 2020s.
Ultimately, the Apple Car is an exciting project, but it may boil down to whether Apple thinks it can compete in this market on its own, or if it makes more sense to partner with an existing auto maker. Then again, it's possible that the media has it all wrong…Apple may instead be working on autonomous driving software rather than an entire car. Time will tell.