Once You Use A Mac, You'll Never Go Back…Until? You've Used An iPad
FEATURE – The computer of choice for me always has been a Mac but I've since chosen an iPad as my go-to device for computing.
The iPad — Apple's tablet computer — has come a long way since it was released back in 2010. It's gone from merely being a gigantic iPod touch to becoming a suitable replacement for a Mac.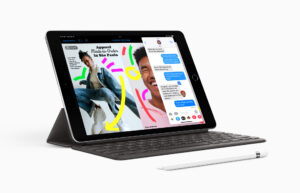 Today, with accessories like an Apple Pencil and a Smart Keyboard, an iPad can be the only computer that you'll ever need.
**AD: Find the lowest prices, latest discounts, and best deals on a new iPad by consulting the award-winning and exclusive price trackers on MacPrices. Pricing from Apple (and Apple Authorized Resellers) updated daily, seven days a week!
iPad: Ease Of Use
So, what made me switch to an iPad and ditch the Mac? Its ease of use.
After losing my eyesight in 2013, I have been relying on VoiceOver — a screen reader for the visually impaired built in to Apple's operating systems (including iPadOS and MacOS) — to see and interact with what is displayed on the screen, be it text and images or elements like buttons and sliders.
The user interface of iPadOS with VoiceOver enabled is easy as you simply perform swipes, gestures, and taps using the touchscreen. In order to do the same tasks in MacOS, it is much more difficult as it requires the use of the arrow keys along with a combination of different keys held down on the keyboard to enact certain functions and/or specific actions (something I find quite cumbersome!).
As a result, neither of the two Macs that I own hardly ever get used.
However, while I have been using an iPad in place of my MacBook Air (or iMac) for the past 10 years now? There are some who feel that Apple's tablet computer can't yet fully replace a Mac.
iPad: Complicated & Complex
For example, take Michael Gartenberg, a former senior marketing executive with Apple, Inc. who currently owns an iPad (an iPad Pro, to be exact) which he hardly ever reaches for these days. To him, the device is definitely a game changer. But, despite it being a jack of all trades, — ideal for consuming media, browsing the web, and running a variety of apps — in Gartenberg's opinion, Apple's tablet computer is a master of none.
Gartenberg was formerly a die-hard fan of Apple's tablet computer. When the iPad was released, he decided to purchase one and immediately fell in love with it. According to Gartenberg's own account, it was his constant travel companion, at one point used instead of a laptop.
One of the main issues that Gartenberg has with the iPad is its user interface, which he feels has become increasingly complicated over time. The other is with the operating system itself, iPadOS, which he says has become more powerful but more complex with each new release.
Gartenberg is also concerned over the iPad becoming a secondary device to the Mac due to recent rumors of Apple working on a MacBook with a touchscreen, which he feels would make Apple's tablet computer obsolete.
But, until a MacBook with a touchscreen surfaces? An iPad will continue to be my go-to device for computing.
---
Related Reading: from the "Mac Potpourri" story archives – "Image Gallery From PowerBook Central Coverage Of April 2010 iPad Product Launch" (April 2019).