White MacBook Specifications & Review
Apple replaced the older white polycarbonate MacBook with a unibody polycarbonate model in 2010. The new MacBook features a 13" LED display, 2.4GHz Intel Core 2 Duo processor, NVIDIA GeForce 9400M integrated graphics, a glass trackpad, and toes the line at $999. For the majority of the computing population, the MacBook probably fits the bill. Web surfing, email, Office apps, digital photos, and basic video editing - the White MacBook handles these routines without breaking a sweat. However, it's not quite as snappy as the MacBook Pro, and don't expect video-intensive apps like Second Life to break any records.
This model includes a built-in battery that isn't user accessible, and Apple also chose to eliminate FireWire. They've also included Apple's DisplayPort, so if you have an older display, you'll need an adapter - one that Apple is only too happy to sell you.
However, it still represents the best value in Apple's lineup.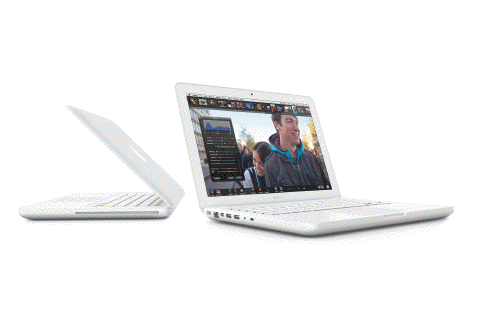 Read our full MacBook review.
The new MacBook, for a suggested retail price of $999 (US), includes:
* 13.3-inch widescreen LED-backlit 1280 x 800 glossy display;
* 2.26 GHz Intel Core 2 Duo with 3MB shared L2 cache;
* 1066 MHz front-side bus;
* 2GB 1066 MHz DDR3 SDRAM, expandable to 4GB;
* NVIDIA GeForce 9400M integrated graphics;
* 250 GB serial ATA hard drive running at 5400 rpm, with Sudden Motion Sensor;
* a slot-load 8X SuperDrive with double-layer support (DVD±R DL/DVD±RW/CD-RW);
* Mini DisplayPort for video output (adapters sold separately);
* built-in AirPort Extreme 802.11n wireless networking and Bluetooth 2.1+EDR;
* Gigabit Ethernet port;
* built-in iSight video camera;
* two USB 2.0 ports;
* one audio line in/out port, supporting optical digital out and analog in/out;
* glass Multi-Touch trackpad;
* built-in, 60WHr lithium polymer battery; and
* 60 Watt MagSafe Power Adapter.
Build-to-order options for the MacBook include the ability to upgrade to 4GB 1066 MHz DDR3 SDRAM, or 320GB 5400 rpm, 500GB 5400 rpm hard drive, Mini DisplayPort to DVI Adapter, Mini DisplayPort to Dual-Link DVI Adapter (for 30-inch DVI display), Mini DisplayPort to VGA Adapter, Apple MagSafe Airline Adapter and the AppleCare Protection Plan.