New Membership Service from Best Buy Provides Support for 'All Your Tech. All the Time.'
NEWS: 05.30.18—Last week, on Sunday, May 20, Best Buy announced the debut of their new "Total Tech Support" service for customers, telling those who subscribe to their marketing emails that they can get support in store, in their home over the phone and online, all day and every day.
Powered by the Geek Squad, the moniker for Best Buy's equivalent of the Apple Store Genius Bar, Total Tech Support is "All Your Tech. All the Time." and is dedicated to supporting all the tech in your home no matter where or when you bought it.
And that's the biggest benefit of all. The membership provides unlimited support for all of your technology and appliances no matter where they were originally purchased.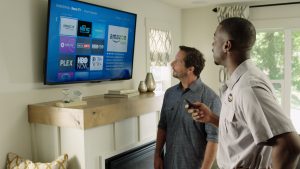 Best Buy says they're ready to help wherever and whenever. Whether it's in a store, in your own home, or via the web, the third option available 24/7.
"We've got the answers. Overwhelmed with the new tech devices in your life? We're here to answer your questions and help you use all your devices."
Just some of the many products they support are ones they sell in store and online as well. Computers, appliances, TVs, audio, smart home devices, the connected car, gaming, digital cameras, cell phones, and wearable tech.
They indicate that you'll get many services included with a membership at no additional cost such as their popular computer and car services like:
⁃ "Computer infected with a virus? We'll remove it."
⁃ "Need to keep your documents and photos safe? We'll back them up."
⁃ "Want a bigger sound inside your ride? We'll install it."
With a membership, you also receive exclusive savings like $49.99 for standard in-home services, 20% off repairs and advanced services, and 20% off Geek Squad Protection and AppleCare warranty plans.
As an added bonus, internet security software is included for free and is good for up to three devices in your home. The software runs on Mac OS, iOS, Windows, and Android.
Some readers may be wondering why this story is news when they already have known about this service since last year.
According to a Best Buy spokesperson, Total Tech Support was piloted with more than 230,000 customers in ten major U.S. markets in the past year. The email received by customers on Sunday, May 20 was sent out to coincide with the national launch of the service which occurred last week.
Customer response has been positive so far garnering a 4.7 out of 5 stars rating. 95% of the 77 total reviewers on their website would recommend the service to friends.
One customer with a verified purchase who indicates the membership as a must have says, "If you have any type of electronic device that may need repair or any type of service, having the Total Tech Support is a must have. The money you will save will blow your mind. I have already had two computers transferred to external memory and and one of the computers repaired. The cost to do all of that out right was almost double of the purchase price of TTS!!! You will not regret the purchase of it."
So how much does this service cost? A yearly membership is $199.
If you are interested in learning more about this service from Best Buy, visit the Total Tech Support product page. There you can sign up for the membership by clicking the "add to cart" button or by calling: 1-888-237-8289.
_____
(Full disclosure: this writer is a customer of Best Buy and received the email referred to in this article which prompted the idea for this news story. This writer is not an employee of Best Buy or been employed in the past. No compensation from Best Buy was received for writing this story.).
Want to join the conversation? Comment below: