Score Black Friday Prices On Apple Items Now At Best Buy
NEWS: 11.19.18- The best bet for anyone shopping for a new shiny Apple product and looking to save the most amount of money going in to this holiday season need not look further than the price trackers right here on MacPrices, with some Macs on sale today for $300 off MSRP and iPads for up to $157 off. Best Buy is another location where one can enjoy significant discounts that are available right now in advance of the big Black Friday sales on November 23.
There is one small catch, however, as the savings are for previous generation Apple products and some that were released earlier this year. It does not include any of the items that were announced by the Cupertino, California-based tech company at the Apple special events in September and October such as the three new iPhone models — the XR, the XS, and XS Max — or the refreshed iPad Pro, the Apple Pencil 2, and the new Mac mini.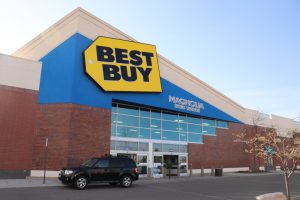 The Richfield, Minnesota-based electronics store chain is currently having a sale on the MacBook Pro, iPad, iPad Pro, and Apple Watch with discounts of $250, $100, $125-150, and $50 respectively. The following are just some examples of the deals being offered since as early as November 8:
— the 2018 MacBook Pro 13-inch 512GB model can be had for $1099.99 (regular price $2199.99)
— the 2018 iPad 9.7-inch 128GB model can be had for $329.99 (regular price $429.99)
— the previous generation iPad Pro 10.5-inch 64GB model can be had for $524.99 (regular price $649.99)
— the Apple Watch Series 3 38mm GPS model can be had for $229(regular price $279)
— the Apple Watch Series 3 38mm GPS + Cellular model can be had for $329 (regular price $3379)
The deals above were originally mentioned in a Macworld article written by associate editor Leif Johnson.
Apple in the past has offered anywhere from $50-100 off its products on Black Friday but in recent years has chosen only to offer a gift card for purchasing a new computer at the regular price. With the company reported by the website Digital Trends to be planning to offer the same promotion this year as it did in 2017 — an iTunes gift card — one's Best Buy's are at, well, that answer is easy.
There is no indication when this sale at Best Buy ends so shop now to get the best savings. In addition, Best Buy has not yet revealed their Black Friday or Cyber Monday deals so it is up in the air if any additional savings can be had on what is currently being discounted as far as Apple products go or whether any of the more recent and newly released items will get the same treatment come this Friday.
To get an early start shopping for Black Friday style deals on the Apple items mentioned above, visit Best Buy's website at: www.bestbuy.com.
And for the best deals on all Apple products — whether for Black Friday, Cyber Monday, or any time of the year — be sure to visit the daily price trackers right here on MacPrices.