Apple Watch Series 4 Highly Accessible Device For Users With Disabilities
FEATURE: 12.03.18- Apple products are known to be accessible right out of the box as persons with disabilities can attest to and on this International Day of Persons with Disabilities, also known as World Disability Day, I take a look at the new Apple Watch Series 4 and how it well may be the most accessible Apple product to date to be release by the Cupertino, California-based tech company.
The Apple Watch Series 4, which was unveiled at the Apple special event back on September 12, has been reviewed by Liz Plosser, editor-in-chief of Women's Health magazine, as "… a powerful device for your overall well-being. That's because game-changing bells and whistles have elevated the Apple WatchSeries 4 from an investment-worthy health accessory to a sleek and beautiful device that actually might save your life." That description alone could make any Apple fan want to run out and buy one. But what about a person with disabilities? Would the Apple smartwatch work for them and would they be able to use it?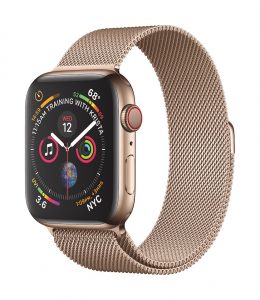 I actually do not own an Apple Watch Series 4, or any version of it for that matter, and have been on the fence about getting one since I am generally not a fan of wearing wristwatches. In the modern tech age, I would rely on my pager (remember those? what is that?), then my cell phone, and now my iPhone to tell me the time (other than simply looking to other sources such as the old tried and true clock on the wall). But when I became visually impaired and totally lost my eyesight in 2013 — a fact that regular readers of the "Mac Potpourri" column already know — since that time I always have relied on my iPhone to tell me the time because of, and thanks to, VoiceOver.
Ad:: Compare prices on our Apple Watch Price Tracker here at MacPrices.net.
The number one thing that makes most, if not all, modern Apple products accessible for those like me who are visually impaired (whether low vision or completely blind) is the accessibility feature called VoiceOver which is a screen reader that reads text out loud and is a piece of software built in to all Apple operating systems from MacOS and iOS to watchOS and tvOS.
After learning that the Apple Watch is just as accessible as any other Apple product on the market, and all the nifty features the smartwatch has that work similar to what you can do on an iPhone, I may reconsider my aversion to wearing something on my wrist that tells me the time and a whole lot more.
The original Apple Watch debuted in 2015 when my eyesight was already gone, therefore, I have never seen the device and can only imagine its appearance. I mean, I know what a wristwatch looks like but didn't know just how far Apple would stray from the standard design — or closely match — in order to make its product stand out from everything else already out on the market, be it analog, digital, or smartwatch. I did, although, know some of the things the wrist worn device could do from what I've heard and read about the product.
However, around this time last year, I finally had the chance to touch and feel an original Apple Watch in my hands and briefly experience how the device works thanks to a friend of mine who owns one himself and brought it over to let me try it out.
I did not know before that day that VoiceOver was also present on the Apple Watch with its watchOS operating system. I guess I should have known better since Apple has always been committed to making all of its products accessible for all of its users so the experience on its smartwatch should not have been any different.
When my friend turned on VoiceOver and demonstrated some of the features of the Apple Watch, I was impressed and amazed how Apple was able to engineer all those technologies into such a small device! I honestly thought it would be much bigger, thicker, and clunkier, jutting out on top of your wrist.
After that great experience, ever since, I have considered the prospect of getting one for myself. Especially with all the innovative and groundbreaking features the new Apple Watch Series 4 has.
So just how accessible for the disabled is the new Apple Watch Series 4?
According to an article in October written by Steven Aquino, a contributor at the website TechCrunch, the Apple Watch Series 4 is the most accessible smartwatch yet. It is not only accessible to the visually impaired but across the board for persons with other disabilities. Not to mention, those with health issues which can be also associated with the disabled while being a separate group of people altogether.
Aquino, who is visually impaired and suffers from low vision, was given a review unit by Apple and he spent some time testing out the Apple Watch Series 4 from the perspective of a user with multiple disabilities.
On the Apple Watch in general, Aquino wrote, "… From my perspective as a disabled person, Apple's smartwatch makes receiving notifications and the like a more accessible experience. As someone with multiple disabilities, Apple Watch not only promotes pro-social behavior, the device's glanceable nature alleviates the friction of pulling my phone out of my pocket a thousand times an hour. For people with certain physical motor delays, the seemingly unremarkable act of even getting your phone can be quite an adventure. Apple Watch on my wrist eliminates that work because all my iMessages and VIP emails are right there."
In regard specifically to the Apple Watch Series 4, he wrote, "The fourth generation Apple Watch Series 4 in Apple's parlance is the best, most accessible Apple Watch to date. The original value proposition for accessibility, to save on physical wear and tear, remains. Yet Series 4's headlining features — the larger display, haptic-enabled Digital Crown, and fall detection — all have enormous ramifications for accessibility."
Aquino continued, "In my testing of a Series 4 model, a review unit provided to me by Apple, I have found it to be delightful to wear and use. This new version has made staying connected more efficient and accessible than ever before."
The first factor is the larger 44mm display of the Apple Watch Series 4 which is a huge benefit to those with low vision.
Aquino wrote, "For accessibility, the Series 4's larger display is today what Retina meant to iPhone 4 eight years ago. Which is to say, it is a highly significant development for the product; a milestone. If you are visually impaired, this should be as exciting as having a 6.5-inch iPhone. …"
Interestingly enough, he makes no mention whatsoever of VoiceOver as an important and essential tool for the visually impaired who are completely blind which is a key factor I would want to know if I was someone looking to buy an Apple Watch and did not have that knowledge beforehand about the device. Granted, Aquino has some vision so would not need to use it but I personally think he missed a major opportunity to include in his review something as notable as VoiceOver when he is calling the Apple Watch Series 4 the most accessible Apple Watch to date. But I digress.
The second factor that makes the Apple Watch Series 4 very accessible is its haptic feedback — first introduced in the original Apple Watch — which has found its way into the Digital Crown (a dial on the device akin to the Home button found on iPhone models equipped with such).
"Before Apple Watch launched three years ago, I wrote a story in which I explained why haptic feedback (or force touch as Apple coined it then) matters for accessibility," wrote Aquino.
"What I wrote then is just as relevant now. The addition of haptic feedback enhances the user experience, particularly for people with disabilities. The key factor is sensory input — as a user, you're no longer simply watching a list go by. In my usage, the fact that I feel a tick as I'm scrolling through a list on the watch in addition to seeing it move makes it more accessible."
That's something I wish I had on my iPhone SE which adopted the majority of the features of the 6S, released the year before the SE, except for the force and 3-D touch, just some of the few things that weren't ported over. Instead of haptic feedback, however, VoiceOver provides audible clicks when navigating through elements on the screen. It would've been nice and very helpful if the SE had haptic feedback to go along with those clicks. But, again, I digress.
Something Aquino added related to haptic feedback — he prefers his iPhone to ring and vibrate for incoming calls because it indicates that someone is trying to reach him and he could miss the call otherwise — applies to the hearing impaired, another disability that he has, suffering from congenital hearing loss due to both of his parents being deaf.
He went on and wrote, "Tim Cook made a point during the original Watch's unveiling to liken the Digital Crown as equally innovative and revolutionary as what the mouse was to the Mac in 1984 and what multi touch was to the iPhone in 2007. I won't argue his assertion here but I will say the Series 4's crown is the best version of the 'dial,' as Cook described it, to date. It's because of the haptic feedback. It gives the crown even more precision and tactility, making it more of a compelling navigational tool."
The third and final factor of the highly accessible nature of the Apple Watch Series 4 is the new fall detection feature which Aquino considered a big deal.
"… the fact that it exists at all is telling for a few reasons — the most important to me being accessibility," wrote Aquino.
"I've long maintained accessibility conceptually isn't limited to people with medically recognized disabilities. Accessibility can mean lots of things …. Accessibility is also applicable to the elderly who, in the case of fall detection, could benefit immensely from such a feature."
Aquino's final thoughts on the Apple Watch Series 4 were this:
"Three years in, I can confidently say I could live without my Apple Watch. But I also can confidently say I wouldn't want to. Apple Watch has made my life better and that's not taking into account how it has raised my awareness for my overall health."
"… Series 4 is an exceptional update. The larger display is worth the price of admission, even from my year old Series 3. The haptic Digital Crown and fall detection is the proverbial icing on the cake. I believe the arrival of Series 4 is a seminal moment for the product and it's the best, most accessible Apple Watch Apple has made yet."
---
(Note: Special thanks to Apple, Inc. for immediately providing upon request, the image of the Apple Watch Series 4 included in this article.)