People Profiles: Saving The Planet In Turn Through Operation To Salvage Unwanted Macs
FEATURE: 04.22.19- Earth Day falls on this day once a year but for one environmentally conscious user of older Apple computers, saving the planet is always on the back of their mind, the perfect example being when they embarked on a salvage operation to rescue an extensive collection of unwanted Macs scheduled to be scrapped for parts and their efforts are helping to keep any non-recyclable components from possibly ending up in places harmful to this biosphere teeming with life that we call home.
About the Series
People Profiles is a special series that periodically appears here in the "Mac Potpourri" column on MacPrices which feature unique stories about users of Apple products (or related to the use of them in general)
stories featured in this series are original (and in most cases exclusive to this column), however, from time to time, they may be derived from other sources, and, should this be the case, the source will be cited at the end of the story
for more about People Profiles and its goal, primary focus, as well as the inspiration behind it, see this introduction to the series
(story continues after the break…)
Meet Scott Flanagan, 38, of Fort Wayne, Indiana, a freelance graphic designer who is an individual doing his part to help the environment through his quest to salvage old unwanted Macs that have accumulated and been gathering dust at an electronics recycling center in the downtown area near his home. His — what could be called — crusade to find users interested in acquiring these older and obsolete computers giving them a second life and a brand new home is but one way in helping to preserve the planet, keeping harmful chemicals and components out of the landscape.
Flanagan previously had purchased various computers, both Mac and PC, from this electronics recycling center — it was a Craigslist post regarding a particular item which first brought him there and clued him in to the center's contents —and by merely perusing the selection of machines available, he became aware of the unwanted Macs in question, which according to him were 70 to 80 in total, and it seemed that no one but himself was taking any interest in that specific collection so after learning that all the units were going to be purged, he decided to do something about it.
"I have been frequenting my local electronics recycling center for the past 3 years, and ever since that point up until now, they have had a large number of older Macs in their possession," said Flanagan. "I've bought a few, a Mac SE, iMac G4, and a PowerBook 540c to name some of the better finds, and no one has shown interest in these older Macs during that time, most likely much longer."
"Because it takes up a considerable amount of room, the newly appointed head of this particular branch wanted to scrap and recycle them. To that end, – when I found out that the recycling center was going to scrap all of these old, and mostly working, Macs – I couldn't in good conscience let them do so, knowing how many people would be interested in owning and taking care of them. The Low End Mac community is a very diverse crowd who I knew would enjoy and cherish one of the many Macs."
The community Flanagan made a reference to are members of a Facebook group called Low End Mac (or LEM for short) — a social media hub associated with the website of the same name — and is a community which, for about three years now, he happens to be a member of as well.
"It's been a fun hobby as of late, and the advice of LEM members takes out much of the frustration that definitely comes along with dealing with an older Mac. In addition, they helped me out numerous times in trying to get my Macs up and running. I was lucky enough to get my hands on that Mac SE, but it only had an 800k floppy drive, and its SCSI HDD has long since given up the ghost, so I was in a pickle. The LEM members helped me sort that out, and have been very helpful in there assistance with my other two Macs as well."
"Because older Macs were relatively uncharted territory for me, I tried to figure out on my own what to do, and for a time it was fun! (It is very cathartic to restore computers of any type). I thoroughly enjoy getting out the Q-tips and isopropyl alcohol and getting in there to see if I can bring them back to their former glory. Needless to say, I did not get very far. Coming from PCs (I built, and still do build, Windows and Linux computers as a hobby), older Macs are a completely different creature and presented all kinds of headaches. Because of my ignorance in how to restore them and use them, I began Googling for solutions, and more often than not, 'Low End Mac' came up. Soon after, I joined the Facebook group, and was graciously assisted with many of my issues. With this large and very helpful knowledge base, messing with older Macs became more and more enjoyable, and I began to develop a legitimate interest in older Macs as a hobby."
Aside from this relatively new hobby, Flanagan also builds and repairs PC computers, and especially likes to resurrect older machines, replacing the Windows operating system by installing variants of Linux called distros (short for distribution) such as Lubuntu and Linux Mint. His other hobbies include playing eSports games online with titles such as Overwatch and Counterstrike GO but his favorite genre are battle royale games like the popular PlayerUnknown's Battlegrounds or PUBG (he thoroughly enjoys eSports and has put in roughly 1,200 hours over the past 1.5 years on the latter game and says he has a wicked competitive streak which, according to him, satiates the urge to play). As far as actual sports, he loves to play basketball and volleyball. In addition, as of late, he has found great enjoyment in cooking. Flanagan likes to, in his own words, dabble in a little bit of everything as life is short, and explains that as the reason how he got interested in older Macs as a hobby.
"I was never really a Mac user up until 2015/16, after essentially not growing up with them (aside from the random relative who had owned one)," said Flanagan. "The aforementioned Macs essentially fell into my lap. As a matter of fact, I went to purchase a Tandy TRS-80 Model IV (I actually later donated that Tandy to Clint Basinger at LGR / Lazy Game Reviews) when they told me they were going to recycle a 'cherry' 1988 Mac SE that day. It came with all accessories including a carrying case. I could not say no! (Still proud of that one!)."
Flanagan clarified that the term, cherry, which he used to describe the Mac SE (its official name is actually Macintosh SE) — also noting that it was the oldest Mac he ever saw there at the electronics recycling center — refers to an excellent representation of a classic item, not as clean as mint condition (per se), but in a similar fashion.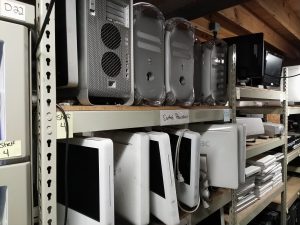 In the Fall of 2018, after securing permission from the head of the electronics recycling center to acquire the unwanted Macs, Flanagan finally jumped on his idea and shared a post with the Low End Mac community on its Facebook group about the availability of the classic machines. Initially, a total of 50 requests for the older and obsolete computers were placed by around 30 LEM members. The number of available Macs unexpectedly fluctuated, presenting a roadblock to Flanagan's grand plan (for instance, if the computers had been dropped off by the original owner specifically to be recycled and/or if the machines already had been processed to be scrapped for parts). Furthermore, according to Flanagan, due to the shoddy shape of many of the items — along with the recycling center's overly protective protocol for data removal — unfortunately, so far, he only was able to save 15 of the Macs to date.
"Some of the Macs have proven to be non-functional or unavailable as time progressed, so some of the requests are on hold," said Flanagan. "For every viable Mac, there were three or four (or more, honestly) legitimately busted models. However, the viable models in question have proved to be worth the effort in searching them out, as they turned out to just require a good cleaning away from returning to their former glory and finding a new home!"
While he was hoping to save as many of the extensive collection of older computers as he could, he indicated — with a chuckle — that he never intended to salvage the whole lot of unwanted Macs in possession of the electronics recycling center. The small number of machines he already has rescued has overwhelmed him, but, on whether he was disappointed that he wasn't able to save more machines, Flanagan said not at all.
"I plan on trying my damnedest to fulfill all of them I can. Sure, it will keep me busy, but I'm certain I have the motivation to see it through. I will maybe fulfill about 10 of them before it's all said and done. It has been a slow process to be sure, slower than I would have initially thought. Life has gotten in the way recently, but I plan to continue very soon. I've been on hold for a while, but they are still in status ready to meet their new owners."
Flanagan could have easily made a profit from his salvage operation but chose not to go that route because, as he put it, why not charge for advice from people who are essentially geniuses in this area? For all the help he has and continues to receive, he said it was the least that he could do. The only charges to the LEM members will be the expenses incurred: the cost of the item (they are not free even though they are destined to be recycled and scrapped for parts), packaging, shipping, and nominal transportation costs. And while he isn't necessarily expecting them, donations are certainly welcome.
"Overall, the joy of finding the computer/item you want for an amazing price is something I wanted to pass on," said Flanagan. "Money comes and goes, but making someone happy is honestly more enjoyable in the long run! (Life is all about encounters and events and this venture has proven to be worth its weight in salt to be sure!)"
The unwanted Macs that Flanagan salvaged — Which according to him ranged from between 1999 and 2006 (most of them being notebook computers with various models of the iBook, PowerBook, and original MacBook) — were only offered to LEM members because in his eyes, no one else deserves them and, in his own words, no one else will give them as good of a home as them.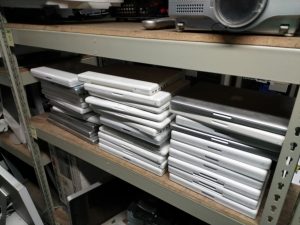 The burning question that remains, however, is what was the impetus for this whole salvage operation by Flanagan in the first place?
"I have been lucky to be successful with my graphic design business and have been interested in pursuing some philanthropic ventures," said Flanagan. "This seemed like the perfect fit when the opportunity arose. I felt that it was a noble cause to head up."
That business, BDrive Studios, is a graphic design firm —which he is the owner of — whose projects mostly cater to financial related clientele (involving standard fare such as presentations and flyers just to name a few) though other projects have included events like film festivals. In fact, a current project he is working on is for the West Virginia International Film Festival (WVIFF) whom, according to Flanagan, gave him a big break years ago and now they have commissioned him to create a poster for their 20th anniversary this year (something in which he is VERY excited about).
And, although working on a time consuming side project, albeit a philanthropic venture at that, to salvage a handful of unwanted Macs amidst simultaneously running a business has no personal benefit or profit in return for Flanagan, it is but a small effort with a big impact that certainly will be a huge boon to the environment: allowing the Earth to take a few more trips around the Sun, something he is more than happy to help make happen in order to save the planet.
"I definitely feel that keeping these older Macs in the hands of LEM members will keep some of the more harmful chemicals out of the environment for a while longer," said Flanagan. "I own an electric car, recycle, and try to produce as little waste as possible. I even use metal straws, ha ha! So, being environmentally conscious is VERY important to me and has been for a long time."
"If this venture can help make my community a bit cleaner, even a little bit, then I'm all for it!" added Flanagan.
---
Note from the Author: This is the third edition of the People Profiles series here in the "Mac Potpourri" column. The subject of this story agreed to be interviewed and share their personal story for the series. (Full disclosure- this writer was inspired to feature this individual and their project in this series after reading a post, the same one mentioned in this story, on the aforementioned Facebook group which this writer is a member of as well. In addition, this writer also writes for the website the social media group is based on, Low End Mac, writing the column "Leo And Mac" where one can find an article from last year in which the subject of this story was first interviewed.).