New Accessibility Features Coming To MacOS Catalina, iOS 13, & iPadOS Previewed At WWDC '19
FEATURE: 06.30.19- While the everyday user of Apple products will have some drool worthy features to look forward to such as dark mode in iOS 13 or Sidecar in MacOS Catalina version 10.15 (which lets one use an iPad as an external display), the disabled community was certainly not forgotten at WWDC 19 earlier this month with a handful of new accessibility features being announced by Apple at the annual worldwide developers conference for upcoming updates to MacOS, iOS, and the new iPadOS (an offshoot of iOS), once again illustrating the Cupertino, California-based tech giant's commitment to its users with disabilities.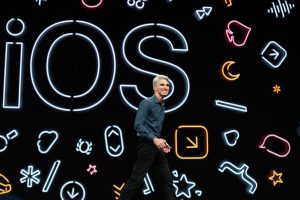 Steven Aquino, a contributor who writes for the website TechCrunch, highlighted a few of the new accessibility features which were revealed at WWDC 19 the week of June 3 in San Jose, California during the five day long conference which brings together droves of third party software developers of the many operating system platforms Apple has for its hardware and devices.
Minor decisions by Apple that go a long way to show that it is highly committed to its community of disabled users are ones such as the move of the Accessibility menu in both iOS 13 and the new iPadOS to the top level of the Settings hierarchy.
"Instead of drilling down to Settings > General > Accessibility, the Accessibility settings are now a top level domain in the same list view as Notifications, Screen Time, and so on," wrote Aquino.
In addition to Accessibility coming front and center in the hierarchy of the Settings menu on mobile devices, Apple how has added Accessibility to the first run setup assistant so that when, for instance, a disabled user sets up an iPHone, they can configure any or all accessibility features from the start.
Currently, when an Apple product (if applicable) is setup for the first time, VoiceOver — a built-in screen reader software in all of Apple's operating systems made for the visually impaired (not new) — can be toggled on by default, allowing the user who is blind to run through setup without the assistance of a sighted person.
"Both changes are long overdue and especially important symbolically," wrote Aquino.
"While it may not affect the average user much, if at all, the fact Apple is making this move speaks volumes about how much they care for the accessibility community. By moving Accessibility to the front page in Settings, it gives disabled users (and by extension, Accessibility) just a bit more awareness."
Aquino, who is disabled himself, felt this decision was not insignificant and the changes reinforce Apple's position as the leader in the industry when it comes to making Accessibility a first class citizen. Furthermore, these moves by Apple send the message that accessibility is a critical aspect of its operating systems and, for so many like him who are disabled, a critical part of the user experience as well.
According to the TechCrunch contributor, accessibility plays a significant role in not only the conference itself (the sessions, labs, and get togethers) but also in the software Apple shows off.
However, the big elephant in the room, so to speak, at WWDC 19 was the announcement of Voice Control which will allow (of course) a disabled user who does not have the physical capability to control a Mac, iPHone, iPod touch, or iPad — when in the MacOS Catalina, iOS 13, or the new iPadOS environments — completely by just the use of their voice.
In fact, according to Aquino, it was so compelling that Apple decided to make it a banner feature worthy of precious slide space during Craig Federighi's onstage presentation.
Federighi, Apple senior Vice President of software engineering, explained how — when discussing features of Voice Control as a guest on a podcast — he had friggin' tears in his eyes after watching an internal demo from a member of Apple's accessibility team.
"Of course, the reason for all the excitement over Voice Control is the way it makes computing more accessible," wrote Aquino.
"Which is to say, Apple has reached an inflection point with its assistive technologies where someone who can't physically interact with their computers now has an outlet. To use only your voice to do this used to be the stuff of science fiction, but now it's more or less reality."
Aquino mentioned other accessibility tools built in to MacOS like Switch Control — an assistive technology that allows a user to operate a Mac with a third party accessory that scans the screen until the person activates a switch with their foot to input a command or toggle a button — which, in his own words, are in the ballpark but Voice Control takes it to a whole other level.
"Apple is putting a stake in the ground: if you can't touch your computer, just talk to it. For many disabled people, the floodgates just opened. It's a big deal."
After the conclusion of the keynote address, the TechCrunch contributor interviewed Sarah Herrlinger, Apple director of global accessibility policy & initiatives, to speak about other accessibility features.
"One of the things that's been really cool this year is the Accessibility team has been firing on all cylinders across the board. There's something in each operating system and things for a lot of different types of use cases," said Herrlinger.
An example of these was a new accessibility feature in MacOS Catalina that Apple is calling Hover Text. When activated, a user who places the mouse pointer over a selection of text will get a pop up bubble with that text enlarged inside. The feature, which is a subset of the zoom function, will work system wide.
Speaking of mice pointers, a new accessibility feature coming to iOS 13 and the new iPadOS will be support for navigating a touch screen with a mouse (either via USB or Bluetooth), an assistive touch option for users with physical / motor disabilities that cannot operate or easily interact with a touchscreen.
Of note by Herrlinger is that this particular new accessibility feature is a niche feature designed specifically for the disabled user and, according to her, is not your old desktop cursor. Mouse support will not be a secondary option of operating an iPHone or iPad in the conventional means of a computer input mechanism.
Aquino himself made a crucial point: people without disabilities will use this feature regardless of its actual intended utility and Apple recognizes that.
"No one will stop you from plugging a mouse into your iPadPro. It's no different from someone using Magnifier to get up close on a finely printed restaurant menu…" wrote Aquino.
"Accessibility features can benefit more than the original community they were designed to support," said Herrlinger.
"For example, many people find value in closed captions. Our goal is to engineer for specific use cases so that we continue to bring the power of our devices to more people."
---
Note from the Author: this article is one of a number of stories with Accessibility or disability related topics as its subject matter which this writer features periodically in this column due to his own disabilities (being visually impaired and partially hearing impaired) and, whenever the opportunity arises to share such stories, it is published here.