Apple Sources Confirm Spring Media Event Canceled Due To Social Distancing Measures Issued To CURB COVID-19
NEWES: 03.31.20- A previously planned Apple media event scheduled to take place sometime this Spring that was rumored and widely expected to be held today, March 31, were confirmed by anonymous sources within the company who explained that, aside from manufacturing delays of new products that were to be announced, the underlying factor involved which led to its cancellation and subsequent postponement was due to social distancing measures in place locally that were designed to curb the further spread of the COVID-19 (also known as the novel coronavirus) outbreak.
Earlier this month, the website Cult of Mac broke the news that Apple had nixed a product launch after a source within the company, who spoke on the condition of anonymity, confirmed that an order by the public health department in the county of Santa Clara — where the company's headquarters, Apple Park in Cupertino, California are located — that effectively banned mass gatherings of 1,000 or more people (which, at the time, was in place through April 1), was a, according to the person, major factor, in Apples decision for the cancellation of a previously planned media event that was to be held this Spring.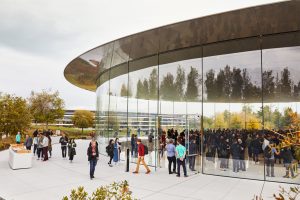 Apple had grown, in the source's own words, concerned, about bringing together close to 1,000 people for the media event that originally was scheduled for late March in the Steve Jobs Theater at Apple Park. The person also said that company executives reportedly had voiced some concern about being unable to ensure social distancing at a public venue in a confined building with people sitting next to each other.
Prior to its cancellation, according to Cult of Mac, Apple never sent out invitations to the long rumored Spring media event.
In addition to concerns over the coronavirus, Cult of Mac reported that new hardware and devices that were to be unveiled this month at the media event — of which various reports had indicated that a number of products were to be launched — were not ready to be sold worldwide due to continued delays in the production pipeline, which, as a result, were part of multiple circumstances that led to Apple's decision for the cancellation.
According to the source within the company, these production delays involve two primary products (details of which they would not elaborate any further on).
"Why have an event when the products aren't ready? It's a pretty simple decision." the source told Cult of Mac.
The person also said that it would be difficult to determine availability and to firm up announcement plans until Apple could evaluate the product components' production schedule and the final assembly of the two primary products involved.
Since the cancellation and subsequent postponement of its media event for this month, according to the source within the company, while Apple has put together a preliminary timeline for all of the elements necessary for the release of its new hardware and devices, they said that it isn't, in their own words, written in stone, and can change as the situation warrants.
Cult of Mac reported that the COVID-19 virus's heavy impact on the Apple supply chain in China means continuing uncertainty about when these new products will launch.
The website was not the only one to have insider information from sources within Apple in regard to the cancellation of a previously planned Spring media event that was to be held in late March.
Forbes magazine reported on its site that Apple was expected to unveil its latest products this month — which were to have included a new iPad Pro, a brand new phone (likely to have been called an "iPhone SE 2" or possibly an "iPhone 9"), and more — but, the media event, according to sources at and near the company who had been saying such for quite some time (and spoke on the understanding of anonymity as the matter was confidential), definitely was not going to happen.
The publication, for its part, duly noted that Apple never announced it was going to hold a Spring media event in March, so, it technically hasn't been canceled.
Forbes reported that It was clear — and came as no surprise — that the culprit for the media event not taking place this month was COVID-19 and posited: why would Apple assemble 1,000 people from around the world in the Steve Jobs Theater inside Apple Park at a time of a contagious outbreak?
In regard to all of the new products Apple was scheduled to release, the magazine reported that instead of it all being announced at once, to expect a series of press releases from the company staggered across multiple days in one week.
Since the time of the publication's report on March 13, Apple has issued press releases which included two new products: an iPad Pro and a MacBook Air.
It is unknown whether those two products were the ones previously referenced by the anonymous source within the company who spoke to Cult of Mac (since it is not known either how much time had elapsed in between when both parties had spoken to each other prior to the website's report which was published a week before Apple's press releases on March 18). As far as the new phone expected by Forbes, an unnamed person at Apple told the latter media outlet that the low cost iPhone (a successor to the iPhone SE from 2016) which was said to be, in their own words, the star of the show, was experiencing continued delays.
**AD: for the lowest prices (and any deals and discounts) on the latest hardware and devices from Apple, be sure to consult the price trackers at MacPrices!
Forbes also reported that Apple has announced that WWDC 2020 — its annual worldwide developers conference — will be held in June as planned but this time, it will be different: It's going to be an online experience (as some had expected).
According to the magazine, the fact that the conference is going ahead at all may surprise some who had expected a complete cancelation (due to concerns over the COVID-19 global pandemic).
In addition to the report from Forbes magazine was the YouTube show Front Page Tech whose host (and founder), Jon Prosser, posted a tweet on Twitter which revealed through a source within Apple — presumably anonymous as well, although, never identified as such — that the company's previously planned Spring media event that was to be held this month officially had been canceled.
It is unclear whether each of the anonymous sources who spoke to Cult of Mac, Forbes, and Front Page Tech were one and the same but in the former media outlet's report, the website indicated that the magazine had, "another source" and also cited the tweet by Prosser as well.
Currently, according to a report Monday by the Mercury News — a San Jose, California-based major metropolitan newspaper publication (which covers the Silicon Valley region) — the number of confirmed cases of COVID-19 statewide have climbed to 7,350 with 146 deaths reported. Data compiled by the news organization showed that out of those numbers, 2,262 confirmed cases and 53 deaths were in the ten counties of the San Francisco Bay Area alone.
Notable was the fact that the hardest hit county of all was that of Santa Clara — the epicenter of the coronavirus in California — its recorded figures accounting for, as reported by the newspaper, nearly 40% of confirmed cases and more than 50% of deaths in the state.
As of March 10, when Cult of Mac broke the news that Apple had nixed its product launch originally scheduled for this month, there were only (as the website reported at the time) 43 known cases of COVID-19 infections in Santa Clara County (the home of Silicon Valley) and one death. Statewide, California had 133 confirmed cases and two deaths.