What You Should 'Watch' Out For At The Special Apple Event On September 15
NEWS: 09.08.20 – Apple today announced that it will be holding a special event next Tuesday, September 15 from its headquarters in Cupertino, California which will be broadcast live on the web.
The special Apple Event — labeled as "Time Flies" by the Cupertino company and printed up on environmentally-friendly, paperless invitations that were sent out digitally via email to the media today — does not include any information other than the date and time as well as where to watch. Due to the current global pandemic and social distancing requirements mandated locally and statewide, the event will be streamed live from Apple Park where Apple CEO, Tim Cook, is expected to unveil a handful of new products as it regularly does like clockwork at this time each year.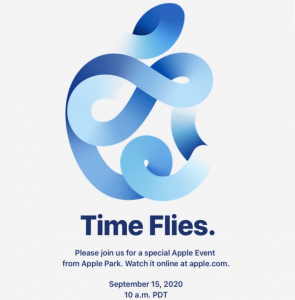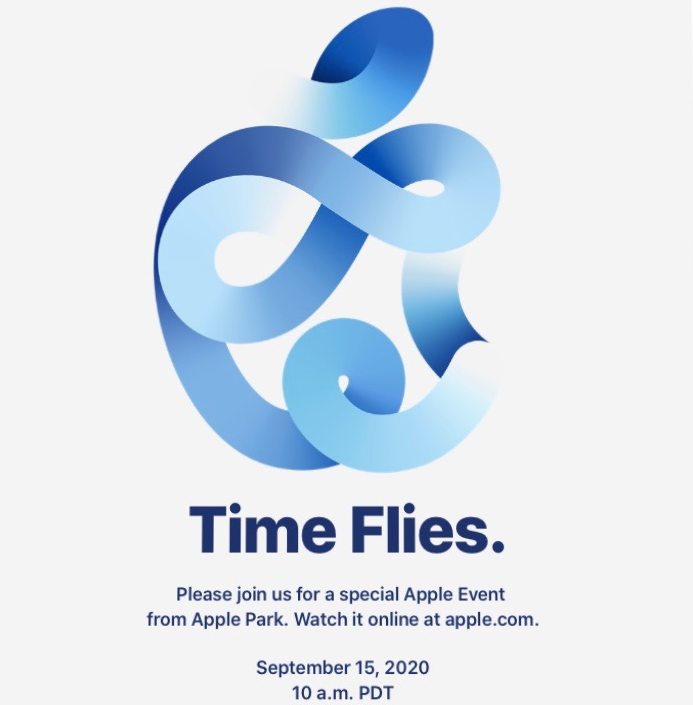 At last year's special event — also held in September but with members of the media physically present inside the Steve Jobs Theater at Apple Park — Apple announced its new flagship smartphone models, the iPhone 11, 11 Pro, and 11 Pro Max, along with an updated iPad (seventh generation) and the Apple Watch Series 5. However, based on the invitation's tagline, "Time Flies," multiple media outlets expect that next week's Apple Event will focus solely on the company's newest iteration of its smart watch with the iPhone announcement coming at a later date.
**AD: for the latest price drops, deals, and discounts on any discontinued hardware or devices as a result of next week's product announcements, make sure to check out the exclusive and award winning Apple products price trackers on the MacPrices website. Prices updated daily!
In light of today's announcement by Apple, Macworld reports that the rumors which had been previously swirling around the web — of a quiet launch of the Apple Watch leading up to an unconventional Fall season product refresh with an iPhone event later in October (due to COVID-19) — have turned out to be true after all.
According to Macworld, an Apple logo doodled in blue with the "Time Flies" tagline below it on the event invitation appears to be a thinly veiled reference to a new Apple Watch. The magazine reports that if one opens the invite using Safari's AR (augmented reality) viewer on an iPhone, it will animate to the numbers 9.15, the day of the Apple Event, and then back to the Apple logo. (Additionally, one can also see this animation by visiting the event page on apple.com while on an Apple smartphone, and when there, tap on the logo on the webpage).
Macworld also points out that the shade of blue is somewhat reminiscent of the classic Mac OS X Aqua-themed Apple logo and is indicative of recent rumors which have suggested that a new dark blue hue will be available for the "iPhone 12" series.
Just last Tuesday prior to Today's announcement by Apple, Bloomberg reported that the Cupertino company was preparing a comprehensive product refresh this Fall which will include — in addition to a pair of new Apple Watch models — a new iPad Air that will sport an edge-to-edge screen (reminiscent of the display found on the iPad Pro) and a new, smaller version of its smart speaker, the HomePod. Apple's first over-the-ear headphones (outside of the acquired Beats brand) are also reportedly in the works.
According to people who spoke to Bloomberg that had knowledge of the company's plans (and asked not to be identified as they were discussing details regarding unannounced products), Apple is scheduled to launch four new iPhone models in October with a different design, a wider choice of screen sizes, and most notably: 5G connectivity.
Bloomberg reported that the four new iPhones will be split into two basic and two high-end models — dubbed the "iPhone 12" series by most media outlets (e.g., Macworld) which it chose not to label it as (presumably since Apple has not officially given it a name yet) — and all will feature OLED displays with improved color and clarity. The two regular phones will come in a new 5.4-inch size and a 6.1-inch option, while the Pro versions will offer a choice of a 6.1-inch or a larger 6.7-inch screen (which will be the largest ever put in an iPhone to-date). In addition, all of the new Apple smartphones will have updated designs with squared edges similar to the iPad Pro (or reminiscent of the iPhone 5 from 2012 as some sources have indicated).
Earlier today following the Cupertino company's announcement, according to Engadget, the special Apple Event looks like it will be (after it initially reported in error that the event would focus on the iPhone) a Watch-heavy show with Apple expected to unveil new Apple Watch models plus an updated iPad alongside its wearables.
Per Engadget, rumors have suggested that the "iPhone 12" series won't actually be unveiled until sometime in October, making it possible that next Tuesday's special event will exclusively be about wearables like Apple's smart watch. The technology news and reviews website points to the event's tagline — "Time Flies" — as the indicator that the Apple Watch will be the show's major player.
As far as rumors of an updated version of the Apple Watch are concerned, Engadget reports that the wearable is expected to be called "Series 6," and, of course, feature watchOS 7, and will reportedly pack a larger battery but no Force Touch (as has been rumored by some sources). In addition, a new low-cost Apple smart watch is expected as well which Apple has allegedly been developing to replace the Series 3 as the company's budget option.
Engadget also reports that today's announcement comes after weeks of speculation about Apple's Fall event timeline, when the Cupertino company generally holds special events where new flagship iPhone models are unveiled on the second Tuesday (or Wednesday) of the month at this particular time each year (ever since 2012). However, during the company's Q3 2020 earnings call in July, Apple CFO, Luca Maestri, confirmed that this year's iPhones would be delayed and would not be available until, "a few weeks later" — which the chief financial officer is on record for saying — after the usual late September launch window (reportedly due to production delays and supply chain issues presumably stemming from the global pandemic) suggesting an October release date.
In a related story from May of this year, Business Insider reported at the time that Apple is expected to release a new version of the Apple Watch in the Fall that will come with sleep tracking and better overall performance.
The report — which highlighted the growing popularity of the Apple Watch and the Cupertino company's domination of the competition — labeled Apple as the global leader in the smartwatch market through sales. According to Business Insider, the Apple Watch's success has been especially important for the company as it sought to offset slowing iPhone sales. Categories like wearables and services, both of which have seen notable growth in recent quarters, have served as a bright spot in Apple's earnings reports as its sales in the smartphone market have stalled in recent years.
To watch the special Apple Event, which is scheduled to take place live from Apple Park on Tuesday, September 15 at 10:00 AM PDT (1:00 PM EDT), visit the company's official events page at: www.apple.com/apple-events/.
---
A Note From The Author: a special thanks to Scott Budman, business & tech reporter for NBC Bay Area News, for sending a copy of the Apple event invitation for use in this article (full disclosure… Budman is an acquaintance of this writer).