Is Google's Bubble In Search About To Be Burst By An Apple-Branded Search Engine?
NEWS: 10.31.20 – A telltale sign of breadcrumbs being left behind on the web by Apple has reignited speculation that the Cupertino, California-based company is about to launch its own search engine to compete against Google.
According to a report Wednesday from the website, Business Insider — via the London-based international daily newspaper, the Financial Times — Apple is quietly developing its own search engine to rival the ubiquitous Google Search. The news comes on the heels of, as Business Insider also reported, a landmark antitrust case by the U.S. Department of Justice (DOJ)against the Mountain View, California-based company which aims to break up the grip Google has on search queries worldwide.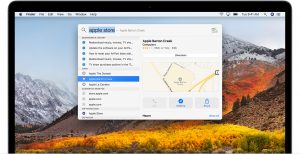 For more than a decade now, Google Search has been the default search engine on the iPhone, a deal which Business Insider reported is central to the DOJ's antitrust case against the Mountain View company. According to a claim by the DOJ, Google has paid Apple up to $12 billion a year for the arrangement.
Business Insider also reported that if the DOJ were to block future deals as a result of its antitrust case, Apple would need an alternative search engine for the iPhone.
Also on Wednesday, the magazine Macworld, reported that Apple may be preparing for a world without Google as the walls close in on the search provider. As a result, the Cupertino company is currently exploring the development of its own proprietary search tools, which, per the report from the Financial Times (as cited by the magazine in its own report), marks an important advance in Apple's in-house development and could form the foundation of a fuller attack on the Mountain View company. According to Macworld, for iPhone users, this might mean that people will soon have to "Apple something" (as opposed to having to Google it) in order to look up a search query.
However, as pointed out by Macworld, any move by Apple away from Google's search engine as the default for iOS, in particular, Safari (Apple's web browser), is going to take time and is likely years away from fruition.
This is not the first time that information has surfaced surrounding a search engine being purportedly developed by, and, in the works from, Apple. Rumors date all the way back to February of 2015 when the website, Cult of Mac, got wind of a job posting from the Cupertino company which made reference to a search platform called "Apple Search" in an ad looking for a project manager to oversee the as of yet unreleased service.
More recently, prior to the report Wednesday from the Financial Times, the topic resurfaced on the website, Coywolf News, which reported in August that there were a number of signs that indicated an Apple search engine was launching soon to compete against Google Search.
Coywolf News referenced the fact that as of late, the Cupertino company has been investing heavily, pouring money and resources into the search platform as well as recruiting search engineers to work on such (as seen in job postings on the web). Additional signs (some of which were the same pieces of evidence reported by the Financial Times) that were indicative of the imminent launch of an Apple search engine were the following:
there has been a noticeable uptick in crawling on the internet from Applebot (Apple's web crawler) and a significant update has been made to the Apple Support document for the service on apple.com
search related changes have been found in beta releases of iOS 14 and iPadOS 14 (e.g., both mobile operating systems completely bypass Google for search results)
search results returned in Spotlight (Apple's built-in searchable indexing tool) are labeled as "Siri suggestions"
**AD: Searching for a comparison of costs for a new iPhone, iPad, or Mac from Apple and Apple Authorized Resellers? Search no further than MacPrices and use its exclusive and award winning Apple price trackers for the lowest prices, best deals, and latest discounts. Pricing updated daily, seven days a week!
Based on the report from Coywolf News (which it cited in its own report), the website, TecCrunch, reported also on Wednesday — yet another report stemming from the story by the Financial Times — that the increase in search crawling activity by Apple could be a signal that the Cupertino company intends to make Siri (Apple's voice assistant) a "one-stop shop" for iPhone users performing search queries on their device. According to TechCrunch, however, it all comes down to semantics: does a search engine mean a website that people type search queries into, or, a voice assistant that steps in to "white label" web results with its own sourcing?
In an edition of its "Emerging Tech Brew" newsletter published Friday, the website, Morning Brew, reported that Apple's capacity for data collection and web indexing makes it a potential competitor in search. However, because building a traditional but competitive search engine requires tens of billions of indexed webpages and large scale behavioral data — plus, lots of willing users, which can be tough to win as far as customer loyalty is concerned — Google is still decades ahead. Instead, per Morning Brew (citing the report from TechCrunch), in hopes of making its voice assistant a viable default search tool for iPhone users, Apple will likely fold its advancements in search-related technology into Siri.
Corroborating this hypothesis was the tech blog, Engadget, which reported also in February of 2015 (following the story by Cult of Mac and cited in its own report) that chances are, assuming that the Cupertino company is really building a search engine of its own, it's not likely to be a direct attack on Google (in stark contrast to the report from the Financial Times). On the contrary, according to Engadget, any such efforts by a Apple to create a search platform of its own is far more likely to be "baked in" to Safari, Spotlight, and: Siri.
Apple, for its part, hasn't exactly been secretive, per se, about its attempts to burst Google's bubble in search.
Back in May of 2015 (just three months after the reports from both Cult of Mac and Engadget), the website, AppleInsider, reported that a long-rumored web crawling service from Apple — first observed in November of 2014 — had finally been confirmed. According to AppleInsider, the Cupertino company acknowledged the existence of its web crawler after it provided details about Applebot in an Apple Support document describing the service's operations on its (Apple's) website.
In the Apple Support document, Apple indicated that its web crawler primarily serves Spotlight and Siri, however, as AppleInsider noted in its report, while it was known that both of those services offered web search capabilities, it was previously thought (at the time) that the Cupertino company was routing search queries from Spotlight and Siri through an existing search engine such as Google Search or Bing (from Microsoft).
For additional context, AppleInsider reported that Applebot operates in a similar fashion to Google's own web crawler, Googlebot, and Apple advises developers that if no Applebot-specific instructions are found, its web crawling service will follow Googlebot instructions instead.
As Business Insider indicated in its report, this isn't the first foray into the world of search engines by the Cupertino company. Back in April of 2018, Apple hired Google's head of search and artificial intelligence (AI), John Giannandrea — one of the most powerful people at the Mountain View company during his tenure there — to work on its AI services (e.g., Siri).
Such a move by Apple into Google's territory would be ironic, since, as TechCrunch noted in its report, in an effort to end the anticompetitive practices of the largest companies in the technology industry, instead of creating competition among smaller companies the DOJ's push has led to two of the biggest players in that arena competing against each other.
According to Morning Brew in its report, due to Apple's control of the default web browser on its own devices and its approximately $55 billion in annual net income, the Cupertino company has a lot going for it as a potential player in search. However, the website posed the question, with the antitrust case against the Mountain View company looming on the horizon, Apple likely must make a choice: does it fight for its lucrative search relationship with Google, or, ride solo? Based on the report from the Financial Times (a story which was cited in the "Emerging Tech Brew" newsletter), Morning Brew reported that the answer was the latter.
Jon Henshaw, the publisher of Coywolf News, admitted in his report that his entire hypothesis was strictly based on conjecture. In addition, he pointed out that in the end, it's entirely possible Apple may never release a search engine of its own to compete with Google Search.
---
A Note from the Author: due to a paywall, this writer could not verify whether the August report from Coywolf News was cited in the article by the Financial Times as part of its report Wednesday.