Hey, Apple? It's Time To Replace The MacBook Air With A New, More Ultraportable, Mac
EDITORIAL: 01.25.21 – Apple's laptop lineup really needs a shot in the arm (so to speak) and a new entry into the company's product pipeline just may be what it needs to achieve this.
Back in November of last year, when Apple introduced the company's next generation of Macs powered by its new M1 chip, its two smallest Mac notebook computers — the MacBook Air and MacBook Pro (13-inch model) — were the first machines to receive the ARM-based processor treatment. This transition to Apple silicon really got me to thinking about the state of Apple's laptops…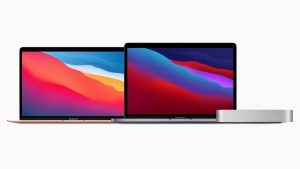 Currently, the smallest screen size that Apple offers for its Mac notebook computers is a 13-inch display, something of a de facto standard that the company has painted itself into a corner (so to speak) with, ever since it discontinued its 12 and 14-inch laptops and decided to take the middle of the road approach when it last transitioned to a new chipset — from the PowerPC chip to Intel processors — back in 2006.
Looking Back
In January 2006, the first Intel-based Mac notebook computer was introduced by Apple, the MacBook Pro (a 15 inch model… the 17-inch iteration would follow suit later that April) which was simply a rebranding of its previous PowerBook product line. Thrown under the bus (so to speak) in the process was (at the time) Apple's smallest laptop ever, the 12-inch aluminum PowerBook G4. As if that wasn't enough, to add insult to injury (so to speak), in May of that same year, the company retired the iBook G4 line — which consisted of two models, 12 and 14 inches — and replaced it with a brand new go between product with a 13-inch display, the MacBook (original white polycarbonate version), which, effectively killed off the company's smaller laptops for good.
Two years later, in January 2008, the company's then newest innovation, the MacBook Air (original version) made its debut, a new class of ultraportable Mac notebook computer with a 13-inch display that, while not featuring as small of a footprint as the 12-inch models of the aluminum PowerBook G4 or iBook G4, was (at the time) Apple's thinnest and lightest laptop ever.
Since it was such a thin and light (airy?) laptop, when it was released, the MacBook Air was thought to be (by some) a logical spiritual successor to Apple's original ultraportable Mac notebook computer: the 12-inch aluminum PowerBook G4. A shoe-in of sorts came in the form of the aluminum unibody revision of the MacBook in October 2008. Just eight months after its initial release, come June 2009, the latter laptop was rebranded as the 13-inch model of the MacBook Pro, finally ushering in a fitting equivalent / replacement (though that remains to be debated to this day!).
On the flip side of things, there really hasn't been a worthy successor to the MacBook Air — a product that is now going on 13 years old… in comparison, the 12-inch aluminum PowerBook G4 lasted for only three years (from 2003 to 2006) — and with the transition of Macs to Apple silicon, now is as good a time than any to make the case for a new ultraportable Mac notebook computer to join the family of Apple's laptop lineup. .
**AD: Looking for a new M1-powered Mac? Before you make a purchase from Apple (or an Apple Authorized reseller), be sure to consult the Apple price trackers" for the lowest prices, best deals, and latest discounts. Pricing updated daily, seven days a week!
'One Small Step…'
So, what can Apple do to get that shot in the arm that it so desperately needs in order to breathe new life into its limited laptop lineup (which has stagnated over the last few years down to just two product lines, the MacBook Air and MacBook Pro, and boasts a paltry assortment that features only three models at the moment)?
Here's what I envision the company doing with its Mac notebook computer lineup (just one of the three on the list would be a giant leap for Apple in my book):
MacBook- an updated model (with an even more compact form factor than the previous 12-inch Retina version that debuted in 2015 and was discontinued in 2019) featuring an all screen 12-inch display and a bezel-less design
"MacBook mini"- a new and true ultraportable Mac notebook computer that joins the mini product family (e.g., Mac mini, iPhone 12 mini, iPad mini, and HomePod mini) and sports an all screen 10.5-inch display with a bezel-less design
iBook- a brand new class of Mac notebook computer (which resurrects an iconic product in a reimagine form), the first-ever touchscreen enabled Apple laptop with a physical keyboard that runs MacOS and has the exact same footprint of the 7.9-inch iPad mini except with a larger all screen 9.7-inch bezel-less display
As if it wasn't already obvious, a common feature with all of those product ideas of mine is a sub 13-inch display. To give the company some credit, Apple did offer an 11-inch version of the MacBook Air (the Mac notebook computer that I own at the moment) and also a 12-inch iteration of the MacBook (with Retina display), a machine that was lesser in width and even thinner. However, let's face it: displays that are 13-inches in size are becoming, a little long in the tooth (I never did understand what that expression meant…)!
The 13-inch display — at least, as far as Apple's laptop lineup is concerned — has been around for quite a very long time now (15 years to be exact) and has its origins in the company's last major Mac transition and I think Apple should have done away with it with the switch to its own ARM-based processors in favor of smaller displays, not to mention, more compact machines to boot (after all, isn't that what mobile computing is all about?)!
The way that I see it, it's definitely time for a new ultraportable Mac notebook computer of some form (or a handful of them) to be introduced into the company's product pipeline. As the previous owner of a 12-inch aluminum PowerBook G4 — a machine which I can arguably say was definitely the king of the aluminum PowerBook G4 family (as the late Charles W. Moore wrote in a piece in his column here on MacPrices which was posthumously published after his passing) — I've always felt that Apple has been missing something in its laptop lineup ever since the model was discontinued back in 2006 and never officially replaced with something comparable / equivalent.
Moving Forward
The biggest step forward that Apple can take to inoculating itself and breathe new life into its laptop lineup is to think the way that it did with the last transition to a different chipset for its Macs: retire an entire product line — hint: MacBook Air — and replace it with a brand new product (e.g., a "MacBook mini"). The key factor is to create / release a machine with much newer specs, in this case, something that doesn't measure 13 inches diagonally! For me, personally, the icing on the cake (so to speak) would be an ultraportable Mac notebook computer added to its current assortment of laptops (however, that's purely wishful thinking on my part!).
After 13 years of a product like the MacBook Air and its 13-inch display standard, the time is night to retire, and replace, the old unlucky (hence, the number 13) beast!
As it currently stands? According to a report just last week from Bloomberg, one of the next Mac notebook computers on the Apple silicon roadmap is, well, an even thinner and lighter MacBook Air (surprise, surprise!) that is due out as early as this year or sometime in 2022. Currently in the works, this new iteration (other than Featuring a next generation chipset) will be even much smaller than before and is achieved by shrinking the border around the screen but, unfortunately, will remain 13 inches in size (something sources indicated was originally to have a larger 15-inch display… an idea that was scrapped by Apple in the end). Additionally, the machine will be a higher end version but is expected to remain in the company's laptop lineup as an entry level offering for consumers.
Bloomberg also reported earlier this month that, in addition to an updated 16-inch version of Apple's high end laptop line with a next generation chipset, due out later this year is a totally brand new MacBook Pro with a 14-inch display (which kind of pays homage to one of the Mac notebook computers that the company retired back in 2006, the 14-inch iBook G4, or more appropriately, reminiscent of the "Pismo" PowerBook G3 from 2000… my first-ever Apple laptop!).
With that said, however, whatever plans Apple has up its sleeve for its future product pipeline of laptops featuring its own ARM-based processors, I think that the company needs to really make a concerted effort to bringing back an ultraportable Mac notebook computer in some way, shape, or form(s). If I had a choice between a new "MacBook mini" or an iBook, I'd choose the latter in a heartbeat (I've been clamoring for a piece of hybrid hardware because I'm partial to using a touchscreen paired with a physical keyboard on my iPad mini, my daily computing device ever since I lost my eyesight back in 2013… the interface is just much more intuitive on a tablet than on an actual computer when using VoiceOver, a screen reader for the visually impaired found in all of Apple's devices). Oh, and one more thing: retire the MacBook Air line already… (that's just a given!).
---
Related Reading: from the PowerBook Central archives (September 2006) – "Return Of The Apple Ultraportable Line?"