Is Apple Going To Bring Back An Ultraportable Laptop To Its Mac Notebook Computer Lineup?
FEATURE: 08.15.21 – Apple's thinnest and lightest laptop to-date may be making a comeback.
Apple — as of late — has been sending out surveys to a select group of its customers, asking them a number of questions related to the company's current and past products. According to a report from MacRumors, in particular, the company is curious to know previous owners' opinions on the since discontinued MacBook (12-inch) that was released in 2015.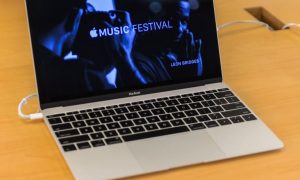 Could the Cupertino, California-based company be gauging its customers' interest in seeing the return of an ultraportable laptop to its portfolio of Mac notebook computers? (Hmm…).
**AD: In the market for a new MacBook Air or MacBook Pro? To see what Apple (and Appple Authorized Resellers) are currently offering, check out the price trackers on MacPrices for the lowest prices, best deals, and latest discounts on all Mac notebook computers sold in-store and online.
The… 'All New MacBook' (v2.0)?
Announced by Apple in March 2015, the "all new MacBook" ditched the de facto 13.3″ screen that was found on previous models in favor of a smaller size display measuring 12″.
Described by MacRumors as a super light and thin Mac notebook computer aimed at users needing an ultraportable laptop, the new form factor of the MacBook was considerably popular with customers due to its compact design. Apple updated the product in 2016 and 2017, but discontinued it in 2019 following the launch of the redesigned MacBook Air (13-inch) with a Retina Display.
MacRumors posited that given the survey of previous owners of the MacBook, Apple may be beginning to realize the market that exists for ultraportable laptops and could be contemplating working on a new Mac notebook computer specifically geared towards that customer demographic.
Alternatively, MacRumors pointed out that Apple may ultimately feel that the need for an ultraportable laptop offering for its customers is unnecessary. The media outlet did note in its report the widespread rumor on the internet last year which suggested that an updated MacBook with a 12-inch display would be one of the first new Macs to feature Apple silicon, something that did not come to fruition when the company announced the introduction of "the next generation of Mac" in November 2020.
'It's A Small, Small World'
Prior to the introduction of the MacBook with a 12-inch display, the title of "world's thinnest notebook" (and lightest, too) belonged to the original MacBook Air.
Announced in January 2008 by former Apple CEO, Steve Jobs, who famously unveiled the product onstage during his keynote address at that year's Macworld Conference & Expo by sliding it out of a large office supply envelope, this brand new class of ultra-thin laptops was unlike anything that any other PC manufacturer had ever created before. Like the original MacBook that was introduced in May 2006 — one of the first Intel-based Mac notebook computers that was released by Apple during the previous chip switch from IBM's PowerPC processor to Intel's CPUs (most notably, a transition that saw the death of Apple's very first ultraportable laptop, the 12-inch PowerBook G4) — the MacBook Air was originally offered in only one size with a 13-inch display.
In October 2010, when Apple updated the design of the MacBook Air to give its aluminum enclosure the unibody treatment — first seen in October 2008 on the "new MacBook family" of computers, a MacBook (13-inch) and a MacBook Pro (15-inch) — the company introduced an even thinner and lighter version which featured a smaller size display measuring 11.6″.
The MacBook Air (11-inch) would be updated five more times between 2011 and 2015 before being finally discontinued by Apple in 2016. Surprisingly, despite its larger size display, the MacBook (12-inch) had a similar footprint butt was even thinner and lighter than Apple's ultraportable laptop featuring an 11.6″ screen (Go figure!).
'Survey Says?'
Citing the report by MacRumors, iDrop News provided its own analysis of the survey, reporting that it suggests Apple is, "putting out feelers" to determine if there really is a demand for an ultra-thin Mac notebook computer with the same kind of ultra-portability for computing on-the-go as its tablet computers (a.k.a., the iPad).
iDrop News noted that there are some who will argue that the company's M1-powered iPad Pro models, for instance, already serve such a purpose which negates the need for an ultraportable laptop. That argument alone, however, was countered by the media outlet which pointed out that the current state of iPadOS along with what it called "'pro' apps" makes them poor replacements for the full experience of using a Mac. Their other counterpoint?
With the M1X chip on the way and major redesigns rumored to be in the pipeline for the entire Mac notebook computer lineup, including the rumors of a premium model of the MacBook Air which is expected to receive an overhaul in its design that will make it even thinner and lighter than before, iDrop News posited that the time may be ripe for the Cupertino, California-based company to change things up a bit with a product such as an ultraportable laptop, something like: the MacBook (12-inch).
According to iDrop News, the survey definitely suggests that Apple is once again considering the market for an ultraportable laptop. Unfortunately, that doesn't necessarily mean customers will be seeing the ultra-thin version of the MacBook with a 12-inch display returning to the company's Mac notebook computer lineup anytime soon (…).
---
Related Reading: from the PowerBook Central archives (February 2007) – "Putting the Puzzle Pieces of a 12″ Pro Portable in Place"