Apple Must… 'Flip' The Script If It Plans To Innovate In The Folding Smartphone Arena
COMMENTARY: 08.18.21 – The next chapter in mobile innovation is unfolding and sadly, the iPhone isn't the device that's involved.
Samsung's new Galaxy Z Fold3 5G and Galaxy Z Flip3 5G — part of the company's "Galaxy Z" series of folding smartphones — were unveiled to the masses during the company's "Galaxy Unpacked" event which was held virtually online on August 11, 2021. Both devices are foldable, of course, but what sets the pair apart is that the Fold is the company's flagship device which is a smartphone that folds open to become a tablet, while the Flip is like an old flip phone that flips open vertically and folds closed when shut (kind of like a clam, hence the other term they were known by, clamshell phones).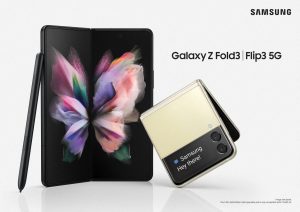 A foldable iPhone — predicted by pundits to be called the… "iPhone Flip" (how original, not) — is rumored to be in development down at Apple Park in Cupertino, California but before the company gets itself into the (wait for it) fold, it needs to avoid adapting any ideas from its rival Samsung's screenplay into its own script (after all, sometimes a reboot of a movie is better than a straight remake, right?).
**AD: Looking for prices on a Samsung smartphone? We can't help you there, but if you want one from Apple, you're in the right place!! Before you sign up for a contract with a wireless carrier, check out the iPhone price tracker right here on MacPrices for the lowest prices, best deals, and latest discounts from Apple (and Apple Authorized Resellers).
Alone In The… 'Galaxy' (Market)
Ahead of the "Galaxy Unpacked" event,, Andy Boxall, senior mobile writer at Digital Trends, spoke to a representative from Sansung who told him in an online interview the following about the company's latest folding smartphones:
"Our new foldable products are about bringing the Galaxy Z series to the mass market," said Nick Porter, Vice President of product management and commercial operations at Samsung U.K. and Ireland. "We've always led the way at Samsung, and we think now is the right time for these products to be going to the mass market."
Boxall set out to find the answer to the question: have folding smartphones — and, crucially, the prices that will make them accessible to more people — really reached mass appeal status, or is this, in his own words, "sales-boosting bluster" from a company that practically stands alone in making folding smartphones at the moment?
"More durable, more powerful, more usable, and with more choice means the Z Fold3 and Z Flip3 are definitely closer to mass market, mainstream appeal than any folding smartphone before them," wrote Boxall. "But none of this will matter if they still cost the same as a decent-but-cheap used car."
Boxall pointed out that the prices for Samsung's folding smartphones — which he noted are representative of the technology — are lower than before. The Galaxy Z Fold3 5G starts at $1,799 while the Galaxy Z Flip3 5G starts at $999. However, the senior mobile writer also wanted to know the answer to another question: are they low enough to qualify as, per Porter's words, "mass market"?
"While the price is still a tough ask for the top model , it's hard to argue against this statement when you look at the thought put into the specification, build, and downright coolness of Samsung's latest folding smartphones."
Galaxy Z Fold3 5G: 'A Tablet-Like Experience'
In a review of the Galaxy Z Fold3 5G and Galaxy Z Flip3 5G — published on the day of the company's "Galaxy Unpacked" event — Jon Phillips, editor-in-chief of PCWorld, wrote that Samsung keeps iterating with its lineup of folding smartphones which now feature better raw specs, S Pen support, and increased durability, providing the following metaphor for both the company and its latest products (almost likening it to the current global pandemic): "Samsung has a fever and more foldable phones are the only prescription."
Phillips reported that the Galaxy Z Fold3 5G offers a tablet-like experience, thanks to a 7.6-inch, 2208 x 1768, 120Hz display. The editor-in-chief noted that anyone looking to buy the expensive Z Fold3 must have both deep pockets and big pockets, as this, in his own words, "big boy" is 6.2 inches tall and 0.6 inches thick when folded.
"As a point of comparison, the iPhone 12 Pro Max is about a quarter-inch thick," wrote Phillips.
Phillips reported that the smaller Galaxy Z Flip3 5G may be the more intriguing proposition as the modernized flip phone design offers generous screen real estate and should fit reasonably well in today's, in his own words, "ridiculously undersized" jeans pockets. The editor-in-chief noted that your pocket will protrude a lot, but you'll actually be able to sit down with the device in it (unlike its counterpart).
"Folded up, it's a porky three-quarters-of-an-inch thick, but only 3.4 inches tall. The main screen is 6.7 inches with a 2640 x 1080 resolution. Not too shabby for a phone that's smaller than an Altoids box when folded up."
Phillips also reported that both products in the company's "Galaxy Z" series promise a new level of durability — a key factor which he noted may help mitigate public perception that foldable smartphones can't withstand the rigors of repeated and, in his own words, "incessant" folding — thanks to features like IPX8 water resistance, Samsung's brand new proprietary "Armor Frame" construction (per the company, "the strongest aluminum ever used on a Galaxy smartphone"), and Corning's Gorilla Glass Victus. According to the editor-in-chief, Samsung promises that the folding screens on the Galaxy Z Fold3 and the Galaxy Z Flip3 are 80% more durable than that of previous generations.
…
(story continues after the break)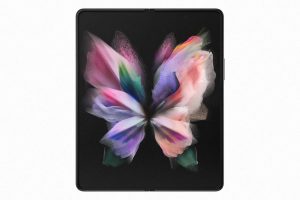 A… 'Galaxy' Of Missteps
The day after Samsung's product launch, Michael Simon, executive editor of Macworld, was quick to unpack (pun intended) his thoughts on the shortcomings of Samsung's latest flagship device and how Apple can fix everything wrong with its rival's newest folding smartphone: that is, assuming that Apple's research and development team (a.k.a., "R&D") in Cupertino is indeed working on a foldable iPhone.
"…it's easily one of the most innovative smartphones in years with a stunning 'undisrupted' 7.6-inch Infinity Flex display and Samsung's first under-display camera," wrote Simon. "But even after three generations of folding phones and a sizable lead on its competitors, the Galaxy Z Fold3 isn't perfect — far from it actually."
Simon outlined three features of the Galaxy Z Fold3 5G that Apple must improve upon for its own foldable iPhone to be a success:
design – the Galaxy Z Fold3 5G is a nice device, but it's a little clunky as a phone as it's as thick (and wide, proportionately) as two iPhones.
functionality – the Galaxy Z Fold3 5G doesn't know if it wants to be a smartphone or a tablet (unlike its counterpart, the Galaxy Z Flip3 5G, which is a straightforward flip phone).
price – the Galaxy Z Fold3 5G is basically the cost of two iPhones (you're basically paying for the novelty of a folding screen).
At 16mm, Simon reported that the Galaxy Z Fold3 5G is considerably thick, noting that the device is not very comfortable to hold or carry. As for the price, the executive editor felt that it realistically needs to get to a starting price of around $1,299 to become a device that's attractive to more than the most, in his own words, "die hard" fans.
"If Apple wants to make a foldable iPhone, it needs a reason to exist. Much like the Apple Watch, Apple will be entering an existing space with a foldable iPhone, one that Samsung dominates with years of experience. However, there's still plenty of room for Apple to innovate, accelerate, and enhance the folding phone, especially, if it learns from Samsung's missteps."
On The… 'Flip' Side?
On Apple flipping the script (so to speak) — and what the Cupertino, California-based company must do to innovate in the folding smartphone arena — in his piece about Samsung's missteps with the Galaxy Z Fold3 5G, the editor-in-chief of Macworld appeared to corroborate something that I wrote about two years ago here in this very column on how the iPhone maker needs to get into the fold and see where the galaxy of computing is heading (see what I did there?): as in… tablet computers.
"While the tech is cool, there are very few moments in my day when I wish I could turn my phone into something bigger…," wrote Simon. "But a tablet that opened up into something bigger that I could still carry in a bag, now you're onto something."
" I'm mostly convinced that there is a place in the world for folding phones, but Samsung hasn't sold me on their concept. I think the answer lies in building a tablet that closes rather than a phone that opens. That might mean a folding iPhone has a different form factor, a different hinge mechanism — or a different UI — and maybe it's not a phone at all."
In my editorial from February 2019, following the unveiling of the original Galaxy Fold, I mentioned that Samsung had beaten its rival, Apple, by being the first to create and bring to market a folding smartphone.
"So, how can Apple answer back?" I wrote in the piece. "First, which is the easy route, Apple can always borrow from the playbook of its competitors and simply turn on the copier machines and come out with a foldable smartphone of its own."
"The second idea would be to take things to the next level and to create a brand new device along the lines of the Galaxy Fold being a smartphone that turns into a tablet. Computer users are everyday more and more moving towards tablet computing — like myself but it is more out of necessity more than want due to my disability (which I have written about here in my column in the past) — and maybe it's time for Apple to create or release, if it already has such as in prototype form, a hybrid touchscreen enabled Mac but not just an iMac that has a touchscreen display, mind you, but something much more innovative than that which can serve as a true replacement for a typical desktop or notebook computer but in tablet form when folded and when unfolded becomes a full-fledged computer."
---
Related Reading: from this column's article archives (March 2019) – "Forget About A Foldable iPhone, How About An iPad That Folds Instead?"