PowerBook Buyer's Guide
imediaEngine V5
The imediaEngine-series PowerBook clones were the grandaddy of Mac laptops. Produced by Vertegri Research in 1997, they included the V3, V5, and V7. Unfortunately, the V5 was the only model that actually went into production before Vertegri shut its doors in late 1997. With a 200MHz 604e processor, 32 MB RAM, and 512k L2 backside cache, it was a screamer for its time. The 14.1 inch active-matrix display is huge and will likely be worthwhile for quite some time into the future. The downside to this much power is the lack of an internal battery - it wasn't even offered as an option. As a result, you have to be plugged in to use this machine, much like a desktop computer. Perhaps it should be referred to as the first portable desktop system? There are probably a few less-powerful V3 and more-powerful V7 protype imediaEngines out there, but I wouldn't hold my breath waiting for one to pop up on the used market anytime soon.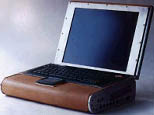 Rating
At the time: A+

General

200MHz PowerPC 604e

512K L2 cache

32MB base RAM configuration, 3 RAM slots using standard 3.3v EDO dimms, Maximum ram of 160MB

Internal 2.5" 2.1GB drive or upgrade to 3.1GB option

10x CD-ROM drive with audio support

Industry standard removable 3.5" drive bay, options for drive bay include Jaz, floppy or a second 4.3GB scsi or 6.0GB scsi hard drive.

10baseT Ethernet & 33.6 fax / modem

System 7.6 standard

Ports

Apple Desktop Bus port (ADB)

Printer and modem serial ports (rs-422)

VGA hd15 video-out port (mirrored video)

Standard db25 SCSI port

Stereo audio i/o ports

Power adapter port

1 expansion bay

Display

Active-matrix 24-bit 1000's of colors

14.1"

4Mb video dram / 24-bit up to 1024 x 768

Multi-sync lcd resolutions include 640 x 480, 800 x 600, 1024 x 768

Mirrored-video desktop monitor support with 4mb vram

ATI accelerated video chipset

Weight

Sound

4 powered ported speakers

Size

H 3.5" x W 14.2" x D 10.3"