Home
>
Columns
> Charles Moore
The PowerBook Mystique
PowerBook Mystique Review: AlSoft DiskWarrior 3.0.3 - Mac Disk Diagnostic, Maintenance, And Repair Tool - Plus PowerBook Mystique Mailbag
by Charles W. Moore
Is your 'Book ailing? Apple computers and the Mac OS are pretty reliable, but once in a while even Macs can have problems, and when the issue is disk-related, the tool I turn to first (and usually last) is Alsoft's superb disk diagnostic, maintenance, and repair utility, DiskWarrior.
DiskWarrior made its debut back in 1998, and it was a winner from the get-go. Elegant in its simplicity, DiskWarrior was designed to do essentially one task, and to do it superbly well - repair disk directory damage cleanly, efficiently, and effectively, (although the program can also be configured to check hard drives for media and or mechanical malfunction as well). I have never read or heard a bad review of DiskWarrior, and the software has won a gaggle of awards, including the 1999 Apple Design Award for "Most Innovative Product," the 1999 and 2000 MacUser award for "Best Utility/Enabling Software," the 1999 MacWorld Editors Choice Award (Eddy Awards) for Utility Software, the MacToday 1998 Editors Choice Award for "Outstanding Disk Rescue Product," and the MacHome 8th Annual Home Choice Award for "Best Utility."
The latest version of DiskWarrior is 3.0.3, which has been updated to address some new issues that emerge with the release of OS X 10.4 Tiger.
I am often asked which is the best disk utility for the Mac. There is really know "one app. fits all" answer; it depends on what your needs are. Drive Genius, for instance, does disk diagnostics and repair, as well as a whole raft of other things including the fragmentation, cloning, and even partition creation or resizing without erasing the drive contents. Tech Tool Plus includes hardware diagnostics in its bag of tricks. However, for disk problems, if I could only choose one, it would be DiskWarrior.
Unlike certain other disk utility applications, DiskWarrior does not attempt to patch detected errors in the disk directory database, but rather uses a powerful scavenger engine to retrieve data from the existing directory, determine whether it is reliable or not, and then create a fresh new directory from all reliable data found. DiskWarrior rebuilds the directory, fixing errors, eliminating any problems errors have caused, and recovers lost files. It then fixes any issues detected with the master and alternate master directory blocks, volume headers (HFS Plus), volume bitmaps, catalog trees and extents trees.
In the best Macintosh tradition, Disk Warrior "just works" through a user-friendly and easy to understand graphical user interface.
If you have a Mac that can boot directly into OS 9 (not Classic Mode), the old Classic DiskWarrior 2 worked fine on OS X volumes up to OS 10.3.9. but OS 10.4 Tiger signals the end of the road for DiskWarrior 2, and indeed earlier versions of DiskWarrior 3 for OS X. In order to run DiskWarrior while started from Mac OS X 10.4 (Tiger) you will need DiskWarrior version 3.0.3. Alsoft says that earlier versions of DiskWarrior, while not compatible with Tiger, will not harm your disk, but attempting to rebuild a disk with DiskWarrior 3.0.2 or earlier, while started from Tiger, will result in an error stating that a "Mac OS Services" failure occurred.
In addition to releasing an updated CD containing DiskWarrior 3.0.3, Alsoft has also released the free DiskWarrior 3.0.3 CD Update which allows owners of DiskWarrior 3.0, 3.0.1 or 3.0.2 to create a new startup CD containing the updated DiskWarrior application.
AlSoft notes that DiskWarrior 3.x is not just a simple port of version 2 to OS X. Extensive changes had to be made to transform DiskWarrior into an OS X native application ("Carbon" ports are not possible for utilities that address hardware).
Incidentally, Version 2.1 of DiskWarrior is also bundled on the DiskWarrior 3.0.3 CD, and supports 68020 Macs or better when started from Mac OS 7.1 through 9.x. Either version of DiskWarrior repairs any supported disk no matter which version of the Mac OS is installed on the disk being repaired.
The OS X version of DiskWarrior works pretty much the same as good old Classic DiskWarrior does. It's still extremely user-friendly, and it runs significantly faster on those pesky OS X volumes with their tens of thousands of tiny UNIX files. It does require password entry at steps of the process, while the Classic version doesn't, but that's OS X security obsessiveness for you.
DiskWarrior ships on a bootable CD that has a special version of the OS X System Folder licensed from Apple that does not contain a Finder. Instead, DiskWarrior has a Finder substitute called DiskWarrior Preview, that allows you to preview repairs to your disk directory. When you are booted from the DiskWarrior CD, you can launch DiskWarrior Preview by clicking the Preview button in the DiskWarrior Report window.
My preferred mode is to boot from another hard drive partition or an external drive and run DiskWarrior from there. When I finally get a Mac that won't dual boot into OS 9, I will install OS X systems on two separate partitions, but in the meantime, I have a copy of OS 10.3 Panther installed on my external FireWire hard drive, and I boot from it in order to run DiskWarrior or other maintenance utilities that won't work on the current boot volume.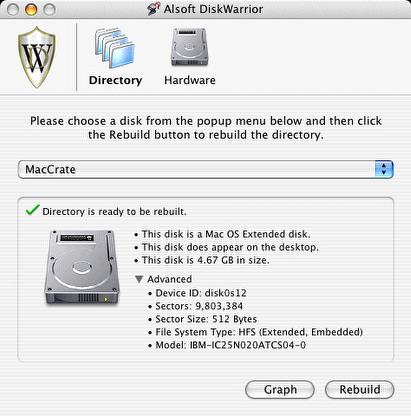 When you start up DiskWarrior 3, an interface window appears asking you to choose a volume from a popup menu and then click the Rebuild button to initiate the rebuild process. if you click the Advanced button, you will also be provided with extended information about your disk.
You will be asked to enter your administrator password, and the process will proceed, which you can monitor in the progress bars that will appear.

When DiskWarrior has examined the old directory and constructed a new one, it displays a report showing any problems that were found and whether they were repaired successfully or not. You then have the option to either replace the old directory with the new one or cancel the operation in which case everything will be left untouched.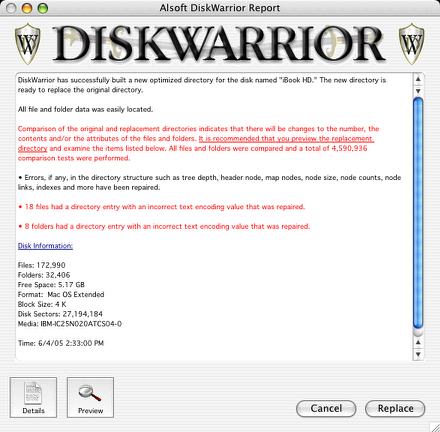 Before writing a new directory, DiskWarrior will prompt you to enter your administrator password again, and compares the old and new directories before doing the write.

DiskWarrior uses a fail-safe write to disk mode whenever possible, which is whenever there is enough free disk space to write temporary replacement directories. However, I have some volumes without enough free space left for fail-safe write to work, and experienced no problems. If there is room, DiskWarrior will write a rebuilt, optimized replacement directory in the free space where the original directory is located; then tells the computer to use this replacement directory instead of the original one. The reason for the second copy is to locate the directory as close to the head of the disk as possible. The replacement directory is written and actuated before the original one is deleted, ensuring that there is no risk of ending up with an unreadable desk should the process be interrupted.
If there is not enough free space on the drive to hold the replacement directory, a dialog will appear warning that an interruption during the writeover phase could result in data loss. You then have the option of proceeding or aborting. With laptop computers, there is very small likelihood of power loss interruptions because the AC adaptor power supply is backed up by the computer's internal battery.
In addition to the enhanced speed I mentioned above, DiskWarrior 3 also supports file journaling, Mac OS X RAIDS, offers full Unicode support, conforms to Apple's security standard, uses the OS X native memory model, and his capable of rebuilding directories as large as 2000 gigabytes (two terabytes).
As I noted, DiskWarrior has been described as a one trick pony, but one that does its trick extremely well. The utility's main focus is to repair disk directories - the area of a hard disk that the Mac OS uses to "map" all the information stored on the disk so that the Finder can find it. The directory records the number, names, locations, and sizes of all files and folders stored on the disk. If any of this information becomes corrupted - incorrectly updated or not updated, the directory is considered to be damaged. Quite a lot of cumulative directory damage can occur without being immediately noticeable to the user, and is especially likely to happen if the computer crashes or suffers a kernel panic or encounters another problem requiring a force restart or reset without properly shutting down. Poorly written programs can also write this data erroneously into the portion of the disk reserved for directories. If directory damage is left unresolved, it tends to become worse, and could eventually result in permanent data loss.
DiskWarrior doesn't only rebuild the directory; it also optimizes it for performance by defragmenting it and packing nodes, making the physical order equal to the linked (logical) order. Packing combines nodes that are not full so that you end up with fewer nodes.
Users can create a graph that indicates how severely the directory is fragmented - not just the number of fragments, but a visual depiction of the distance each fragment is out of place. Each part (node) is assigned a color along a gradient between white and dark blue, depending upon the optimization of its position. The more distant a fragment is from its optimized position, the greater difference between the color of the fragment and the color of the same position on the example optimized graph.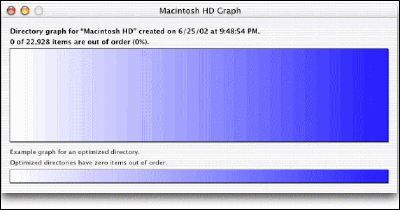 DiskWarrior supports the S.M.A.R.T. self-diagnostic technology on ATA drives that incorporate it, and can be configured to automatically check devices for mechanical malfunctions. By activating the automatic hardware diagnostics, DiskWarrior will initiate Internal diagnostic routines built into your drive as often as you specify.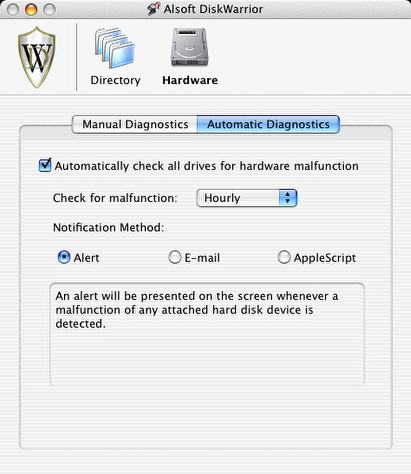 DiskWarrior has always been a great tool to have on hand, and with Version 3 it's an even better one for the OS X era. It's still the one to have if you're only having one, and there are really no negatives. While the price is not inexpensive, DiskWarrior has a track record I can personally vouch for of being software that doesn't quickly become obsolete, so the purchase price can likely be amortized over several years of use and probably several computers. You simply can't go wrong with this one.
System requirements:
To rebuild directories on Mac OS Standard (HFS) or Mac OS Extended (HFS Plus) volumes, DiskWarrior 3 requires a Mac OS computer with a G3 or better processor with built-in USB and a minimum of 256 MB RAM (384 MB or more recommended) to start up and run from the DiskWarrior CD, regardless of what operating system is installed on the disk to be rebuilt. The computer must also have the latest firmware updates installed. The disk to be rebuilt must be locally connected, must not be write protected, must have a valid partition map and must have a case-insensitive directory. If you plan to rebuild the directory on your startup disk, you need to start up from another disk capable of starting up in Mac OS X 10.2.1 through 10.4, such as the DiskWarrior CD. (DiskWarrior cannot be run while started up from the Apple Mac OS X install CD.)
Note: DiskWarrior CD revision 38 is now shipping with DiskWarrior 3.0.3. All Mac models introduced as of 05/03/2005 and meeting the above requirements for DiskWarrior are supported. The new Power Mac G5 models introduced on 04/27/2005 and the new iMac and eMac models introduced on 05/03/2005 are supported.
If you want to enable DiskWarrior's automatic hardware monitoring, you will need to install the DiskWarrior application on your Mac running Mac OS X 10.2.1 through 10.4 with at least 256 MB RAM. Installing DiskWarrior is not required to run the application from the DiskWarrior CD to rebuild a disk directory.
DiskWarrior 3 for Mac OS 10.2-10.4 (Includes DiskWarrior 2.1 for Mac OS 7.1-9.2.2) sells for $79.95
If you are a registered user of DiskWarrior 2.1 or earlier, you can order the DiskWarrior 3.0.3 upgrade for $39.95 plus $7.95 shipping and handling.
For more information, visit:
http://www.alsoft.com/DiskWarrior/
***
Appendix
DiskWarrior Features

Uses directory data to quickly rebuild the directory structure
Eliminates risk of losing access to files other disk "repair" utilities attempt to fix the directory by patching the directory structure and risk deleting sections of the directory
Scavenges directory to find all salvageable file and folder data, even data contained in damaged nodes
Eliminates unseen directory errors, preventing minor directory errors from escalating into major problems
Recovers lost files and folders
Optimizes directory for maximum directory performance, speeding up overall disk performance
Monitors drive hardware for potential drive failure
Verification of replacement directory ensures data integrity
Comparison of original directory with replacement directory tells you which files and folders may have been affected by directory damage
Patented preview feature to view what the disk will look like after the directory is rebuilt, allowing you to view files and folders before any directory changes are written to disk
Repairs damaged boot blocks and blesses the system folder to ensure that the computer will start from the repaired disk
Checks custom icon files for corruption, eliminating a common cause of system crashes
Repairs problems with wrapper volume System files caused when HFS Plus disks are initialized under Mac OS 9.0 - 9.0.4
Safely permits interruptions of any kind, including power outages
Advanced "Verify Reads and Writes" technology protects your data
Supports bad block sparing software
Supports file journaling (Mac OS X 10.2.2 or later)
***
PowerBook Mystique Mailbag
Pismo 5 years
From Michael
Hi Charles,
thanks for your very nice Pismo article!
I also own a Pismo G3/500 since nearly 4 years, but am now thinking about a G4 upgrade for it (will never give my Pismo away until its death...). I tested OS 10.3 on the Pismo G3: the fonts seem to be a little bit blurred (? right word), not so clear. Is the reason the 8MB video memory, the graphiccard or the G3 processor?
Would it be better with the G4 upgrade or will the Pismo just be faster?
Thanks for an answer to Germany!
Yours,
Michael
___
Hi Michael;
Congratulations on four years with the Pismo. Like you, I plan on hanging on to mine indefinitely.
Regarding your question, in this case it isn't a matter of video support or processor power, but rather screen resolution. The 14.1-inch 1024 x 768 display used in the 14" iBook has a pixel density of 91 dpi. Comparitively, the 12.1 inch 1024 x 768 display used in the 12" PowerBook and iBook has a pixel density of 106 dpi. It's like enlargng a photograph. The larger the print size for a particular negative, the more visible the grain will be.
However, in the Appearance preference panel for OS X, there are options for disabling Font Smoothing ( which is probably what is causing the effect you noticed) for various font sizes, which should make the blurriness you noticed less prominent on a low pixel density display.
The 550 MHz G4 upgrade in my Pismo has given it a nice performance boost and extended the old machine's useful service life by a couple of years at least.
Charles
***