Review: 13" unibody White MacBook
by Charles W. Moore & Steve Hildreth
Nearly seven years ago, Steve Jobs stood on the stage at the Macworld Expo keynote and declared 2003 "The year of the laptop," with considerable justification since that was the year the first-generation aluminum PowerBooks were introduced -- the 17" and 12" models in January and the 15" variant in September, and back when legal council still let Apple call laptops laptops. Apple COO chief operating officer Tim Cook picked up that theme during a Monday conference call on the company's Q4 financial report, declaring the "Last quarter was the quarter of the portable" When one analyst reportedly commented that "the [laptop] price cut worked," Cook agreed enthusiastically: "Yes, it did!"
Cook was also of course aware that a day later, Apple would release a major laptop — sorry, notebook — update, the widely rumored polycarbonate unibody MacBook, finally replacing the over-mature form MacBook form factor originally unveiled in May, 2006, with a clear industrial design lineage and styling reaching all the way back to the dual-USB iBook of 2001.
In 2003, Jobs had plenty of cause to brag. Apple had finally got the metal-skinned laptop right, superseding the the problematical painted titanium case of the TiBook in favor of a more sensible hard-anodized aluminum case — a logical and commendable move. Aluminum is cheaper, more rugged anodizing is a much superior finish treatment for metal than paint for durability, however, 2009 has been arguably even more of a year of the laptop (er... notebook) than 2003 ever was, with the unibody MacBook pros really hitting their stride, and now a substantially reworked price leader plastic-bodied MacBook as well, In 2003, laptops represented a bit more than half of MAc systems shipped. In Apple's fiscal Q4 2009, having got a turbo-boost from Apple June refresh of the MacBook family, with price cuts on nearly every model and especially restoration of FireWire and the promotion to full MacBook Pro status for the 13" unibody model, Apple sold a record 2.3 million notebook computers, which represented 74 percent of systems shipped during the interval and a represents 17% increase year-over-year.
The new MacBook isn't metal, but it does in many respects improve on the sometimes problematical case design of its predecessor — — which is the best-selling Apple portable ever. Unfortunately, however, it is a disappointment in certain other respects, notably Apple's evidence continued determination to eliminate FireWire. It's kind of a case of Apple giving with one hand by restoring FireWire to the aluminum 13 inch MacBook Pro back in June, and not taking it away with the other by removing the entry-level MacBook's FireWire port. There are other shortcomings as well, that I will get to in a moment.
But first let's take a look at what Apple has wrought with this important component of their notebook lineup. The slam-dunk good stuff includes a (finally) LED-backlit 13.3" 1280-by-800 glossy display that supports both mirroring and extension an an external monitor up to 2560 by 1600 resolution at millions of colors, and a glass Multi-Touch trackpad similar to the ones used in the unibody MacBooks and MacBook Pros. Also solidly in the positive column is the unibody, polycarbonate enclosure that makes the machine lighter and more durable, and hopefully will put an end to the plague of cracked plastic MacBook housings. there is also a new non-skid rubberized bottom surface that obviates the need for rubber "feet" to too easily come adrift and get lost.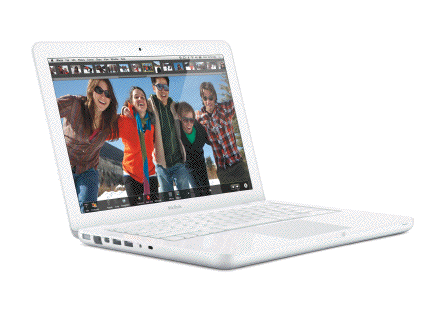 Incidentally, calling the new MacBook's polycarbonate case "unibody" is doubtless smart marketing, but it's more than a bit of a stretch, since the bottom panel is removable, fastened in place by eight Philips #00 screws. "Monocoque" would be more terminologically accurate than "unibody." Actually, it's not entirely polycarbonate. iFixIt, who have already torn down one of the newbies, report that the bottom case cover is in fact a sheet aluminum stamping coated with a rubberized coating material.
The new MacBook weighs 4.7 pounds, down from 5.0 pounds (2.27 kg) for the outgoing model, but still .2 of a pound heavier than the 13" MacBook Pro. The new enclosure design is a surprisingly subtle departure from the old-school polycarbonate MacBook. It has more softly rounded edges, but much more subtly than say the voluptuous original clamshell iBook, This makes sense, especially in a monocoque plastic housing, where the roundedness adds strength without increasing weight, is nicer on the hands, and more aesthetically pleasing, at least to my eyes, as is the glossy white finish, although I've already heard some griping about that from anti-glossy folks. The new machine is the new MacBook is slightly wider and deeper than the preceding model. I was surprised that the styling wasn't changed more radically, but the $999 MacBook (the price point remains the same, which will be a disappointment to some) is not only Apple's best-selling notebook computer ever, but its best-selling Mac system of any sort ever with more than 10 million out the door since 2006, and they are probably cautious about messing with success by making any radical changes in appearance. Hopefully also the case cracking issues that have plagued the plastic MacBooks since 2006 will now be a thing of the past.
CPU motivation comes from the same 2.26 GHz Intel Core 2 Duo processor (up from 2.13 GHz and upgraded with a 2.4GHz CPU in May, 2010) with 3 MB shared Level 2 cache on a 1066 MHz frontside bus used in the base MacBook Pro, 2GB 2GB 1066 MHz DDR3 PC3-8500 RAM SDRAM (an upgrade from DDR2 and now common with the MacBook Pro models), and the now ubiquitous across most of the Mac system lineup NVIDIA GeForce 9400M integrated graphics that has been used in the plastic MacBooks since a refresh last January. Unhappily, the memory is only expandable to 4 MB -- half what the unibodies support and 2MB less than the preceding model.
I'm less enthusiastic about Apple moving the MacBook to a built-in, non-swappable battery that is claimed to provide up to seven hours of runtime on a single charge, and support up to 1,000 recharges, but that was inevitable, with this being the last Mac portable model to switch to that mode. As with the aluminum machines, worn-out batteries will be be replaced by Apple for $129, which includes environmentally responsible disposal of your old battery. I also anticipate that there will be third-party battery replacements offered eventually for those who want to tackle the replacement themselves at lower cost, although iFixIt reports that the MacBook's battery is held in place with both tri-wing and Phillips screws -- an indication that Apple wants to discourage users from replacing the battery themselves.
Harder to reconcile is the elimination of the MacBook's erstwhile FireWire 400 port. I had hoped that the new price leader machine would get the same FireWire 800 port (backwards-compatible to FW 400 with an adapter) as is used in the MacBook Pros, but no joy. Apple is evidently determined to kill off FireWire. I'm living with the ramifications of which with a 13" unibody MacBook, and it's a major pain in the you know where. It's about the only think I dislike about that otherwise delightful machine, but I REALLY dislike not having FireWire. USB 2.0 is a lame substitute by comparison, and while USB 3 holds promise, it isn't here yet. Speaking of USB ports, the new MacBook has two of the USB 2.0 persuasion, but alas only one of them supplies a full 500 mA of power, with the second functioning like a bus-powered hub only providing 100 mA per downstream port. There is also no external battery indicator.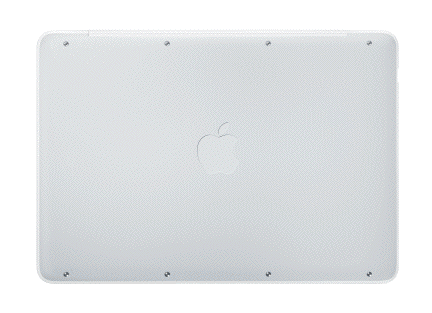 Even more surprising is the absence of an SD Card slot, which I had been fully expecting, although there is still 8X SuperDrive (Panasonic UJ898) with double-layer support, which I had been half-expecting to be taken optional external a la the MacBook Air. It's all very confusing. Apple may have a strategy for settling this FireWire/USB 3/optical drive/SD Card slot ambiguity, but on face value they appear to be unable to decide whether to suck or blow on connectivity standards and external media/expansion. One possibility is that they want to differentiate the base MacBook a bit more substantively from the $200 more expensive 13" MacBook Pro.
More neutral (IMHO) is the switch from the former MacBook's Mini DVI port to a Mini DisplayPort for video output (adapters sold separately of course), and mercifully the new machine still has a Gigabit Ethernet port (unlike the MacBook Air). As with the 13" MacBook Pro, the former discrete audio in and audio out ports have been replaced with an iPod type single audio line in/out port supporting optical digital out and analog in/out -- not a biggie for most of us, but problematical if you work with digital audio on a more than casual basis. The workaround is to use a a USB peripheral. There's also an iSight camera and a built-in microphone that has been moved to the upper left corner of the keyboard panel. Also gone is the infrared (IR) port, so the MacBook no longer supports the Apple Remote -- another somewhat peculiar decision on Apple's part.
View a short walk-through of the 13" 2.26GHz White MacBook:
The standard hard drive capacity has been bumped to 250 GB, which is welcome and better than the previous 160 GB. BTO hard drive options in clude 320GB 5400 rpm, 500GB 5400 rpm units, although my counsel would be to buy from a third-party vendor at a considerable saving and use the pulled 250 GB drive in an external housing for backups and whatever. According to iFixIt, the hard drive isn't as easy to replace as it was in the original MacBook but still categorized "user replaceable" by Apple.
Commendable, although probably not either a deal-maker for most customers is that the revamped MacBook achieves EPEAT Gold status and meets Energy Star 5.0 requirements, thanks to energy efficient LED-backlit displays that are mercury-free and made with arsenic-free glass the elimination of brominated flame retardants, and PVC-free internal cables and components constructed of recyclable materials.
Besides installed Mac OS X 10.6 Snow Leopard, bundled software includes out of the box support for Microsoft Exchange, iPhoto, iMovie and GarageBand.
For the majority of the computing population, the MacBook probably fits the bill. Web surfing, email, Office apps, digital photos, and basic video editing - the White MacBook handles these routines without breaking a sweat. However, it's not quite as snappy as the MacBook Pro, and don't expect video-intensive apps like Second Life to break any records. Geekbench scores show that the White MacBook is neck and neck with the 2.26GHz Mac mini:
In summary, I think this MacBook will continue to be a strong seller for Apple, although the dropping of FireWire support may come back to bite Apple in the butt (as it should) and definitely rules it out of serious consideration for me. However, it still represents the best value in Apple's lineup.
Just The Facts
The new MacBook, for a suggested retail price of $999 (US), includes:
* 13.3-inch widescreen LED-backlit 1280 x 800 glossy display;
* 2.26 GHz Intel Core 2 Duo with 3MB shared L2 cache;
* 1066 MHz front-side bus;
* 2GB 1066 MHz DDR3 SDRAM, expandable to 4GB;
* NVIDIA GeForce 9400M integrated graphics;
* 250 GB serial ATA hard drive running at 5400 rpm, with Sudden Motion Sensor;
* a slot-load 8X SuperDrive with double-layer support (DVD±R DL/DVD±RW/CD-RW);
* Mini DisplayPort for video output (adapters sold separately);
* built-in AirPort Extreme 802.11n wireless networking and Bluetooth 2.1+EDR;
* Gigabit Ethernet port;
* built-in iSight video camera;
* two USB 2.0 ports;
* one audio line in/out port, supporting optical digital out and analog in/out;
* glass Multi-Touch trackpad;
* built-in, 60WHr lithium polymer battery; and
* 60 Watt MagSafe Power Adapter.
Build-to-order options for the MacBook include the ability to upgrade to 4GB 1066 MHz DDR3 SDRAM, or 320GB 5400 rpm, 500GB 5400 rpm hard drive, Mini DisplayPort to DVI Adapter, Mini DisplayPort to Dual-Link DVI Adapter (for 30-inch DVI display), Mini DisplayPort to VGA Adapter, Apple MagSafe Airline Adapter and the AppleCare Protection Plan.
*A properly maintained MacBook battery is designed to retain 80 percent or more of its original capacity during a lifespan of up to 1,000 recharge cycles. Battery life and charge cycles vary by use and settings. For more information visit:
http://www.apple.com/macbook/features.html
**EPEAT is an independent organization that helps customers compare the environmental performance of notebooks and desktops. Products meeting all of the 23 required criteria and at least 75 percent of the optional criteria are recognized as EPEAT Gold products. The EPEAT program was conceived by the US EPA and is based on IEEE 1680 standard for Environmental Assessment of Personal Computer Products. For more information visit www.epeat.net