Will The Macworld Conference & Expo, Now Five Years 'On Hiatus,' Ever Return?
COMMENTARY: 02.01.19- The popular Macworld Conference & Expo formerly held annually in San Francisco met its unfortunate demise a few years following the exit of its main exhibitor, Apple, Inc., which left the show in 2009 and with dwindling attendance shortly thereafter at subsequent events, IDG World Expo — sponsor of the attraction — officially put the whole "shabang" on hiatus in 2014 and it hasn't returned ever since.
The question on some people's — if not everyone's — minds, including myself, is whether the show will ever return?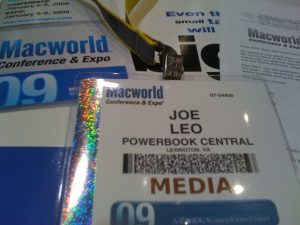 This week would have been that time of the year when droves of people from all corners of the planet would make their yearly trek to "the city by the bay" for the annual Macworld Conference & Expo which was held at the Moscone Center in San Francisco, California. Before 2009, when Apple made its final appearance at the show, attendance was packed, there were two venues for exhibitors to showcase their products (and if I remember correctly, a third one just for software developers). There were also a bunch of conferences you could attend and overall, it was a grand experience to behold, especially the main event when new products would be announced and unveiled.
In later years, slowly but surely, one year followed by the next, attendance dwindled and the expo hall floor was reduced to one smaller venue that was missing the major exhibitors of the past. It was kind of sad, to say the least! But, I continued to go, being the huge Apple fan that I was and still am.
I only remembered on Monday that this week would have been another Macworld Conference & Expo — had it still continued to be held —after being reminded personally by Facebook from my "On This Day" memories feed when it showed me that I had checked in at the Moscone Center and taken a picture of the expo hall floor entrance back on January 28, 2011. (IDG World Expo had moved the event to the last week in January after previously holding it during the second week of the month). That show was pretty uneventful for me since I found and had nothing to cover.
For six years, I would attend the event — as both a journalist who covered the expo and an educator (technology coordinator) who attended the conference — beginning in 2007 when I, as a columnist for PowerBook Central (the sister site of MacPrices which went defunct in 2015 but was merged in 2018 shortly after I joined the team), live blogged the keynote address by the late and former Apple CEO Steve Jobs. That particular year was an exciting and very memorable experience because it was my first ever event plus I would see Jobs in person, albeit from a distance, for the first time and then being there for the now historic unveiling of the iPHone as well.
I also returned to live blog the subsequent keynote addresses in 2008 where the MacBook Air was unveiled and in 2009 when Apple made its final curtain call.
The third time I covered the event was also a memorable one as I had been given a media badge by IDG World Expo which gave me special access and privileges like getting in an exclusive line for members of the media that allowed me to enter the venue where the keynote address was being held before regular conference and expo attendees did. That sure beat having to wake up early in the morning in order to catch the subway train in to the city and line up three hours before the keynote address started and pray that I would be able to get in and hopefully get a seat! I lucked out in 2007 and got a seat in the very back but the year after that was not so lucky as I and the rest of us in the section of people in line with me were sent to an overflow room away from the main venue where we had to watch Jobs speak, projected onto a large screen.
Of course, in 2009, I had a great seat close to the front with a somewhat unobstructed view of the main stage. (Check out this photo published on SFGate.com that was captured by San Francisco Chronicle photographer Mike Kepka of me along with two other journalists covering the keynote address in 2009 with our Mac notebooks on our laps, possibly taken to mimic an Apple print ad for the aluminum PowerBook G4 line from 2003.).
After I left my position as a columnist with PowerBook Central at the end of 2009, I continued to cover the Macworld Conference & Expo for three more years as a local correspondent, a side job I got in 2008 while continuing to teach. I wrote for two weekly newspapers — the Alameda Journal (which covers the island city of Alameda, California) and The Montclarion (which covers the city of Oakland, California)— published by Bay Area News Group, a major news organization which serves the East Bay and the Silicon Valley (the latter where Apple has its headquarters in Cupertino, California). It was at the show where I met two local-based software developers who were showcasing their products at the expo but my stories did not necessarily revolve around the event and were Features published much later on.
In 2010, I featured Sumul Shah who co-created the iOS app, Strategery, a popular game from Affogato (rated 4.5 out of 5 stars). And in 2012, my final event, I featured Dan Wood whose company, Karelia Software, created the widely used application for the Mac which is a website creation tool called Sandvox.
As most of my readers following this column know, I would lose my eyesight in 2013 (July) and become totally blind. Since my vision was already waning beforehand, I did not attend in 2013 nor 2014 (of course), the last ever show to have been held to date.
The Macworld Conference & Expo was eventually canceled in 2014 after that year's event but its official status was that it had been put "on hiatus" as reported by Macworld magazine (which is published by IDG, parent company of the event sponsor). The show were just never the same after Apple called it quits and IDG World Expo wasn't able to recover in the years that followed.
I think it was an editorial that I read, also in Macworld magazine, published a few years ago from a writer who I recall opined on what was lost with the cancellation of the show. Most notably how the conference and expo was a way for fellow Mac enthusiasts and fans to meet up, connect, and network once a year at the biggest event for Apple aficionados. And how you just can't get that by visiting your local Apple Store! (Heck, not every city has an Apple Store in it or even nearby).
The reason Apple exited the show as an exhibitor was because of the sheer volume of customers visiting its retail stores. As Apple senior Vice President of worldwide marketing, Phil Schiller, explained in his keynote address — which was given by Schiller that year due to Jobs taking a leave of absence as a result of his deteriorating health — during the tech giant's final appearance in 2009:
"3.4 million customers per week visit Apple Stores around the world. That's 100 Macworlds each and every week!"
Unbeknownst to many, including myself for a period of time, Apple was not the host of the Macworld Conference & Expo. It was an exhibitor, the main one, like other companies present to showcase their products at the show like Canon with their cameras or even Apple rival Microsoft and its Office suite for the Mac.
Apple was the glue that held everything together about the entire event. It was the magnet that attracted thousands of attendees to the show, hundreds of presenters at the conference, and the hundreds of other exhibitors showcasing their own products at the expo. Without its main attraction, what else was IDG World Expo going to do moving forward?
Five years later, the Macworld Conference & Expo is still absent — its status as being on hiatus indefinitely is now most probably definitely — and unfortunately, and sadly, shows no signs of ever coming back.
Could the show be resurrected in the form of an iWorld-only event, sans Apple as an exhibitor, what with the focus by the tech giant on its iOS devices and software platform in recent years — over the Mac side of its business — along with the wider reach an adoption of iOS and corresponding devices by its customers?
I can't remember exactly when IDG World Expo started calling the show "Macworld | iWorld" but it happened during the latter half of the six years I attended the event (maybe it was 2011?). Having an iWorld Conference & Expo could certainly be a possibility and with the plethora of iOS apps available on the App Store, app developers could showcase their latest apps, give presentations on how to use those apps, etc. Then you have the many different accessories available for iOS devices out there and those products could also be showcased on the expo hall floor from products you can buy to demos of forthcoming innovations to be released from those companies. And maybe even featured guests who host Podcasts, giving attendees a chance to meet and greet with an actual face behind the voice(s) of their favorite shows.
Call me foolish but I think it would be worth a shot on their part! What do you think? (Yes? No?).
Honestly, however, as long as Apple isn't present at a solo iWorld show or the tried and true Macworld Conference & Expo? There's no chance of the event ever seeing the light of day now or into the future.
---
Note from the Author: F.Y.I.- you will notice that when clicking on the two links referring to Sumul Shah and Dan Wood — the two software developers mentioned in this article — that they both point to the newspaper the East Bay Times. While this writer wrote for the Alameda Journal and The Montclarion, those two local-based weekly newspapers do not have their own websites and content is published in the main daily newspaper's website, thus, www.eastbaytimes.com.