People Profiles: This Apple Fan Owns A Collection Of Every iPod Generation Ever Released
FEATURE: 02.14.19- Apple fans love almost everything that the Cupertino, California-based tech company doles out to the masses and one particular fellow who has amassed a complete personal collection of every generation of the iPod ever releatsed is a great example of that affinity.
About the Series
People Profiles is a special series that periodically appears here in the "Mac Potpourri" column on MacPrices which feature unique stories about users of Apple products (or related to the use of them in general)
stories featured in this series are original (and in most cases exclusive to this column), however, from time to time, they may be derived from other sources, and, should this be the case, the source will be cited at the end of the story
for more about People Profiles and its goal, primary focus, as well as the inspiration behind it, see this introduction to the series
(story continues after the break…)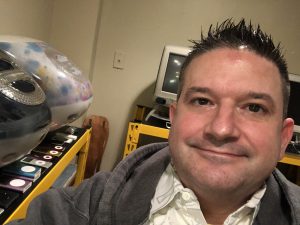 On this Valentine's Day, it's a love story of sorts between man and machine and the former is Johnny Nolan and the latter is the iPod. Nolan, who is in his early 40s, resides in the New York City area, and is a video editor by profession, owns a complete — as complete as it gets — personal collection of the breakthrough Apple-branded MP3 music player that was declared dead many years ago but is a device that lives on in people's hearts: just like his.
**AD: Still using an old iPod model and need to upgrade to the latest one? Buy the seventh generation iPod touch in 32GB or 128GB capacities (currently the only surviving version left that is offered by Apple) and find out the lowest prices for each in our iPod touch price tracker right here on MacPrices.
The iPod collection totals around 50 in all and in his possession is at least one of every generation Apple ever released for each model — those 27 of which are kept on a display rack in his home — and while most were bought, a number of the MP3 music players were donated, some by friends and family who know that Nolan collects the Apple devices.
"I've been using iPods since the initial introduction in 2001 and have been collecting them over the years. I've collected all generations. I don't consider the collection complete as I can go further into storage sizes / color for each generation. I'm taking a little break for now and will move into colors at some point."
He has the first through seventh generations of the iPod classic, the first and second generations of the iPod mini, the first through fourth generations of the iPod shuffle, the first through seventh generations of the iPod nano, and the first through seventh generations of the iPod touch.
"My favorite iPod is the first 5GB model that was released. It certainly is historically important. I like the size and weight of it. It has the best wheel too! My least favorite iPod is the third generation shuffle. It doesn't have a face or a wheel. A little devoid of personality. I'm also not particularly fond of the iPod touch line. I don't feel they are geared towards the original spirit of listening to music. They offer a much different experience with web access and app usage. They are hobbled iPhones!"
Nolan says that each iPod works and most are in excellent shape cosmetically. He also has most of the original packaging for each device. Plus? They are all loaded with albums and singles which altogether is about 5,000 songs amongst the entire collection.
"I acquired them in good or new condition and coddle them quite a bit. I will obviously need to maintain them as batteries and drives go bad. I do try to use most of the iPods over the course of a month."
So why did Nolan decide to collect the iPod and especially every single generation that has ever been released by Apple?
"Well, it's more affordable and practical than collecting Italian sports cars! iPods are just great little machines that have made a huge impact on our culture. Each one has its own charm. When you look back at the birth of handheld digital devices, the iPod was the first device so widely adopted. You can feel the design. I appreciate the volume of thought and ingenuity that was given to each generation."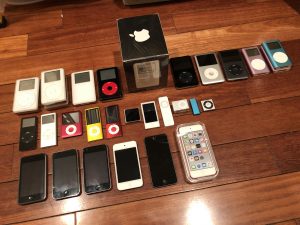 It was love at first sight. Nolan still fondly remembers reading about the very first iPod the day it was unveiled in 2001and was so excited over the new device. Then, when he saw the original commercial on TV — not to be confused with the now iconic ad campaign from 2004 through 2008, which is his favorite, with the TV commercials and still images in print featuring a black silhouette with colored backgrounds — for the Apple-branded MP3 music player, he went, in his own words, "bonkers" for the iPod and bought one immediately. Surprisingly? Nolan says that he did not line up at his local Apple Store to buy the device, nor has he ever done so for any Apple product release, and attributes that interesting fact to him being a very patient person.
On where he thinks the iPod classifies in the timeline of the greatest innovations and products released by Apple, specifically, as one of the creations of its late co-founder and former CEO, Steve Jobs, Nolan had this to say.
"I think the innovation in the iPod is unique to Steve Jobs and his relationship with Jonathan Ive. Jobs had a lot of inspiration by the Sony Walkman and elevated it to another level. He was able to steer his team and make a great product. A lot of the 'Think Different' was Mr. Jobs. However, there are many people that should probably also be thanked for the iPod! The company has a long and storied past lead by geniuses. The products are designed and built with a quality and natural style that is superb and nobody does devices like Apple does. I put it in this order; Apple I, Apple II, Macintosh, iMac, iPod, etc. I hope that Apple releases a new click wheel iPod when 'nostalgia' demand comes into play!"
Then there are his personal feelings about the iPod having been declared dead many years ago, and on the flip side, the rise of Apple from the brink of death thanks in part to the iPod and its so called halo effect.
"Well, they'll never be dead to me! I wouldn't consider them dead as people are still using them and there are quite a few for sale on ebay and local sites like Craigslist and OfferUp. I do believe the iPod was a huge force in helping Apple bounce back during the early 2000s. It was a combination of different things. iTunes had a huge role. The iMac G3 and laptop sales were strong. Final Cut Pro was released on the professional level. DVD Studio Pro and affordable Apple-branded dvd-r's helped too. It was a great time to be an Apple fan!"
Speaking of being an Apple fan — and "a huge Apple fan" (his own words) at that — Nolan has been using the company's products in his professional career and in his home since 1997. Although his first experience using an Apple computer was with the Apple IIe in grade school back in the 1980s. And as if his extensive collection of iPods wasn't enough to show his love of Apple? He collects some of its other products as well!
"I also collect iPhones and Apple computers. I am partial to iMac G3s and clamshell iBooks. I also have machines that span from the original Mac and Apple II lines to modern day Mac Pros. I've also have been given a lot of computers through work. Employers give me old workhorses."
As for the current state of Apple and its future moving forward, Nolan leaves us with these parting thoughts on the subject and, in particular, one lasting wish for the Cupertino, California-based tech company to grant.
"I just hope that Apple continues to make computers. I hope they continue to produce innovative and well-designed machines. I hope they satisfy the pro market within the next year. The iMac Pro is a beautiful solution. However, pros need a modular machine built with more choice and industrial strength. They also need to bring bright colors back in all of their products. And a new iPod would be pretty cool too!"
---
Note from the Author: This is the second edition of the People Profiles series here in the "Mac Potpourri" column. The subject of this story agreed to be interviewed and share their personal story for the series. (Full disclosure- this writer found out about the individual and their collection after reading a post on the "Low End iPod, iPhone, and iPad" Facebook group which this writer is also a member of. The group is connected to Low End Mac — just one of many Facebook groups related to that website — and is a site that this writer also writes for.).