What New Products Will Be Unveiled At The 'By Innovation Only' Apple Event?
FEATURE: 09.09.19- With a media only Apple event scheduled to occur tomorrow morning at the company's Cupertino, California headquarters where the tech giant will be unveiling and showcasing a number of new devices and hardware as it does like clockwork around the same time each year (in advance of the upcoming holiday shopping season in order to boost its sales figures), what can we expect to be announced?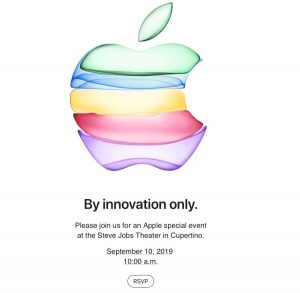 Invitations were sent out via email late last month on August 29 (roughly two weeks ahead of the event) to members of the media, confirming the rumored Apple Event predicted to happen on September 10. As usual, the invitations don't reveal any details about the event — although some people like to think there are subtle clues in the invitations — despite having clever taglines such as this year's "By Innovation Only" written on it.
No one actually knows what Apple will unveil at tomorrows event except for the company itself. The tech giant is highly expected to be dropping at the event the new iPhone lineup for 2019 but could also reveal other new products in its pipeline, mostly updated versions and one in particular, totally brand new.
Earlier this year, the website MacRumors outlined the new products that possibly were to come from Apple rthis year which were derived from a February research note by renowned analyst Ming-Chi Kuo of TF International Securities ( a financial services group in the Asia Pacific region), an individual who is very popular within the Apple news and rumor circuit for his annual forecast based on intelligence gathered from his contacts inside the tech giant's Asian supply chain.
The Apple rumors-based site reported that Kuo is well regarded in the rumor community due to a very good track record at predicting Apple products.
While he had no information on exactly when the new products would be unveiled by Apple, the analyst would predict correctly the releases this year of the fifth generation iPad mini, third generation iPad Air, and second generation AirPods in March, the seventh generation iPod touch and the new Pro Display XDR in June, and an updated 13-inch model of the MacBook Pro in July. (Of note was that for the latter of those six products, Kuo only was incorrect about his prediction on what it would feature: a new option for 32GB of RAM — the refreshed entry level models top out at 16GB — rather than the addition of the Touch Bar which previously was absent from the machine).
The following were other Apple products in Kuo's forecast for 2019 of new devices and hardware that he expected to be released by the tech giant of which have yet to surface this year:
iPhone: three models (5.8 and 6.5-inch OLED and 6.1-inch LCD) featuring frosted glass casing, larger batteries, and the ability to wirelessly charge other devices along with triple camera lenses (wide, ultra-wide, and telephoto)
iPad: two new Pro models while new low cost version of standard 9.7-inch model to be replaced with 10.2-inch model
MacBook Pro: new 16 to 16.5-inch model with all-new design
Apple Watch: new Series 5 model to feature ceramic casing (with ECG support for more countries)
**AD: Whatever products are announced at the Apple event tomorrow morning, before you make a purchase on any new products, be sure to check out the daily price trackers right here on MacPrices for the latest deals and lowest prices (and discounts on previous generation models)!
With similar rumors running the gamut and being circulated by media outlets — from the Wall Street Journal and CNET to the Apple news blogosphere — of those Apple products listed, it's very likely that those items will be what we can expect to be announced at tomorrow's event.
iPhone Life magazine (which this writer is a contributor to along with its website) is expecting Apple to announce new iPhones on September 10 and only has rumors to go on about the device (just like everyone else) such as new names, a third camera lens, and bi-directional charging. It also expects, as rumors have suggested, a new Apple Watch Series 5 to be unveiled at the event.
The magazine reported that it seems likely that any new iPad or MacBook announcements will come during a second Fall event, possibly in October.
That piece of information elicits the question of whether new iPhones will be unveiled indeed at tomorrow's event or whether Apple will announce other devices and hardware and wait until next month to showcase the next generation of its smartphones.
However, last month, a week before Apple sent out the invitations for its September 10 event, Bloomberg reported (according to people familiar with the situation) that the Cupertino, California-based tech giant is planning to announce three new iPhones at an event next month, suggesting that the company is almost certainly on track to be unveiling tomorrow its iPhone lineup for 2019.
Other than new iPhones — which it expects to have two Pro models of amongst three to be released — the business and finance news site is expecting Apple to be readying a clutch of new hardware in the weeks to come such as a refresh of the iPad Pro and the low end iPad for schools (noting that the latter model will be updated to a 10.2-inch screen, discontinuing the 9.7-inch screen which has been standard for the iPad since its inception) and a revamped MacBook Pro with a 16-inch screen (the largest notebook computer to be released by the company since the discontinuation seven years ago of the 17-inch model of the MacBook Pro). It also expects the next Apple Watch at the event which will sport new case finishes like ceramic and titanium.
As if those Apple products aren't enough to whet everyone's appetite, last minute rumors reported by Macworld magazine suggest that — according to a leak on Twitter — The tech giant will have "one more thing…" to announce at the end of the event.
Sources have revealed that a next generation Apple TV might be unveiled. Or an early preview of AR (Augmented reality) glasses which would be released next year. There's also the possibility of Bluetooth low energy tile-like trackers which can be attached to any object and tracked with an iPhone, an iPad, or a Mac.
And don't forget the rumors of a new Apple Pencil, a smaller version that reportedly will be supported by the new Pro models of the iPhone (Which was featured herein this column last week)!
Of course, as the saying goes, take all of this with a grain of salt (So to speak) and wait for the official product announcements by Apple tomorrow at 10 AM PDT from the Steve jobs Theater at Apple Park in Cupertino, California. The event will be streamed live on the apple.com website.
---
A Note From The Author: special thanks to Scott Budman, business & tech reporter for NBC Bay Area News, for sending a copy of the Apple event invitation for use with this article (Budman is an acquaintance of this writer).