How tablet computers like Apple's iPad Are Used As A Key Technology Tool In The Restaurant Industry
FEATURE: 11.28.19- On this Thanksgiving day, while some families across America decide to forgo the extra labor of preparing a huge feast centered around the turkey plus all the trimmings, choosing to eat out at a fine dining, fast casual, or quick service restaurant, instead of celebrating the holiday at home, did it ever cross your mind how tablet computers — such as the now ubiquitously used device designed in California by Apple known as the iPad — comes into play as a key technology tool utilized by the restaurant industry for enhancing and improving your meal experience?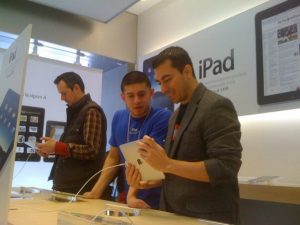 When the iPad was launched almost a decade ago on April 3, 2010, many people's initial reaction to the device was that of a huge iPod touch or even an iPhone sans the phone with a larger screen. Today, what is considered by Apple as the notion of modern day computing, is now used everywhere from the classroom and the enterprise to influencing tablet computer use in the medical field (see this related article) and?, of course, The restaurant industry.
In an article published earlier this month on the website of QSR magazine — a publication dedicate to coverage of business news in the quick service restaurant sector (thus, the acronym, which is the official and abbreviated term for what is known better as fast food) — the report explores what the iPad has done, and can do, for dining establishments.
Describing the devices as portable, intuitive, and cost effective, the magazine says that it's no wonder iPads have revolutionized the business world. As far as the restaurant industry is concerned, the tablet computer has popped up everywhere from POS (point of sale) terminals to serving as the de facto computer for instruction. But, as the publication points out, the iPad just doesn't have to be limited to the back office. In fact, as QSR reports, one of their most promising applications is right there in the kitchen or front-of-house training.
According to QSR magazine, an iPad addresses the following issues:
computer based training doesn't work nor was it designed for restaurants where employees are on the go
sitting in a manager's office requires team members to complete lessons and then try to remember what they learned and apply it when they get to their workspace (which isn't always effective)
binders full of paper training materials offer more portability but are static in nature, meaning that visuals are less impactful and are difficult for corporate teams to refresh with new content
corporate teams can't keep track of individuals and be sure who has received what type of training
Furthermore? iPads are easy to use. The magazine says that though many brands worry about resistance from less tech savvy employees when they roll out devices to restaurants, iOS is designed to be simple to use and there is a high likelihood that an employee has used a device with Apple's mobile operating system, being that there are over one billion iPads / iPhones / iPod touches combined that all are currently in use around the world.
However? There's the cost of employing the device for restaurateurs to factor into the equation (so to speak). .
As QSR magazine reports, though a high tech training solution may seem expensive, iPads actually can be much cheaper than paying to update print and ship paper materials — especially with software — which makes it easy to roll out updates chain-wide from the corporate office. And that, the price, which can generally cost less than $299 per unit depending on the device's specifications, according to the publication, is a major perk.
"The iPad's portability is key because employees can actually learn and use the training device while they are hands on in the kitchen," says Mike Sonntag,senior Vice President of iPort, speaking to QSR magazine. "And video on the iPad, unlike paper, can help a restaurant show employees exactly how to master a recipe so that it tastes the same across all locations."
iPort, created by Sonance, is a line of products which launched in 2004 — first with its accessory for the iPod, then later, the iPod touch and iPad — that integrate Apple products in a simple way into people's lives. The company realized that it could help end users turn their tablet computer into a simple and functional business tool for commercial applications as well as in the home: and in this case, the restaurant industry.
The publication says that for restaurants considering iPad based instruction — the added expense of the investment notwithstanding — most still will come out ahead with the benefit of training, one of the single most important factors in a dining establishment's success.
**AD: Searching for the latest deals & discounts and lowest prices on an Apple tablet computer? Check out our comprehensive iPad price trackers right here on MacPrices for every model currently for sale from the iPad mini to the iPad Pro!
In another application, a tablet computer can be used to take your order right at your table which in some instances partially reduces — not necessarily replaces — the human element of the dining experience.
A specific example of the tablet computer being used in the restaurant industry as a POS terminal — although in this fashion, not with an iPad but conversely with an Android-based device (brand unknown) — is at Chili's Grill & Bar, a Dallas, Texas-based fast casual dining restaurant chain with 1,500 units found worldwide serving Tex Mex and American cuisine (which is the flagship establishment of parent company Brinker International, Inc.).
A 2016 report published in Computerworld magazine — a publication dedicated to enterprise level IT management in the business sector — (found for this article through its website from a Google search by this writer based on his own experience after visiting the said dining establishment a few years ago) illustrates how Chili's is using tablet computers, albeit not Apple's iPad (though its direct influence clearly can be seen in this instance), to leverage the power of technology to rethink, radically, how to run a restaurant (versus retailers who often use tech only to slightly accelerate their already established operations).
According to the magazine, what Chili's did was to break (up) the meal into its parts and use technology to slash the time for the non-value added aspects such as placing an order, waiting and then paying for the check, and trying to get the attention of the waiter(s) to be seated at a table to do the aforementioned. The restaurant chain concluded that if a tablet computer permanently mounted where a diner sits is available to handle the ordering of and paying for food as well as decrease the time it takes to do those two things — improving the entire meal experience as a result — it would allow them to focus more on other tasks they could perform much better, or as the publication said, had a shot at boosting.
"We're trying to take back lunch and dinner from fast casual," said Wade Allen, Vice President of customer engagement and digital innovation at Chili's, speaking to Computerworld magazine. "It will be a … little more time to further reduce friction in the guest experience."
The catch? The fast casual dining restaurant only allows the table mounted tablet computers to let diners order appetizers, drink refills (non alcoholic), and desserts leaving the rest to a waiter in order to handle any customization of meals or special requests (e.g., steak cooked medium rare versus well done or sauce on the side). Leaving full ordering to an actual human being on staff allowing that employee to answer any questions about the full menu that a customer may have, giving servers the opportunity to explain and even recommend suggestions which — aside from boosting revenue and and added value to the overall meal experience — is a huge competitive advantage.
"We don't allow full ordering, only light ordering," said Allen.
Then there's mobile payments: still nascent — and non existent, compatibility-wise — at the time Chili's rolled out their table mounted tablet computers back in 2014 (keep in mind that that was five years ago and the story being referred to was written in 2016).
As Computerworld magazine reported (at the time), mobile payments were a new part of strong interest to Chili's because it had the potential to accelerate sharply the end of the meal experience (a lot of where things go downhill for diners). A tablet computer mounted on a table reduces a transaction time to approximately ten seconds, which replaces having to get the attention of a waiter to get the check delivered, pay for it (with cash or credit card), and then, finally, wait to receive one's change (if applicable) and the receipt after flagging down the employee, yet again, to do so.
"Technologically, consumers are in the middle of the mobile shift, said Allen. "Not enough of them have smartphones — let alone NFC-enabled [ones] — to move payments entirely to consumer owned mobile devices. The table-based tablet is an in-between move."
NFC, an acronym standing for near field communication (which enables short range of such between two compatible devices as in a smartphone), is today more commonly used for making mobile payments at restaurants and retail stores. Three major examples of paying without cash or an actual credit card in hand are: Apple Pay — launched in 2014 and the first to make it onto the online / mobile payment scene — along with Samsung Pay and Google Pay (formerly known as Android Pay), two of Apple's competitors that did not want to be left out of the game and took the tech giant's lead, albeit after the fact, launching their own digital wallets the following year in 2015.
The latter method, still known then as Android Pay, was, back in 2016, as reported by Computerworld magazine (just announced the week prior to the publication's report) to roll out system wide. Chili's revealed plans to integrate the digital wallet experience into its table-based transaction options towards the end of the year, which, for the first time ever, would allow NFC mobile payments as well as instant loyalty sign up to the restaurant chain's rewards program (used in tandem with a compatible smartphone app).
In fact, a 2017 United Nations (U.N.) report — as published in the electronic web version of the South China Morning Post — a Hong Kong-based English language newspaper — forecasted that online, mobile, and digital currency payment systems were set to overtake credit and debit cards as the most popular ways to pay in e-commerce worldwide by 2019 (according to a U.N. body on international trade and development).
Chili's could not have foreseen the future when it started to use tablet computers as POS terminals in its restaurants back in 2014 and five years later, their Vice President of customer engagement and digital innovation was right about his prediction (which he made in 2016).
"This is an infrastructure play where this communal device will interact differently in the future," said Allen. "It's a bridge to mobile being the front and center piece for the next five years, … [The] table-based tablet is the way to go."
It's clear that the benefits of a tablet computer in food service — whether through the iPad or its Android-based counterpart — is a key technology tool (be it for employee training or a POS terminal for customers) that helps drive business and how they serve their patrons which results in a better meal experience for diners. Ponder that idea as you enjoy your hot plate of turkey and all the fixings while you and your entire family dine away from home on this Thanksgiving Day holiday — or, the next time you eat out any other day of the year — at either a fast casual dining or quick service restaurant and see one of the aforementioned devices in use.
Bon appétit! (Or, rather, that should be: gobble gobble!).
---
Note from the Author: the mainarticle from QSR magazine that was used as the primary sourcefor the inspiration ofthis feature story in this column originally was a sponsored content post on the publication's website and is not an endorsement by MacPrices or this writer of the products for sale (iPort).