Retro Reading: 15 Years Later, Apple Is Still Using The Same Old Bag Of Tricks
FEATURE: 09.22.21: – When it comes to tech companies and innovation, it's a "dog eat dog" world out there, generally speaking.
Last week — in a commentary about Apple iterating vs. innovating — I touched upon how the company, as of late, has been solely focused on making things better rather than changing the world with its latest products. Part of that was a shot across the bow (so to speak) of Apple CEO, Tim Cook, who used those same two phrases in his keynote address at the "California Streaming" event on September 14.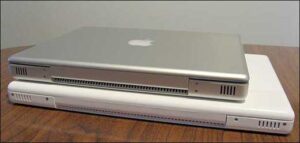 In today's edition of Retro Reading, a series here in my column where we dig deep into "The Press Box" archives for content written several years ago from PowerBook Central, we take a look back all the way to 2006 when — coincidentally, on this very same day — I was ranting about, of all things, Apple and innovation, specifically how it was becoming inconsistent with its efforts in that department (see the connection?).
**AD: Whether it's the iPhone 13, the newest generations of the iPad and iPad mini, or the Apple Watch Series 7? Be sure to check out the award winning and exclusive price trackers on MacPrices for the lowest prices, best deals, and latest discounts from Apple (and Apple Authorized Resellers). Pricing updated daily, seven days a week!
Making Things (Only) Better
While Cook receives a fair share of criticism for the lack of innovation at Apple under his watch, his predecessor, the late co-founder and former Apple CEO, Steve Jobs, despite being an innovator, was at times guilty of being an iterator too as was exemplified by the introduction a decade and a half ago of the first Intel-based Macs (not to mention, the different iterations of the iPod as well). Jobs would more than make up for it by following up with innovation after innovation (e.g., the original versions of the iPhone in 2007, the MacBook Air in 2008, and the iPad in 2010).
For some context, we have to travel back in time 15 years into the past to get a feel for Apple as it was in 2006.
Apple had just started the transition from PowerPC to Intel chips for its Macs. The first in line to move away from the old chipset from IBM were Apple's Mac notebook computers, formerly the iBook G4 and the aluminum PowerBook G4.
However, instead of new innovations, what we got were two updated iterations of the same exact products — albeit, now with "Intel Inside" — and a new branding scheme to boot with the MacBook and MacBook Pro monikers replacing iBook and PowerBook, respectively.
Fast forward to the present day (or back to the future, if you will, since we were just in the past) to a similar situation where the company is in the middle of another chip switch with the Mac transition to Apple silicon. While the M1 iMac "features an all-new design" (relatively speaking) on the outside, the other M1-based Macs are all iterations of the same exact product, the only difference being that it has a new chipset under its hood (so to speak). And this time around, it chose to stick with the old names of its products rather than rebranding them to usher in a new era (like it originally did back in 2006).
Just look at the assortment of non-Mac hardware that Apple announced at the September 14 event. An Apple Watch, an iPad and an iPad mini, and four different models of the iPhone (been there, done that).
I guess the adage, "you can't teach an old dog new tricks" could apply to Apple in the innovation department (you think?).
Thinking (Slightly) Different
So, let's take a short trip back in time to look at what I wrote in the article originally published in "The Press Box" column on PowerBook Central on this day a decade and a half ago, shall we? What follows is just a sample of the opinion piece written by yours truly on September 22, 2006:
"Apple's 'Think Different' advertising campaign back in the late 90s was said to be inspired by a quote from Albert Einstein — who, not unsurprisingly, happened to be one of the celebrities / historical figures used in the ad campaign — who once said, 'We can't solve problems by using the same kind of thinking we used when we created them.'"
"But only Apple knows how to twist that theory around inside out, sometimes solving problems in fact, by using the parts of that "same kind of thinking" when they created their products. And therein lies the double-edged sword that the Mac maker has used over the years which, lately, has been producing the opposite results."
"Usually when you replace something, it's because there were some flaws in your product's design, so you take steps to fix it. Or, as the case is with Apple most of the time, you take something that already is a winner, and hack at it a bit (for lack of a better term) — okay, tweak it — to make it even better than it was before."
"And Cupertino has always been good about using both strategies to their advantage, always being in the forefront as the leader in innovation, leaving other companies in the dust (who sometimes even copy Apple's techniques to boost their lack of a 'cool' factor). You don't have to convince us Mac users and aficionados of that fact."
…
To read the full version of the article as it was originally written, visit this link: "Apple's Efforts to Innovate Inconsistent as of Late"
Thanks for joining me on this edition of Retro Reading where we took a look back at a headline (in particular, one that was written on this very day) from my days as a columnist writing for PowerBook Central. Join me again next time when we dig deep into my archives and see what headlines were displayed on the front page of that long since defunct website.
---
A Note from the Author: established in 1995, PowerBook Central, the sister site of MacPrices, originally went defunct in 2015 but was later merged with this website in 2018 (shortly after this author came aboard to write the "Mac Potpourri" column). For additional content originally published from 2006 to 2009, see "The Press Box" archives.