Apple Shopping Event Plus A Piece Of Apple-Related Memorabilia 'On Sale' For The Holidays
FEATURE: 11.25.21 – There's a one-of-a-kind accessory for the Mac being auctioned off this holiday season which you're not going to find at any retail store that's even more limited in quantity than those Black Friday (and Cyber Monday) sales taking place after Thanksgiving.
The Apple Shopping Event — which starts on Black Friday and runs through Cyber Monday (November 26 to 29) — is just 24 hours away (give or take). This year, the company will be again giving away "cash" in the form of a free Apple Gift Card, worth anywhere from $50 to $100, with a qualifying purchase from its online (apple.com, the Apple Store app, and 1-800-MY-APPLE) and retail stores.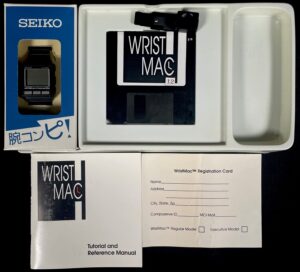 However, if you're looking for a unique gift for the holidays this year to give to the Apple fan in your life, especially, a collector of Apple-related memorabilia, you might want to look into purchasing a WristMac: only thing is, it's an ancient piece of technology (and, you'll probably need a credit card with a generous spending limit to purchase it!).
**AD: For the best deals and discounts on all Apple products from Apple and Apple Authorized Resellers this Black Friday and Cyber Monday, make sure to check out the award winning and exclusive price trackers on MacPrices. Pricing updated daily, seven days a week!
The Ultimate Gift?
In a report this week from iDrop News about an auction being held by ComicConnect for an original WristMac in mint condition, the online comic book marketplace and auctioneer likened the "extremely rare" item up for bid to an early Apple Watch, describing it as follows:
"One of the first pieces of wearable computing technology. This 1988 WristMac comes in its original packaging and has never been sold in the over thirty years since its first release. The box advertises the revolutionary features of the watch, and contains the original sticker noting the Serial Number (70216)."
Released in 1988 by Seiko, the Tokyo, Japan-based company which manufactures watches, iDrop News described the WristMac as a "bleeding edge" device for the technology of its day that was also capable of interfacing directly with a Macintosh.
With the ability to store phone numbers, display scheduled alarms with specific text reminders, and even take notes that could be transferred back to the Macintosh and exported to a text file, iDrop News called the product an "ambitious device" (considering the decade that it was released). The WristMac communicated with a Macintosh using the AppleTalk protocol, which was more commonly used to connect to file servers and printers.
iDrop News noted that it's unclear if Apple had anything to do directly with the development of the WristMac, although the media outlet posited that it was possible the company's engineers provided (in some way, shape, or form) limited technical support for the product.
According to iDrop News, the wristMac is an interesting early precursor to the Apple Watch of today. Most notably, the media outlet reported that there isn't much information on how many devices were made, much less, how many the company sold.
Earlier in November, Business Insider reported that a rare Apple I from the 1970s that was built by former Apple CEO and co-founder, Steve Jobs, in the garage of Jobs's childhood home and designed by Apple Fellow and co-founder, Steve Wozniak, sold for $400,000 at an auction held by John Moran Auctioneers. Originally sold for $666.66 when it was released in 1976, the computer — one of 200 units ever created and one of just six that came in a case made with rare Koa wood — still works and, per the media outlet, is considered the "holy grail" for vintage electronics collectors as it is one of the very first computers that the Cupertino, California-based company manufactured. (In 2018, another Apple I sold for $375,000 at an auction held by RR Auction which more recently auctioned off a number of Apple-related memorabilia signed by Jobs and Wozniak… to the tune of $2,036,767).
A Gift That Gives Back
If the person that you're shopping for this holiday season isn't a collector of Apple-related memorabilia, you can simply get them the latest and greatest that the company has to offer: and, in the process, earn some "cash" for yourself in the form of that free Apple Gift Card worth up to $100 (or, gift yourself that new Apple product and give the gift card as the present… it's totally up to you!).
Apple products eligible for up to a $50 Apple Gift Card are Apple's Beats-branded headphones, Apple TV, Apple Watch, iPhone, and accessories like AirTags, Apple Pencil, Magic Keyboard, and MagSafe chargers. AirPods can net you up to a $75 Apple Gift Card. However, the biggest "savings" can be had on an iPad or a Mac with up to a $100 Apple Gift Card.
Unfortunately, the caveat to the offers are that only specific models of each Apple product are eligible (e.g., iPhone 12, iPhone 12 mini, and the second generation iPhone SE). Additionally, the free Apple Gift Card can only be used at a later date (see the Apple Shopping Event page on apple.com for complete terms of the sale).
Now, if you're shopping for gifts at an Apple Authorized Reseller, be very cautious about some of those deep discounts on certain Apple products this Black Friday and Cyber Monday.
As reported yesterday by Macworld, every retailer that sells Apple's wares will be running a sale between now and Monday, but there are some so-called "deals" that aren't actually deals, no matter how low the price is. The publication recommended avoiding sales on older models of Apple products offered during the after Thanksgiving sales such as second generation AirPods, Apple TV HD, Apple Watch Series 3, and Macs with Intel processors.
On the WristMac, iDrop News reported that the auction will remain open until December 18. The media outlet noted that the rarity of the item means that it's very hard to estimate what the item might fetch. According to ComicConnect CEO, Steven Fishler, the auctioneer expects the final selling price to be in the $25,000 to $50,000 range (good luck if you place a bid, and… have a Happy Thanksgiving!).
---
Related Reading: from this column's article archives (December 2020) – "Give 'Everything Apple' This Holiday Season With The One Gift Card That Rules Them All"