Apple's Apps, Services Experience Brief Outage Amid White House Warning Of Russian Cyber Attack Threat
NEWS – Earlier this week, numerous customers around the world inexplicably encountered issues when attempting to access or use a specific Apple app or service on their device.
Apple's apps and services — from Apple Arcade and Apple Music to iMessage and Maps — briefly experienced an outage on Monday. According to CNBC, only some users were affected by the disruption in service, effectively impacting each user in different ways (e.g., the App Store would hang upon loading or would not load altogether).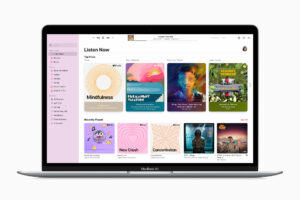 CNVC reported that the reason for the outage was unclear.
**AD: For the lowest prices, latest discounts, and best deals on all products and accessories sold by Apple (and Appple Authorized Resellers)? Consult the award-winning and exclusive price trackers on MacPrices. Pricing updated daily, seven days a week!
A 'Massive, Hours-long' Outage
According to the Cupertino Patch — the local affiliate of the Patch news service in Cupertino, California (where Apple's corporate headquarters are located) — at approximately 10:30 a.m. PDT, Apple had confirmed that at least 11 systems were down. Altogether, per the media outlet, more than 30 outages had been reported on the company's system status support page, including, but not limited to, the following:
Apple Pay & Wallet – some users were affected; service may not have been available for some users.
Find My – some users were affected; users may have experienced a problem with this service.
iTunes Store – some users were affected; this service may have been slow or unavailable.
The Cupertino Patch reported that by Monday afternoon, Apple had completely restored service following the "massive, hours-long worldwide outage.
According to Bloomberg, for a period of time on Monday, the outage also prevented staff at Apple's retail stores from performing a variety of tasks, from completing repairs on products being serviced at the Genius Bar to facilitating in-store pickups for Apple Store customers. Additionally, the problems affected corporate employees working from home as well, limiting their ability to access internal websites and communicate with each other.
Bloomberg reported that staff at Apple's retail stores were told by the company that the outage stemmed from problems with its domain name system (DNS).
'Retribution From Russia'?
Coincidentally, CNN reported that President Biden — worried that Russia was likely to use cyber attacks as a form of retaliation against the United States for issuing sanctions in response to Russia's invasion of Ukraine — warned business leaders in the U.S. on Monday to immediately strengthen their companies' cyber defenses (read the official statement released by the White House).
While there were no reports of a cyber attack from Russia (or any other similar threat, foreign or domestic) already in progress? Notably, in its report, the Cupertino Patch included a tweet from Jon Henshaw, lead analyst of SEO at Paramount, who speculated that the reason for Apple's apps and services temporarily going offline was a result of exactly that, posting the following to his Twitter account on Monday during the height of the outage (Henshaw is also the editor-in-chief of the website, Coywolf News, an online publication which periodically covers Apple):
"Not only are Apple services down, but I also can't start up the two iMacs in my home," tweeted Henshaw.
"This is wild. Hoping this is just a major outage and not retribution from Russia. Also hoping my iMacs haven't been bricked."
Earlier this month, in addition to halting all sales and exports of its products to Russia, Apple limited the use of some apps and services (e.g., Maps) to users in the country as a result of Russian President Vladimir Putin's "special military operation" in Ukraine.