Mac Musings: iMac Turns 25 (Plus? The 'Mac Potpourri' Column Celebrates Five Years On MacPrices)
COMMENTARY – The month of May marks two milestones, one for Apple and the other for this writer.
The iMac — Apple's all-in-one desktop computer — is now a quarter of a century old. Not even the original Macintosh lasted for that long!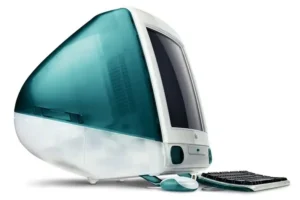 While there have been many different iMacs released over the past 25 years, no model is as iconic, design-wise, as the original iMac.
**AD: In the market for a new iMac? Look no further than to our exclusive and award-winning price trackers, right here on MacPrices. Find the lowest prices, latest discounts, and best deals from Apple (and, Apple Authorized Resellers) 24/7!
Commemorating Not Firsts
Announced on May 6, 1998 by then Apple CEO, Steve Jobs, the original iMac was unlike any Mac — or other computer (for that matter) — that anyone had seen previously.
The original iMac bucked the trend of boring beige boxes and brought color to the Mac for the very first time. However, there was another characteristic that made Apple's all-in-one desktop computer unique.
You could see right through them!
Although the original iMac set off an industry trend (one that's since faded away) with its translucent case in Bondi blue, Macworld notes that Apple's all-in-one desktop computer was not the first time translucency or transparency was incorporated into its Macs. Apple previously used see-through parts on products like the Power Macintosh 8600 and 9600, but it was the design of the Power Macintosh G3 All-in-One — a Mac specifically created for the education market — that was a sign of things to come.
While the Power Macintosh G3 All-in-One was primarily a beige box, it was outfitted with a translucent case at the top and rear made of clear plastic.
"You have to see this thing in person to truly get a sense of how form and function really didn't mix," writes Macworld senior editor, Roman Loyola. "But the [translucent] plastic, funky curves, and compact all-in-one design was the first glimpse of the future."
Coincidentally, the very first Mac that I ever owned was a Power Macintosh G3 All-in-One: a purchase that I would regret later on with the original iMac being released shortly thereafter.
Even though I was not the first to own an original iMac, I did get to enjoy the experience of using one as my parents ended up buying one to replace the aging family computer (of course, a Mac!). I eventually did get my very own iMac, albeit, a newer model, an iMac DV (Summer 2000) with a transparent case in indigo. Years later, I would get an iMac G5 and after that, an aluminum unibody iMac (early 2009)… a computer that I still own and even occasionally use to this day!
If you're interested, check out this retrospective that I wrote five years ago (for the website, Low End Mac, where I wrote the "Leo and Mac" column from 2018 to 2019) on the 20th anniversary of the iMac which describes in detail all of the iMacs that I've used over the years.
Speaking of anniversaries? I would be remiss not to mention the anniversary of this column — which is now five years old (has it already been half a decade?) — with the very first article debuting on May 14, 2018.
Notably, the "Mac Potpourri" name was not the first, its original moniker being "The Press Box" (a short-lived revival of the column I originally wrote from 2006 to 2009 for the website, PowerBook Central, the long-since defunct sister site of MacPrices).
As I look back at all of the articles I've written over the past five years, I realized that the Mac has been absent from the "Mac Potpourri" name, at least, as far as coverage is concerned. Therefore, moving forward, I plan to give any Mac-centric content a new home of sorts which will fall under a new series here in this column called "Mac Musings" (the first being this one that you're already reading!).
---
Related Reading: from the "Mac Potpourri" story archives – "Introducing The New 'Mac Potpourri' Column On MacPrices" (August 2018).