Remembering Former Apple CEO, Steve Jobs, On The Tenth Anniversary Of The Late Co-Founder's Passing
FEATURE: 10.05.21 – It was on this day a decade ago when the world lost a genius.
Steve Jobs (1955-2011) — the late co-founder and former chief executive officer of Apple — died on October 5, 2011 at the age of 56 after a long battle with pancreatic cancer. Jobs's death reverberated around the world and was felt not only by his family, friends, and those that worked with him but by anyone who had ever used an Apple product he had a role in creating, with tributes to Jobs pouring in as soon as news broke that he had passed.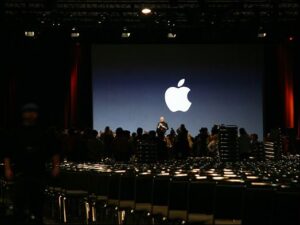 On this solemn day, the 10th anniversary of Jobs's passing, I thought I'd take a short stroll down memory lane and share the two occasions (coincidentally, related to my job in both instances) when I saw the genius himself in person.
**AD: Whether you're buying directly from Apple or an Apple Authorized Reseller, make sure to check out our award winning price trackers right here on MacPrices for the lowest prices, best deals, and latest discounts on all Apple products. Pricing updated daily, seven days a week!
On The 'Jobs'
The biggest story I've ever covered in my professional career as a journalist has to be when I was sent on assignment to cover Jobs's keynote address at the Macworld Conference & Expo in 2007 (also the very first time I ever attended the event) which, unbeknownst to us at the time was where Jobs would unveil the iPhone.
The assignment? Live coverage of the keynote for PowerBook Central, the long since defunct sister site of MacPrices where I served as a columnist from 2006 to 2009.
Normally, this job would have been the responsibility of the reviews editor of the website. However, that year, as luck would have it, they were not available to cover the event. So, the assignment landed in my lap (and quite literally, too, since covering the keynote address live required me to do so with a laptop on my lap!).
Unfortunately for me, in order to attend the keynote, I had to line up with all of the other regular conference attendees since I was still a complete unknown at the time (unlike in 2009 when the address was given by Apple's senior Vice President of worldwide marketing, Phil Schiller, who has since stepped down from the position, where I was a member of the media entourage that was let in before everyone else as soon as the VIP guests were seated). I was so worried that I wouldn't be able to get in to cover Jobs's presentation live but luckily for me, I did, managing to be one of the few people to snag a seat in the very last row towards the back of the auditorium (although, had I not gotten inside, I probably would have viewed it remotely like in 2008 when the stragglers at the end of the line were brought into an overflow room where we watched Jobs unveil the MacBook Air "virtually" on a large screen).
Jobs was not only an expert at his craft but a true showman as well and the opportunity to see the man speak in person (especially live) is something I'll never forget.
'Jobs' Related Training
Other than getting to experience a "Stevenote" live and in person, I also had a close encounter with the Apple co-founder himself while on his home turf in the Summer of 2010.
What were the odds? This was only the place where Jobs worked day in and day out: the Apple Campus at 1 Infinite Loop in Cupertino, California (formerly the company's headquarters from 1993 to 2017).
As the technology coordinator who concurrently worked at two schools — teaching was my primary profession at the time (being a journalist was just a gig on the side) — professional development was a requirement of the job in order to enhance one's skill set. When I found out that Apple was holding an educators conference on ways to use its hardware and software in the classroom setting, I decided to sign up. Since it was being held right on the Apple Campus, it was also an opportunity for a sightseeing tour of the company's headquarters (a place I'd never ever seen before despite living in the San Francisco Bay Area practically my entire life).
I would bump into Jobs while walking around the campus grounds during a lunch break from the conference. The Apple co-founder and I crossed paths just inches from each other but neither of us said a word although, in hindsight,I wished I had at least said "hi" or something (I did manage to take his picture as he passed by except with his back turned to me so as not to be intrusive).
That close encounter with Jobs (albeit, a brief one) on the Apple campus in 2010, as well as seeing the former Apple CEO giving one of his keynote addresses at Macworld in 2007, are memorable moments that serve to keep Jobs's memory alive and forever in our hearts (I know it will always remain in mine…).